A Paw Print Series: How to become "That Girl" *How to Bag a Boo* Edition
Love, Tears, and Heartbreak are roaming the halls this February season. And That Girl is obviously in the mix of it. Valentine's Day is a yearly occurrence that not everyone looks forward to…Well, as That Girl we look forward to EVERY holiday that's thrown our way, including Valentine's day. But before you losers can truly celebrate the week of love, it's time to look lovely.
APPEARANCES
In order to be That Girl during Valentine's day, we have to look GOOD. So good that everyone is begging to be your Valentine. If no one asks you to be their Valentine, then you aren't looking good enough, and you need to be looking the bomb dot com.
Style
The outfits worn around school are usually mediocre, but on Valentine's Day, we most def need to change that and up our game. And yes, I know "we have uniforms" and blah blah blah…that means absolutely nothing. The amount of ways you can spice up your uniform is actually insane. So there is no excuse whatsoever for you deciding to come to school everyday…looking like that.
Skin
Okay in order to get a Valentine, we most definitely need to be serving FACE. If you're a makeup type of person, make sure you're doing a look that fits within you, but is a slay regardless. You need to be beat, beat, beat, or chil chil chil. The make-up has to look flawless to get someone to ask to be our Valentine. If you don't do makeup, your skin better be moisturized and glowy so that any gal or guy can ask to be your Valentine.
Now that we're looking good, it's quite important that you losers are SMELLING GOOD. And for those of you who need some extra daily help in the smell-good category, this isn't for you.  You need to read How To be "That Girl" *first edition* and How To be "That Girl" *summer edition*. All we're doing this Valentine's Day is a smell good routine.
SMELL GOOD ROUTINE
You don't need these exact products for the routine or need to follow these exact steps. HOWEVER, your smell good should be very similar.
TAKE A SHOWER (The fact that I even have to say this…it's actually disturbing.) Aveeno and Native body washes are a huge slay if you love lightly-scented smell-goods. For a more bold smell, def go with a Bath & Body Works wash.
Lotion up.  You guys need to seriously stop being ashy; make sure you get a great lotion though that will make you smell fab. (champagne toast, a thousand wishes, love, beauty & planet, all from Bath & Body Works are solid go-to scents)
Body oil because it's time to glow
And of course SPRAY, SPRAY,SPRAY.  Unfortunately, I have to gatekeep my perfumes and won't be sharing the here. Just know that That Girl is smelling VERY expensive, and you should, too.
You will definitely be smelling too good if you follow these tips and That Girl always smells too good. You will be attracting all the boos as you're roaming through the halls. BUT to really attract the boos, you need to work on your approach, bestie. It's time we think about…
ATTITUDE
Your attitude has to be top tier if you want to get a boo near. No one is going to ask you to be their valentine if you look pressed and obsessed.
"That Girl" don't care
We need to be absolutely nonchalant and unbothered. Don't be obsessed with Valentine and delta any and all posts regarding Valentines day. And you especially don't want to be a loser who keeps on posting about how much you "hate" Valentine's Day. Or even the bigger losers who beg people on their stories to buy them a Valentine day gift. As That Girl, we just don't care either way. And the more we don't care, the more intrigued the future boos will be to ask you to be their valentine.
Playing Nice
Everyone knows that That Girl has a reputation of being a major mean girl (which we're totally not), but we need to be Xtra Xtra nice just in case it could make that certain someone ask you to be their valentine. So no more, Miss nice girl; it's time for Miss NICE NICE girl.
Alrighty then. We are 100 percent certain to get a Valentine tomorrow. And if that fails, then it's most definitely because you didn't apply That Girl's tips correctly. Antyways, if you can't bag a boo by tomorrow (which most of you losers won't), buy a gift and have it delivered to your first period by some innocent bystander then reject them and have another gift delivered to you during your lunch.
BECAUSE That Girl will not not NOT be the one who didn't get a Valentine's Day gift.
LOVE LIFE , LOVE ME ~ That Girl
View Comments (8)
Your donation will support the student journalists of Parkdale High School. Your contribution will allow us to cover our annual website hosting costs and publish some printed editions, as well.
About the Contributor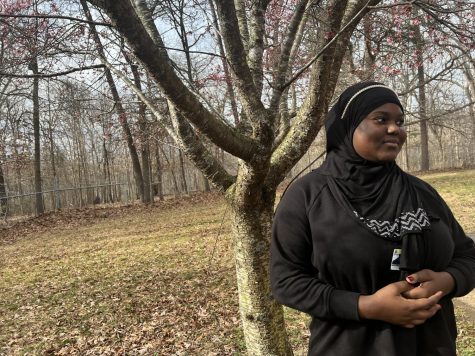 Aissata Kallo, Chief Copy Editor
Aissata, more commonly known as That Girl, is a junior and has been working at the Paw Print as Chief Copy Editor for two strong years. She is a future...