A Paw Print Series: How to become "That Girl" *Birthday Edition*
Birthdays are the one day of the year where 1. Everyone acts like they're your best friend, and 2. You can freely behave like a narcissist. Because today is literally all about you. However, even so, it's still important to keep up with your "that girl" persona on your special day. And here's how:
THE "LEWK"
No matter the occasion for your birthday, you need to make sure that you are looking bomb. Think of this as if it was your wedding day – all eyes have to be on you. You can't let your guest outdress you and you also can't blend in with the group. You have to make sure everyone knows exactly whose birthday it is.
The Outfit
Glam, Glam, and MORE GLAM. Your outfit needs to be absolutely gorgeous. Whether you wear a dress, jeans, or a romper, it has to be super fancy and great quality. Clothes aren't the only thing you need worry about for your outfit– shoes play a major role. Shoes can make or break an outfit, and we most definitely need this to make our outfit look a million times better. A cute heel or even some nice kicks (no Converse, though– literally barf in my mouth). 
Alas, the final thing we need to complete our outfit is accessories. If you're going to wear jewelry please, please, please remember this major fashion tip and don't forget it. DO NOT mix gold and silver jewelry. You're either going with the gold or you're going with the silver not BOTH. As for your bag, a small purse is the way to go or even just a wallet size, but please do not bring a bulky bag for your birthday and definitely don't take photos with it.  As for photos please make sure, you don't have your flash on…you don't want to look oily, which is why your face needs to be on point.
Face
If you're going to wear makeup, make sure it's not cakey so that your photos come out bomb. Your makeup needs to be on point! I'm talking about a TikTok girly makeup tutorial. Regardless of if you're going to wear makeup, your skincare routine needs to be done to the MAX. We need to have our skin looking rejuvenated and clean so that we can be feeling as such. Gloss and Chapstick is very important so your lips don't look crusty and chapped. But please make sure your face is looking as cute as it can be. That way, our photos are sure to look good. (For more tips on products and routines to ensure glowy skin, click HERE for another issue of That Girl).
THE FLICKS
It's your birthday so your photos have to definitely be on point! When we upload your photos on Instagram and your videos on TikTok, we need to be sure to gather all the likes and comments. So if your phone quality sucks, borrow a friend's phone and clear your storage to make room for your new birthday photos. But digital photos are not the only ones you need to invest in.
Polaroids
If you don't have a polaroid by now, are you really "that girl"? Go out and buy one of these now because it is most def a That Girl essential. You need to take cute polaroid pictures to not only post on your Instagram story but to also create a cute polaroid collage and frame it, duh! Your polaroid needs to be your sanctuary. Be sure to get a cute color and frames that are equally as cute because we don't want any bland and ugly frames for our cute polaroid pictures. Now it's time you learn the birthday photo uploading etiquette.
Socials
The only social media platform you should be uploading any photographs/videos on is Instagram. This and of course, any TikTok videos you may want to make and upload, that is completely fine. However, it is quite important that you note that you are not, under any circumstance, allowed to post anything on your story birthday-related besides the following: Birthday Pictures, polaroid story upload, and birthday countdown.
Anything else uploaded on your story should be you RE-UPLOADING posts that your friends have made…and if they haven't made any posts whatsoever, it looks like it's time for you to find some new friends.
THE FOOD
If it's your birthday, eat some food! Like Marie-Antoinette said "let them eat cake." You have to eat delicious food on your birthday, it's final. There's no way to truly celebrate your birthday without indulging in some of your favorite delicious treats.
Cake
Rule number when it comes to food on your birthday. There should be cake going in your mouth. Even if it's just one bite, it absolutely does not matter. A birthday cake is extremely essential; the flavor of the cake doesn't even matter as long as there is a cake to begin with. Candles are not necessary. Those are for children.
Free Food
Download all the fast food apps on your phone now and grab your ID or birth certificate right now. Sign up and enjoy a boatful of free food. If you don't take advantage of the free food that you can receive on your birthday then I have no idea what you're doing. This is a once in a year opportunity…LITERALLY. You'll have to pay for absolutely nothing that whole day, so that means plenty of food and plenty of drinks (non-alcoholic ones, of course!!).
LOVE LIFE , LOVE ME
~ That Girl
Leave a Comment
Your donation will support the student journalists of Parkdale High School. Your contribution will allow us to cover our annual website hosting costs and publish some printed editions, as well.
About the Contributor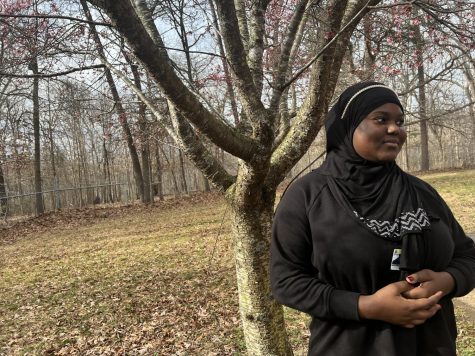 Aissata Kallo, Chief Copy Editor
Aissata, more commonly known as That Girl, is a junior and has been working at the Paw Print as Chief Copy Editor for two strong years. She is a future...