A Paw Print Series: How to become "That Girl" *Summer Edition*
Summer is here, and you're still struggling. Here's how to effectively use the next 6 weeks inch closer and closer to becoming That Girl.
School is almost out, but you need to continue being that girl during the summer time. We can't have you going back to your old ways just because you aren't receiving my expertise. Plus I'm pretty sure some of you ( ALL OF YOU) have NO idea how to be that girl in summer.
Don't fret any longer because that girl summer edition is here to help! HOWEVER, I may be a miracle worker, but I can't help you if you don't help yourself. (I can't do your laundry AND fold it, hunny!). Speaking of laundry, make sure that's not the only thing that's clean this summer. 
HYGIENE
Most of you all already smell terrible, but we all know how that summer heat can make your stench go from 0-100. And that is just completely unacceptable. That Girl makes sure their hygiene is top notch during that blazing summer heat.
The Hygiene Protocols
That Girl

takes a shower at least TWICE a day: once in the morning, and another one at night.

That Girl

uses deodorant….( can't believe this is something I even have to say..but I DO)

That Girl

uses light scented soaps and body washes. They help give you an airy scent, contrary to very strong and heavy washes.

That Girl

uses body mists and thin pasty lotions. Lotions that are more rich and thick can make you sweat out when you're outside. Body mists are

GREAT

for the summer time. They give you a sweet aroma without being so strong that if you get musty, it will be noticeable due to the powerfulness of your perfumes.
In order to REALLY get our hygiene ready for battle against the bright sun, we're going to need to go shopping! And that will have to be at the only place that girl goes shopping – Target.
That Girl Summer Hygiene Shopping List
Baby Wipes ( take these with you WHEREVER you go)

Dove Cucumber Deodorant Spray.. Deodorant is your friend during the summer !

DON'T NEGLECT IT

Body Oil (Use this in very SMALL amounts. You don't want to look greasy or sweat out, but we still want a minimal

that girl

glow

Dove Sensitive Skin or Cucumber body wash.. These are just MY suggestions but feel free to use any light scented washes you know of.

Cherry Blossom, Dove, or Irish Spring soap Bar

Body Mists/ Body Sprays

Water Bottle

Light Colored and thin fabric clothing.
NOW, this last tip is a that girl special. If you REALLY struggle with sweating, add some lime to your shopping list, bottled or whole. After you take a shower squeeze some into your underarms and rub it in. GAME CHANGER.

Now that we're smelling fresh and staying fresh ALL DAY, It's time to get ish done.
BUCKET LIST
That Girl has a summer activity list and does something other than sleep all day ( although it's still very important to get that sleep in) That Girl isn't a lazy nobody that has an unproductive summer, with no accomplishments whatsoever. Get out that pen and paper, because we need to make that list right now !

Summer Job
That Girl has a job and tries to get their coins up. It's time we start making our own money, hunny. Create that resume and don't say you don't know how because our very own College Coordinator Ms. Sharee WIlliams has been preaching about making a resume on Naviance (which you can find on Clever) since the beginning of 9th grade. After that resume, send in some job applications and BOOM, get it up and popping.
Glow Up
One of the other things that need to be on your that girl bucket list — is a that girl glow up. That Girl works on themselves during the summer time and makes sure their physical, emotional, and mental aspects of life are in check. Do what is necessary to elevate yourself this summer and get ready for the school year so you can be at your best!
ASSOCIATIONS
It's very important to make sure you're associating yourself with the right people this summer, so  that you can have a blast with NO problems.
Drama
That Girl doesn't participate in ANY summer drama. Don't go searching for the drama and don't let the drama come to you. If there is any one who is bringing the drama–cut them off. And if you are the drama–cut that person off as well.
New Folk (or old ones)
Surround yourself with people who make you happy this summer. Whether that's your siblings, favorite cousins, besties, or even your boo-thang ! Hang out with those who make that girl happy and have their best interest at heart. If you have none of these then find some and make some (just don't go on Craigslist).
That's all the advice I have for y'all this time around. Remember to continue your That Girl journey and think of how far you've come these last two months. That girl signing off.
Love Life, Love Me 
~That Girl
View Comments(1)
Your donation will support the student journalists of Parkdale High School. Your contribution will allow us to cover our annual website hosting costs and publish some printed editions, as well.
About the Writer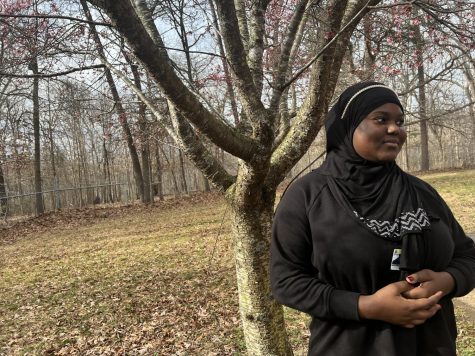 Aissata Kallo, Chief Copy Editor
Aissata, more commonly known as That Girl, is a junior and has been working at the Paw Print as Chief Copy Editor for two strong years. She is a future...