Parkdale Japanese teacher incorporates beneficial techniques when it comes to language learning
According to a study conducted by professors Carol Griffiths and Rebecca L. Oxford, when it comes to language learning, different teaching methods yield different results and preferences in students.  The study found that "[student] attitudes [towards learning language] were strongly influenced by metacognitive strategies, and the effect of social strategies was also high.
Japanese teacher Michiko Ogata, referred to as Ogata sensei by her students, has made sure to implement strategies like those from the Oxford study, in her Japanese classes here at Parkdale. From her annual Japan Day to her Global Chats. Ogata Sensei ensures that Metastrageties are involved in her teaching–specifically meta-sociocultural-interactive strategies–whether she realizes it or not. 
Quite recently, on Feb 17., a global chat was orchestrated between Parkdale students and Shonan Shirayuri Gakuen students who participate in the Japanese pen pal program.
"I was really nervous, honestly," said Japanese National Honor Society (JNHS) Vice President Loona Armelin. "I was scared that I wasn't going to be able to communicate well, but it was pretty easy because my pen pal lived in America for, I'd say, five or six years. So, we were mainly talking in English, even though I asked a couple of questions in Japanese."
Contrary to Armelin's prior worries, the pen pal global chat was a major success for them. The chat was able to broaden their perspective and allow them to be more connected to Japanese culture and language.
"The takeaway I had was probably understanding the culture maybe," said Armelin. "But also being able to relate to somebody that's across the world, literally, because we were talking about a lot of things that I didn't think that we were going to touch on, and it was really fun."
Luckily, that's exactly the type of experience Ogata Sensei wanted to provide. When teaching with sociocultural interactions in accordance with a language, it follows the viewpoint that learning depends on experience and cognitive functions that form from interactions with those 'most skilled' in that specific area, in this case Japanese. 
Therefore, the students from Shonan Shirayuri Gakuen were the 'most skilled' due to their Japanese comprehension, and using this technique, the Parkdale student body was exposed to the language being spoken in easy conversational terms and had the ability to demonstrate their skills. Ogata Sensei particularly wanted Shonan Shirayuri Gakuen students and Parkdale students to connect on a deeper level, deeper than language.
"So, I just think that it's important for me to bring the real authentic experience so that the people are not only looking at the language, but the people are actually looking at the people behind the language-–the people who speak it." said Ogata Sensei. "And then you guys kind of realize we are the same, we just speak a different language."
In addition, Ogata Sensei implements the effective strategy discussed in the Oxford study. The strategy also relays to students getting a better understanding of the cultural and social aspects of the area of learning.
Through her Onigiri Event and Guest Speaker Showcase Ogata sensei helps her students to not only connect to the language, but to the people and the culture. Exposing her students to a more humble aspect of learning Japanese that they can apply to themselves. These teaching techniques stray from solely using the traditional textbooks when learning a language.
"I think that culture techniques, which is anything besides textbooks [is better] because I feel constantly dealing with the textbook, it gets a little tiring and boring." said Armelin "So I feel like it's best to switch it up"
Although Armelin agrees that traditional textbook learning does indeed play a big role in their Japanese learning experience, they explain that even just discussing the topic of Japanese people and culture helps them with learning the language and staying motivated. Armelin has the strong motivation to learn Japanese and perhaps study the course further at a university.
Ogata Sensei, who also teaches the Japanese course at University of Maryland Baltimore County (UMBC), will be taking students on a field trip to the campus on April 26. to expose students to a Japanese college class system.
Ogata Sensei, too, had a strong urgency and motivation to learn a different language: English.
Having decided to move to the states to learn English and even participating in her own pen pal with an American girl from New York she became connected with through a company in Japan, she informed her family of her plans; however, she was met with desperate pleas.
"When I talked to my grandmother, like when I told her that I was going to come to the states, she actually cried and she [said], 'Please don't go'," said Ogata Sensei. "And then she had all these reasons, of course, and now I'm here and I speak the language. And then I realized that everything that my grandmother said was not true."
Furthermore, Ogata Sensei deems language learning as a necessity and a powerful tool in the world, believing that language could be served as a world peacemaker.
"There are so many conflicts out here," said Ogata Sensei. "And then I think the conflicts happen because of a lack of communication and with the language differences." 
Teaching a language course with these different strategies connects to Ogata Sensei's own personal resolve.
"The reason why I want to bring the world experience to the classroom is because when I look back, [at life], right, it's just only two generations ago that we– your country [the United States], and my country [Japan], we were fighting," said Ogata Sensei.
And she can't help but wonder, if the leaders during that time completely understood each other's language, culture, beliefs, and people. Would history have been different? This is why, she explains, she will continue to teach her students not just the Japanese language, but the Japanese lifestyle. That way her students can truly decipher that "we are all the same."
View Comments (3)
Your donation will support the student journalists of Parkdale High School. Your contribution will allow us to cover our annual website hosting costs and publish some printed editions, as well.
About the Contributor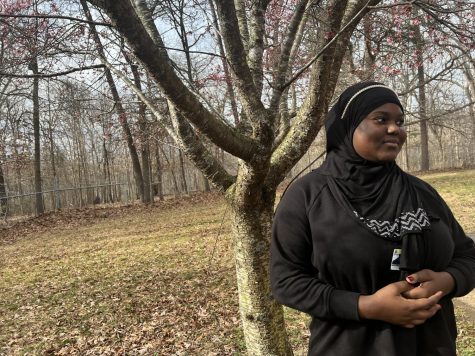 Aissata Kallo, Chief Copy Editor
Aissata, more commonly known as That Girl, is a junior and has been working at the Paw Print as Chief Copy Editor for two strong years. She is a future...