Parkdale students participate in 'Global Chat' with Japanese sister school
From people devouring its cuisine, keeping up with their latest fashion trends, watching  films and animations that originated there, and studying the language and customs of Japan, it's clear that the love and appreciation for Japan is strong. Many teens and college students are even hitching their bags to make a round trip to the astonishing country.
However, it seems Japan is coming to the students here at Parkdale instead, which is exactly what Japanese teacher Michiko Ogata is trying to accomplish. 
¨Everything that I do is kind of trying to bring the real authentic Japanese experience to the students,"  she explained.
In order to achieve this, Ms. Ogata, who is referred to by Ogata Sensei to her students, helped develop a global chat on Feb. 4 and Feb. 18 between Parkdale and Japanese high schools Senzoku Gakuen and Shonan Shirayuri Gakuen. 
The supervisors in each Breakout Room were Parkdale teachers: World Languages teacher and chairperson Mrs. Carrie Robertson, ESOL English teacher Mr. Antony Fonebi, and of course, Ogata Sensei herself.
During the first Zoom call with Senzoku Gakuen, students had the opportunity to discuss the different school policies and how school life is with Japanese students. Ogata Sensei provided time for the students to go around the school and photograph elements that may differ from schools in Japan.
¨Going into the global chat I expected to hear about Japanese people's experiences and their way of life and compare that with my own so I can get a sense of life in Japan," said sophomore Habteab Weldeberuk, who participated in the chat. ¨Talking to other Japanese students didn't feel that different from talking to anybody else. I was nervous when I went to the global chat but then I realized others were just as nervous as me.¨
While the first chat was primarily focused on school and academics, the second Zoom call was a more personal meeting, conducted with Shonan Shirayuri Gakuen, which allowed students on both sides to photograph and engage in conversations about their interests and hobbies.
Shonan Shirayuri Gakuen teachers, Kurihara Sensei & Takenaka Sensei were supervisors for this zoom call. In addition, Family and Consumer Science (FACS) teacher Ms. Loyda Abreu also helped with supervision alongside, Mr. Fonebi and Ogata Sensei.
Ogata Sensei was able to bring this opportunity to Parkdale, by simply going to work.
"I also teach at a university, and the supervisor that runs the Japanese program at the university that I work at, she is the community leader for the Kanagawa prefecture and Maryland sister state relationship," said Ogata Sensei. "So then I approached her and then told her I'm really interested in having a sister school."
And this connection that Ogata Sensei orchestrated has left a lasting impression on the students who attended.
¨I would like to do this in the future again because I liked speaking to the Japanese students," said Weldeberuk. "This experience opened my mind to the fact that people aren't that different no matter where they come from.  I've always wanted to visit Japan and I like a lot of the culture in it, this chat didn't affect it very much but it did make me feel like I could converse more with Japanese people.¨
Besides the global chat, Ogata Sensei has many more future plans in store for Parkdale to integrate more Japanese culture and representation in the school.
Her plans include a monthly pen pal exchange and a Japanese Honor Society, which would be Parkdale's first ever Japanese Honor Society. Two projects in store for the society are to visit our pupil middle schools, Charles Carroll and William Wirt, and present information about the Japanese culture and language. 
At the presentation to the middle schools, Ogata Sensei plans on teaching the students some basic phrases, indulging them in anime, and creating origamis. The purpose of this meeting would be to influence students to take Japanese when they transfer to Parkdale.
Furthermore, the Japanese Honor Society will utilize the cooking utensils here at Parkdale to create a multitude of onigiri, which are Japanese rice balls. They will then take photos of it and send it to the nonprofit organization, Table for Two, which donates money to five schoolchildren for every one photo posted on social media with the hashtag #OnigiriAction.
View Comments (1)
Your donation will support the student journalists of Parkdale High School. Your contribution will allow us to cover our annual website hosting costs and publish some printed editions, as well.
About the Contributor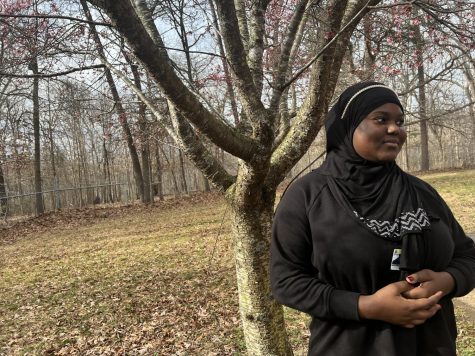 Aissata Kallo, Chief Copy Editor
Aissata, more commonly known as That Girl, is a junior and has been working at the Paw Print as Chief Copy Editor for two strong years. She is a future...