English teacher brings worldly experiences to Parkdale students
Eleventh grade English teacher and Mock Trial advisor Dr. Jedidiah Blake is one of those teachers who students look forward to having.  Is he known for giving assignments that require real work and effort? Sure.  Will you be writing a lot in his class? Yes.  But that's because Dr. Blake expects the best out of his students, and makes sure they get the tools to do so.  Through his travels and teachings across the globe over the past four decades, Dr. Blake is a treasure here at Parkdale.  We sat down with him recently to find out more about the man beyond the classroom.
Q: How would you describe yourself as a student? 
A: I have an inquisitive mind, constantly interrogating my teachers, my peers, and books, assimilating the answers, and then teaching others, a process highlighted in The Great Didactic by John Amos Comenius.
Q: What has led you to become a teacher?
A: My brother and my elementary school principal motivated me to become a teacher, and I began teaching West Indian history and English in my country in 1982. My brother taught English, French, and Spanish, and I often heard him reciting the poetry of V. S. Naipaul, Louise Bennett, Claude McKay, Edward Braithwaite, Derek Walcott, and Alfred, Lord Tennyson. The mellifluous words dripping from his honeysuckle lips mesmerized me, and I became fascinated with his books. He was poesy epitomized, and he seemed oblivious to my presence as he flung line after line of British and West Indian poetry into my ecstatic heart. My principal was a repository of knowledge and invaluable experiences. He often regaled me with his wonderful tales, which I later discovered were epic tales – Beowulf and The Odyssey, for example. His stories about the Midas touch and Olympians gods who decreed the fate of man enthralled me. Equally fascinating were his readings on Archimedes, Leonardo da Vinci, Henry VIII, David Livingstone, and William the Conqueror. Growing up in the Caribbean on a poor island, my experiences were parochial, but my flirtation with literature enabled me to imagine different worlds. In my imaginative reconstruction, I traveled to distant lands that had snow, strange places where Sirens enticed mariners with their alluring voices and exquisite beauty, and to interesting tribes along the Zambezi. The obvious satisfaction my brother and my principal derived from reading and their enthusiasm for their subject matter motivated me to love books and to become a teacher. I trust I can ignite a similar passion in my students.
Q: How long have you been teaching here at Parkdale, and what is your favorite thing about it?
A: I have been teaching here for 4 years, and I love the international ohana (the African, Asian, European, Latin American, and West Indian diasporas along with African American and Caucasian students and teachers), a multicultural discourse that is enriching.
Q: You have traveled all over the world; what place was your favorite and why?  How important do you think traveling and learning other cultures are?
A: I have traveled to 28 countries, among other places, England, Honduras, Kenya, Nicaragua, and Uganda, but I love Thailand and Turkey best: Thailand for its exquisite natural beauty, the gentility and friendliness of the people, and its spicy food, reminding me of West Indian dishes, and Turkey for its hospitality and ancient historical sites, among others, the ruins of the Temple of Artemis, Celsus library, and the 7 churches of Asia Minor. I studied Greek inscriptions in Ephesus, Turkey, and this undertaking transformed my understanding of the first-century world.
Traveling facilitates better understanding of ourselves and our world, broadens our perspectives, and makes us more empathetic.
Q: In what ways do you feel like your travels have contributed to how and why you teach?
A: I affirm the need to provide equal educational opportunity to minority-language students in the United States since the language barrier continues to impede their learning, thus making their educational experiences inequitable. I affirm students' rapid assimilation in the classroom while maintaining native language and culture. I affirm the value of bilingual studies and global perspectives. In short, I promote linguistic and cultural diversity. 
Q: What's one interesting thing that you think students may not know about you?
A: I have been a pastor since 1984.
Q: What made you want to get involved with the Mock Trial team, and what is your favorite thing about being the head coach of mock trial?
A: I served as a coach for mock trial in Hawaii, and we were very successful, winning the island competition and placing second at the state competition. It is remarkable that students come to mock trial with little or no conception of the rule of law, court procedures, and the legal system. They do not understand the term "affidavit." They have never heard the expression "voir dire." They have no understanding of depositions, expert testimony, objections, opening statements, closing arguments, rules of evidence, impeaching a witness, cross, or direct. After  a few weeks, these students are arguing difficult cases in court. Eventually, they will present their cases before practicing attorneys and judges. This is a testimony to their industry, perseverance, and scholarship. Ultimately, students improve fundamental life skills, such as critical thinking, communication, and advocacy skills.
Leave a Comment
Your donation will support the student journalists of Parkdale High School. Your contribution will allow us to cover our annual website hosting costs and publish some printed editions, as well.
About the Contributor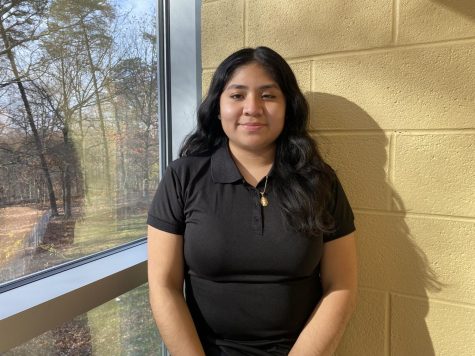 Cristal Lucero, Instagram Reporter
Cristal Lucero is a junior at Parkdale High School. She is on the Social Media team, part of The Paw Print association. She is a daily Instagrammer, which...