Newest member of Parkdale family provides students with outlet, resources
Trigger Warning: article mentions suicide, suicide ideation, and mental heal struggles.
On March 6, Mr. Lance Franklin, or just Mr. Franklin, joined the Parkdale family as the new school social worker. His role includes providing students with a safe space to talk, express and feel. This safe space is in the form of not only his openness to listen but his physical office, decorated with comfy couches, colorful pillows and a sense of welcome. Before coming to Parkdale, Mr. Franklin had a hefty schedule. He had a full-time job, was in school, and had an internship part-time all while trying to get his bachelors in psychology and then his masters in social work. Check out what he hopes to bring to the Panther Family.
Q: What was your biggest adversity becoming a social worker?
"[…] I was working full time literally putting in 40 hours a week. I was in school full-time and I was doing an internship part-time. Just imagine all of that: trying to get good grades, trying to do well at my nine-to-five and then also my internship. Navigating all those things at one time, it's a lot to juggle. That probably was my biggest challenge in getting my social license"
Q: What made you become a social worker?
"I grew up in Detroit.  There [wasn't] a lot of support in terms of mental health, not in school. I don't remember there being either a social worker or psychologist, I mean, there were counselors but I don't remember going to them for therapy or anything like that. There weren't resources for that and so full transparency when I was in high school, I was dealing with a lot of emotions like many students are going through now. You have depression, anxiety, there's peer pressure, all sorts of different things going on, and so I was one of those individuals who also was dealing with depression. It's one of the reasons why I chose to go into social work. I've always had the idea that I wanted to be a therapist. It's been [on] my mind for a long time."
Q: How do you plan on making students feel comfortable enough to come around and talk to you? 
"The first thing is [to] build rapport with students, number one. That's just with any relationship, You're not just gonna go to a stranger on the street and say 'hey! I'm dealing with this'. No one does that, that's unrealistic. It's about building a rapport, making sure students know who I am and what I do. And the other thing is I also believe in creating a safe space… I like color. I think color is important. I don't want this to look like a typical room that you would go to in a high school because it's not. 
Q: What are the benefits of talking to a professional when you're in need?
"The biggest thing is creating a safe space… I'm also non-judgmental, so you could kinda talk to me about anything, you know? It's a big thing with social work as well that you're inviting for all sorts of people even if our values are different. I'm still someone you can talk to. It's an ethical thing I'm supposed to be inviting for everyone… It's confidential as well. Because you are a professional, you're not just talking to a random person, a teacher or another peer. You're talking to someone who has training in how to deal with this. With professional, professional therapy we create a plan…. That works for whatever you're dealing with so we can address the problem efficiently."
Q: What made you want to work in a school instead of a private practice or another setting?
"Honestly, I wasn't sure about being in a school environment, at first. I'm not going to lie. I've always wanted to work with youth, but my last internship was at a private. And so it's different. I like to be challenged and it was one of the reasons why I was like 'let's go to a school and see what that's like!' So far it's been good. It's very sporadic and there's a lot of stuff going on. No day is the same, but I like being amongst the youth. I like working with youth. I can't really answer why I chose [school] . I think it's more so for me about the work that I'm going to be doing with students as opposed to anything else that's been my mind driver in terms of what I'm doing." 
Q: You, being a person of color and knowing how therapy is sometimes looked down upon in minority communities, how did you break that cycle and/or how do you plan to help Black and brown students break away from that cycle? 
" Well, the first thing is explaining that there is a misconception [about] people who go to therapy […] I've heard people say they're weak individuals or they have mental health challenges or it's always a negative connotation with someone who goes to therapy. And so the first thing that we have to understand is that many people can benefit from therapy, not just those who have mental health challenges. Sometimes, you just need to talk to someone about whatever challenges you're dealing with even if they're not mental health related.  Sometimes it could be you just need assistance with maybe life choices, [and figuring] out a plan for certain things and having a therapist can kind of guide you to those steps. I think the only other thing is showing as a black person myself. I've had therapy, and it's helped me. It's one of the biggest reasons why I actually am in the role I am now because as I stated earlier, I did deal with depression when I was a youth. I did deal with suicidal ideations when I was a youth and what got me to a better place was because of [a] therpist. I contribute my well-being to that. I think not only that but my presence as a black cisgender male being in a school shows that I am a therapist that also helps break down barriers. You know, you're seeing a black cisgendered man as a therapist… Representation is also important."
If you're in need of any help his office is  room A143 in the annex. If you feel that you're dealing with a mental health emergency, call 988 to be directed to the National Suicide & Crisis Lifeline.
Leave a Comment
Your donation will support the student journalists of Parkdale High School. Your contribution will allow us to cover our annual website hosting costs and publish some printed editions, as well.
About the Contributor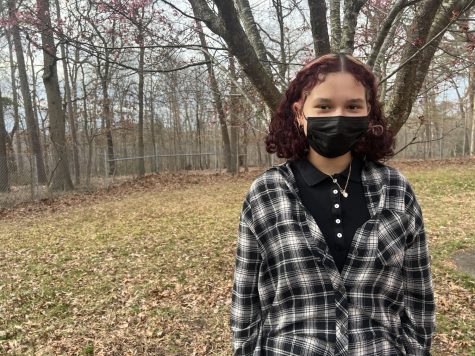 Aileen Gallegos-Escobar, Chief Copy Editor
Aileen (she/her) is a Senior class of 2023. This is her first year on staff, and she's super excited to be a part of staff this year! She can contribute...