First annual Japan Day arriving to Parkdale soon
Be on the lookout, Panthers!  An exciting, exhilarating, electro fighting new event is coming to all of Parkdale on June 3rd: JAPAN DAY. Japan Day will take place throughout the 3rd period. During their respective lunch times, students will have the opportunity to venture into the Senior Lounge and experience and partake in the Japan Day festivities.
Thanks to The Japanese National Honor Society (JNHS) and Japanese teacher Michiko Ogata, referred to as Ogata Sensei , all students (and even staff) will have the chance to experience and learn about Japanese culture in a fun and innovative way.
"[I] want students to be exposed to [a]different culture," said Ogata Sensei. "And we often talk about culture and how things are different. But I want them to feel something that they're so familiar with, for example, their name written in Japanese. And I want people to feel that awkwardness and then actually know how the different cultures [are] so similar, but then very different and it makes you feel, I don't know, curious about it."
But the question still remains, what is Japan Day?
Japan Day will be an event with different stations that students will rotate to and experience and learn new concepts involving Japan and its culture. Each station will be run by a different individual and have a different concept and activity. 
As for who's running it:
"It will only be the Japanese honor society members," said JNHS Vice President Jose Aguilar.  "So there will be like seven of us. Me and my other colleagues/fellow classmates and my teacher [Ogata Sensei] will be overseeing everything, to make sure that everything goes and runs smoothly. And we'll also have the support of a couple security guards from the school itself, you know, to see that everything goes well as well. "
THE STATIONS
The first station will consist of a katakana name writing. Katakana are one system of the Japanese language, in which non-Japanese names among other things, are written in. Ogata Sensei will be running that station and will give each Parkdale student a paper with their name written on it in Japanese.

The second station will be a kimono photoshoot station, where students can take photos of themselves with sophomore Elise Pope wearing a kimono, or of just the student who has the kimono on. A kimono is a traditional and historical Japanese attire that is still worn in Japan on special occasions.

The third station will include a Japanese music playing system where sophomore Loona Armelin will be in charge of playing different groovy Japanese tunes, exposing students to some new Japanese sounds.

The fourth station will be a sumo wrestling game that students will get to compete with one another by using the wrestling figurines on the board game to try to knock their opponent over.

The fifth station will be an origami swan fishing game where students will have 10 seconds to "fish" for their swan and keep the beautiful creation in the end if they succeed.

The final station at the event will be an Anime Club Station , promoting the Japanese animation club to students, along with an Anime voting that the students can participate in.
The JNHS worked hard to organize this event in hopes of bringing Japanese culture to the Parkdale audience.
"Basically we're trying to bring the culture [to the school] to make people interested in the culture and possibly be interested in the language so [that] they could decide to sign up for the Japanese classes," said Aguilar.
Ogata Sensei, has a larger goal in mind for the future of Parkdale, one that not only includes Japanese culture, but ALL cultures in the school.
"I honestly think that, you know, we have so many different cultures representing in this building and I think we should have like, an international day or something  [where] all different cultures can set up a table and introduce what they're proud of," said Ogata Sensei. "That would be really nice , you know, if we can just kind of develop into that eventually."
June 3rd is right around the corner, and the Japan Day festivities will start up soon. Don't forget to make your way into the senior lounge during your lunch time to participate in all of the fun activities that the Japanese National Honor Society and Ogata Sensei have set up for you!
View Comments (2)
Your donation will support the student journalists of Parkdale High School. Your contribution will allow us to cover our annual website hosting costs and publish some printed editions, as well.
About the Contributor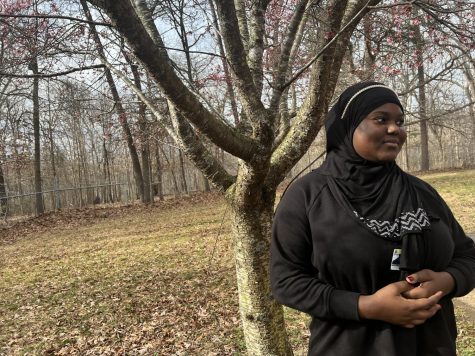 Aissata Kallo, Chief Copy Editor
Aissata, more commonly known as That Girl, is a junior and has been working at the Paw Print as Chief Copy Editor for two strong years. She is a future...