New music teacher brings passion, patience, perseverance to the Panther team
For Music Survey and Choir teacher Mr. Antuan Hairston, the 2021-2022 school year marks his first teaching in -person, as he started his career during the virtual learning school year of 2020-2021.  We talked to Mr. Hairston about his passion for teaching and music along with music he hopes to release some day. 
Q: First tell us about yourself, your life and your interest in music.
I'm from Columbus, Ohio. I went to this school called Bowling Green State University Bowling Green, Ohio. It's up in like Northwest, Ohio, near Toledo, Ohio. […]  I studied music education there. Music has just always been an interest since I was young. You know, I kind of like dabbled in sports here and there and did other things. But music….
Oh, what sports did you play?
So when I was younger, I played soccer. I play football. I did track and field for a little bit, and then I wrestled as well in high School. So with all of that music was the only thing that really stuck. I started when I was young and in church, you know, just like singing and stuff in church. And then in middle school kind of branched out, that's when I did middle school choir. And I was doing little shows at this children's theater that we had in like downtown Columbus.
When I got to high school, that's when I really started taking it a little bit more seriously. So I saw the drumline of the marching band, and I just… I loved it. So I was like, "Oh, I really got to be a part of the drumline." So I joined the drumline. And that's when I really had to get serious about reading music.
So, when you're in choir, you're kind of able to skate by because you can just read the words and not actually read the music. But when it got to band, you know, you can't do that.  You actually have to look, read the music on the page. So when I was on the drumline, I took it a lot more seriously. And by my senior year, I was one of the squad leaders in marching band. And I played the bass drum. So then after that, that's when I knew like "alright, I wanted to teach this." And I did other things, too, that made me come to that realization.
Every summer, I would go to the Ohio State Fair that's in Columbus. And there was this little summer camp a little bit, [and] you would stay at the fair.  For like three weeks, you would live at the fair. And you were seeing all over the fair. So I did this with like 199 other kids from all over Ohio. And it'll be 200 of us. And so doing that every summer while I was in high school, it really made me know like, "alright, this is what I want to do."  So, yeah, that's where the music comes from. And that's my life. After graduating, I moved here. I realized I have family members out here. I knew I wanted to get my master's degree. So there's a lot of colleges out here. Especially in like education policy, which is what I want to study. So yeah, that's why I came out here.
Q:When did you first start teaching and how was your experience? I know you started teaching last year. 
Yeah, I started teaching online, and I ain't gonna lie; it was horrible. It was a horrible mental experience. Because, you know, I had just got done being immersed in music in college and making all this music with other people. And having these experiences of like, "Alright, you're about to go out and teach." And then for the first year to just be online. Those students who had me online, they knew that, you know, I was playing the piano at home [on] my keyboard, which was cool, but it just wasn't really giving . You know, wasn't giving what it was supposed to be giving. Let's say that. So yeah,  I just kind of had to really get myself through it. I just didn't like it. I hated it.
Q: Okay, but how do you feel about teaching now, now that you're back in? Well, now that you're in a class?
I mean, I think even when it was online, like I can tell that as a teacher, the content that I teach is a lot of content that most students don't really know about offhand. So the thing that I love is being able to teach things that are new to people and being able to engage them in a different way. So I love teaching. I love coming in and I love just being able to interact with the students. You know, see their eyes light up when it's like, "oh, yeah, I've heard this before. Oh, yeah, I recognize this" x-y-z, all of those good things. So yeah, I do think also being in school, I want to study administration for my Masters. And I'm really seeing, you know, some things […] that I would want to change.
Q:What are some words that you would use to define yourself and why?
I would say, empathetic. I would say courageous, I would say adaptive. Empathetic: I feel like I am able to listen to others, hear their issues or concerns. And then I don't want to say like, feel that issue, but definitely be willing to understand, put myself in someone else's shoes and understand those issues. In terms of courageous, I feel like throughout my life, like I'm never scared to try new things. I'm never scared to, you know, just kind of step out and do what I need to do in terms of myself do what I need to do. Part of that even being this: you know, I am from Ohio [and] the rest of my family, a lot of them are back there. So just being willing to move to grow myself and do the things that most people kind of be like, "I don't know if I should do this", or [they might] be a little scared, but I've never really been scared of things like that. And adaptive: I would say [I demonstrate] adaptability but I am cool with kind of going with the flow and adapting to change and whatnot.
Q: Do you think music is an important part of school and learning? And why?
Yes, absolutely, because first things first, I feel like music teaches everyone to appreciate the things that most people don't appreciate in the world. So, outside of these core subjects, I don't think you guys are robots, right? You guys are not put on this earth just to be able to do a math problem, be able to read a sentence, and be able to, you know, know, biology and know, like, the molecular structure or whatever, you know what I mean? That's not just purpose. Our purpose is to live, our purpose is to interact with the world and all those good things. And you know, [with] any art, like music and theater, when you're studying, you're studying language, you're getting really into the nitty gritty of "alright, this is written this way so beautifully." This is the way I feel like the arts in general; it teaches us how to be creative. But then it also kind of puts us back home, into the humanistic kind of side, right? Like humans, we're here to create and interact with the world. And I feel like that's what the arts do. So that's why it's so important. It's important to use your mind in a different way. It's important to use your mind to, explore and use your mind to see what you can do, see what you can come up with. And I think that's what music does, and that's why it's important.
Q: Okay, what type of music are you interested in?
So, I would say the kind of music that I listen to [is] R&B, but I'm in…I I love all kinds of music. I can listen to classical music. I can listen to some pop music, I can't really listen to country. There'd be times maybe some jazz, maybe some, you know, different kinds of global music from around the world, stuff like that. So yeah, I'm really kind of open when it comes to music.
Q: What do you enjoy the most about teaching? What do you least enjoy?
What I enjoy the most about teaching is the students and then also what I get to teach, so it's the interaction of both. I love music, so having music plus students. And again, just y'alls energy, the students' energy, mixing the two, seeing how you guys interact with it, as well; it's a beautiful thing. So that's what I love about it. Even though I teach a lot more survey classes than I do choir classes, I do kind of wish I had more choir classes, more performance, because that's really what I'm more about performances and whatnot.
The things that I don't like are the politics of education. There's a lot more that teachers have to do than what you guys see. So like, coming up here, and teaching is the end result of a whole lot of lesson plans, then on top of that, there's always professional development that we have to do. There's always, you know, observations that you have to have, then you gotta  make sure you're calling parents every month and, and keeping data with your gradebook and this and that. So, I think that the thing is with teaching is teachers are not just teachers.  We got to do so many other things outside of that. That kind of takes away from the job a little bit. And then yeah, just the way that is mandated.
Like, I still don't think y'all need to be in school as long as y'all do. I also think in this [American] education system, there's just no listening, if that makes sense. Like after this pandemic, I don't think y'all should have been in school Monday through Friday, all days of the week. Because I feel like that's why a lot of kids [have struggled], especially at the younger level. I got this part time job at an elementary school in Southeast DC. And so really over there, the kids who have really bad behavior issues and whatnot, you can see how trying to get back to normal, it's hard for them. I definitely think […] if the school district really would have taken into consideration the kids first, rather than, politics and policy, then they would have should have been like, "alright, we'll go to school four days a week, we'll stay home on Wednesday, or we'll have Friday's at home," you know what I mean?'Something to kind of ease you back to where it's not the full thing.
Q: Any favorite Hobbies? 
When I'm at home, I usually like playing the piano, doing some music stuff. I do make music. [I'm] trying to come out with some later on this upcoming year. I'll go hiking and I'll try to be active. Just chatting with friends. I'm doing something like I'm out in nature, I'm out in the world. Maybe go to a museum. Get some food; DC does have a lot of good food. Food, museums, different art shows, different concerts and stuff, just really active in life. But then I have again, like two sides. It's like, I'll either do that, or I'll just be very, very, very chill and calm at home. 
Q: So, how do you feel about being interviewed? How do you feel about being able to share your thoughts and your hobbies with the school?
It's great.I don't think I feel nervous or anything.  I just, I hope the students at Parkdale are able to get a better sense of who I am. [I] would love for them to take a music class and, you know, have music while they're here. They can come down and stop at the room, [and] come visit!
Q: Can you tell us a little bit about joining choir at Parkdale? 
I would love for people to join choir.  Chorus needs a lot more members. If anyone has a half semester class, and they have 4B open next semester, then they'll be able to join. They can come down to Room 3 to figure out how they might be able to join the Chorus. I would love for people to join Chorus. And if not [this year], for the next year, if anyone is interested, I need them to come down ASAP.  I would love for students to come talk to me, give me their name, give me their email, so that we can make sure I get them into chorus for next year. Because I would love to grow the choir, and have people be able to enjoy that class as well.  It's all based on numbers, too. So if more people join, then I will be able to offer more sections of it, so it won't be just that 4B period class time. 
Q: In addition to the content you teach, what is something you hope others can learn from you?
I think the basic thing, just being like a music teacher and teaching an art, I want people to be able to appreciate the beauty of certain things, you know what I mean? Like, I want people to [learn] music, but then also [put it] in relation to art and relation to history and all that other stuff. I want people to be able to appreciate those things.
I feel like definitely in this country, you know, we need money. Like, we're always like, "Alright, money, money, money whats gonna bring me money? Let me be a doctor and be a lawyer. Let me be this. The hard sciences." But it's like, again, we weren't made to do these things. Like, this is a push. I hope someone learns from me to just appreciate life, and appreciate the beauty of things in life and music. Also how to really take control of your life. I feel like that's also the main thing that I want to teach students, because sometimes, I will talk to you guys about things like, "alright, what is going on in your lives? Are you applying to college? Are you doing this? Are you doing that?" Because I think we can get wrapped up in so many different things, especially being so young. I would rather not get wrapped up into one path. You know, I would really want you guys to think about what it is that you want to do with the rest of your life. You know, how do you want to make it a reality?
Leave a Comment
Your donation will support the student journalists of Parkdale High School. Your contribution will allow us to cover our annual website hosting costs and publish some printed editions, as well.
About the Contributor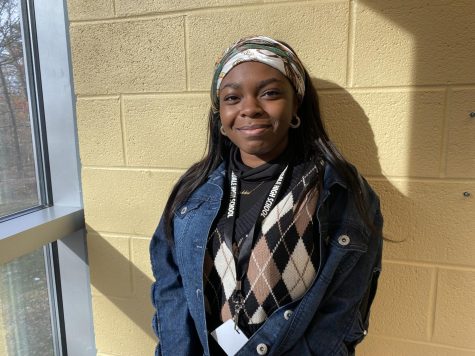 Debbie Pace, Instagram Reporter
Debbie Pace is a current senior at Parkdale High. This is her first full year on the Newspaper staff as a Social Media Reporter and I can tell you, she...