Veteran teacher dedicates decades to Parkdale as student then teacher
While some students may know him as the teacher decked out in his famous green blazer during Homecoming, those who have had Mr. Pavlat know that his story at Parkdale goes far beyond a festive Spirit Week wardrobe.  Mr. Eric Pavlat has spent years upon years at Parkdale, first as a student and then as an educator in the English Department.  We sat down with him to find out a little bit more about his background and what has made Parkdale his home-away-from-home for so long.
Q: Three traits that define you? And out of those three which one would you choose to best describe yourself?
Mr. Pavlat: "Three traits that define me: well, conscientious, careful and caring. Oh and I would choose caring [because] it's better to care about someone than to get the right answer."
Q: Why did you become a teacher?
Mr. Pavlat: "Is this like an origin story for a superhero or something? Well, I got a sign Iguess, I mean it's a calling, it's not a decision it was definitely a calling.  [While in Advanced Placement chemistry during my senior year], the teacher was smart as a whip, but he couldn't  teach as well.  Class was always 45 minutes, and the teacher would let the class have 5-10 minutes to themselves.. I would take a group of 4-5 people over to the lab tables and spend the last five minutes telling them what [our teacher] was trying to tell them.  One of the girls looked me dead in the eye and said, 'Eric, you should be a teacher.' And it felt like a blue bolt of lightning out of the heavens into my spine and I said, 'you're right I should'"
Q: One of the most memorable moments during your time here at Parkdale? 
Mr. Pavlat: "Well, the strangest moment was when I was assigned to teach ninth grade English in the room in which I was taught ninth grade english.. That was actually too much for me, but I requested to trade with another teacher which did end up happening. It was just too much and that was my first year too." 
Q: What is the greatest challenge facing teachers now that was not heard of before?
Mr. Pavlat: "Right now students', teachers' and, I suspect, administrators' mental health is all suffering because of the pandemic and this combination of loss and constant vigilance. We are not trained in counseling […] Suddenly we are in a situation with a much more vulnerable population. We are needing to really learn skills on the job, try to get both our students and ourselves in a mental state where we can learn and improve ourselves even if there are some feelings of hopelessness running around and still trying a way to motivate [students] and ourselves."
Q: What's your favorite thing about Parkdale?
Mr. Pavlat: "The students,  I just really really love the students.  My sister is into computers, and once she offered me a job doing computer training, traveling around the country and stuff like that and I said no. Teaching adults who are doing stuff for money and whatever? No. Money is great and all that, but I am not going to have the same experience that I have here with lightbulbs going off over these students' heads. There's nothing else like that."
Leave a Comment
Your donation will support the student journalists of Parkdale High School. Your contribution will allow us to cover our annual website hosting costs and publish some printed editions, as well.
About the Contributor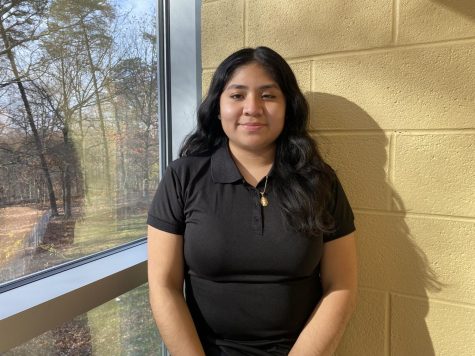 Cristal Lucero, Instagram Reporter
Cristal Lucero is a junior at Parkdale High School. She is on the Social Media team, part of The Paw Print association. She is a daily Instagrammer, which...