The United States vs. Billie Holiday film proves to be in-depth look of how America's 'War on Drugs' epidemic perpetrated life of famous jazz singer
Hulu's new original movie, The United States vs. Billie Holiday, released on February 26th took the movie world by storm. Starring singer-songwriter Andra Day, and Moonlight alumni, Trevonte Rhodes, the film cohesively retells the gritty and raw truths of famous Jazz singer, Billie Holiday. Based on the book Chasing the Scream: The First and Last Days of the War on Drugs by Johann Harri, the biopic takes a deeper dive into the dark secrets of the United States government involvement in the War on Drugs epidemic which heavily penalized Holiday's career.
Billie Holiday is a household name. Much like Kobe Bryant or Michael Jackson. But most people aren't familiar with the person behind this name. Billie Holiday, born Eleanora Fagan was famously known as a Jazz and swing music singer during the 1940s. (Yes, she's very much older than most of your grandparents). Being the most influential Jazz singer during the most controversial era in American history, Holiday's upbringing trails a different story.
In the United States Vs. Billie Holiday, young Fagan is seen at age 11 in a brothel house. This is after Holiday and Jimmy Fletcher (Trevante Rhodes) are in a scene where they are using heroin. The scene transitions to Fagan's childhood when she lived with her mother, Sadie. An article by refinery29 states, "The singer grew up poor, spending time in brothels with her mother, and performing sex work as a teenager, which she was arrested for." Billie's father, Clarence Holiday was a successful Jazz musician. Much of his involvement in her life is unknown.
The performance and upscale production that created the body of work that is this film produces many elements that viewers cannot miss. Most widely recognized, Andra Day's performance of Billie Holiday. Being the main character of Billie, Day exudes Holiday's onstage and off-stage persona in a captivating way. 
Before landing her first Golden Globe win as the second Black woman to win this notoriety, which comes after Whoppi Goldberg's win in 1985 for The color purple, Day expressed doubt and fear on her first debut film performance for the biopic. 
In an interview with pbs.org, Day stated, "Absolutely. It was doubt, honestly fear. Really just fear, and of the self-sabotaging kind," But then I found out, obviously, that it wasn't a remaking "Lady Sings the Blues," but that it would be vindicating Billie's legacy, which incentivized me". 
Day lamented on her transformation for her role as Holiday in the new biopic. She states, "Filling Holiday's shoes was hard as hell." With her raspy voice, drugs induced appearance, and tough spirit, Day stated that "I had to figure out how to earn it in a very short period of time. Interestingly enough, the cigarette smoking, drinking a lot of gin, really helped me to feel that gravel, you know what I mean?", in the same article by pbs.org, Day also stated that, "And so it slowed me down in a way that allowed me to pay more attention to the emotional performance and being present with Lee and listening and being fluid with him and my cast", she explained. 
It's no question that Day's first debut film performance scored massive recognition. Tying into her musical talents, Day was able to emulate Holiday's aura perfectly. Most notable, the song 'Strange Fruit'. The opening scene starts with Billie Holiday (Andra Day) performing at CafeSociety in New York City. On stage, she sings Strange Fruit. A song of protest that signifies the harrowing image of black bodies being lynched at a time of social injustice. It was this song that penalized Holiday's career. 
Strange Fruit was originally written by Abel Meeropol who was a poet and social activist. The song was inspired by a photograph of a lynching. Starting out as a poem, it would later get published in a teachers union publication, according to an article by npr.org. After playing the song for a New York club owner, the song was later passed down to Billie Holiday. In the same article by npr.org, 'Strange Fruit' was named "song of the century" by Time magazine in 1999 and has been reprised over a dozen times including a spot in the National Recording Registry by the Library of Congress. 
Leading into her well-known performance of 'Strange Fruit' at CafeSociety, there is a scene of Holiday being interviewed by Reginald Lord Devine (Leslie Jordan). Devine questions Holiday's choice of performing a song such as 'Strange Fruit' at the CafeSociety and a series of others that clearly draw the unawareness that a typical white counterpart was known to have during that time. Holiday responds with truth as her face depicts an "if only you knew what I was talking about" expression. Devine recalls her performance stating it to be 'mesmerizing' which further captivates the obliviousness of what the song actually represents. In one line Devine states "The wrong kind of place, for the right kind of people". This cements the tone of which the song displays when Holiday sings it. The audience is unaware of the central message of the song. It places a tough spot for the onlookers, as they can't bear whether to listen in awe and amazement or with disgust and anger as this song is meant to be uncomfortable for the perpetrating villainy of America's racial plight during the 1940s. 
Backstage, we're given a reflection of Holiday's life behind her onstage persona. A couple from Baltimore meets her for the first time after a night of performing and Billie's welcoming presence humanizes her. Even the first time we meet, Jimmy Fletcher (Trevonte Rhodes).
Fletcher was associated with Billie Holiday during her time of fame, working as an undercover FBI agent to help the US government track down Holiday for her use of illegal drugs. The mission goes sour as Fletcher ends up falling in love with Holiday later on.
The pressure on both Holiday and Fletcher is prevalent throughout the film. In one instance, Holiday is seen setting up her band at rehearsals when a man by the name of Joe compels Holiday not to perform 'Strange Fruit". Holiday questions why Joe hesitantly states "the government". Holiday is adamant as she responds stating "It's important to me", and "I'll sing it the f*ck I want". Joe makes a remark stating "Meerpol is a f**king commune". This remark pays homage to Meerpol, the original composer of Strange Fruit as it adds a subtle diss to Meerpol's communist views back then. 
Fletcher experiences many fallacies under the US government. One main reason for this is Rhode's character and the complexity of Fletcher's situation. Fletcher presents many ironic elements while working for the government in their secretive operation. For one, he falls in love with the person that's being targeted even when he isn't supposed to.  Secondly, he's a black man who tries to take down a prominent black woman (talk about your own people). Lastly, he's a black man in America working for the white man whose whole agenda is to take down the uncomfortable truth blaring at every nightclub due to Holiday's unrest incentive to expose the truth. Add in a dash of the fact that he was never going to get seen as one of "them" because he's black.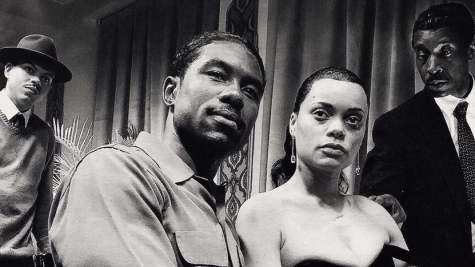 Fletcher's background is depicted when we see his family life in one scene of the biopic. Fletcher comes home late at night as his mother waits trying to understand his lateness to what seems to be a dinner night. Fletcher tries cozying up to his mother in an effort to relieve her worries stating "sorry Ma, I was at an interview". This scene doesn't just describe the relationship between Fletcher and his mother, but it creates an example of just how successful Fletcher is. The irony of it all is he's a rich black man, who's family is well off to have servants with the same skin tone as theirs. His excitement to get the job only adds more to the fact of how willing people can be in order to get to the top. 
When he gets the inside job, Fletcher is quickly seen as a traitor. His character is called out several times for his treatment towards Billie (rightfully so) but his growing desperation to be seen as an equal by his white counterparts goes south when his emotions get the best of him. In the irony of it all, Fletcher loses everything. 
Although Holiday dials down Fletcher's efforts to properly love her during a scene where Holiday and her band go on tour, his underlying emotion reflects how much he wants to fight for her instead of fighting against her. For instance, Fletcher tries to stand up for Holiday after her diagnosis of liver disease when he confronts agent Carter (Blake DeLong) stating, "you hate her. Despite all the sh*t in her life. She's made something of herself and you can't take it because she's strong, beautiful, and black." The scene ends with Fletcher getting pushed around as Agent Carter walks away. Despite this scene drawing a line in the sand as Fletcher creates a last-ditch effort for Holiday, audiences can relate it as it being too late to save her. 
Despite Jimmy Fletcher and Billie Holiday's on and off romance, Holiday's previous relationships which have proven to be abusive creates a sentimental idea that she has never really known the proper kind of love, even at an early age. In her life of fame and love, she turns to drugs.
Although Billie Holiday's prominence in society at the time gave her worldwide recognition, backstage the singer battled with drug addiction. With several scenes showcasing Holiday using heroin combined with smoking cigarettes, the lasting effects weigh her down with a life-threatening condition of liver disease. Holiday died at the age of 44.
The link between Holiday's song Strange Fruit and the United States government insider operation doesn't hang too far from the tree. According to biography.com, "But that night she received a warning from the Federal Bureau of Narcotics (FBN), a government agency which lasted from 1930 to 1968: She was never to sing the song again."  With Holiday's determined spirit and pivotal role as a public figure, she felt it as her civic duty to reveal the truth that haunted the American government. Especially one person in particular: Harry Anslinger.
Anslinger was a former US government official who served as one of the first US commissioners of the FBN. An article by timeline.com states, "With this unforgiving mentality, Anslinger ruled over the Federal Narcotics Bureau (a precursor to the DEA) for more than three decades — a formative period that shaped the United States' drug policy for years to come". 
With Anslinger in charge, his push for prohibiting illegal drugs was sparked by his intense hatred of jazz music and racism. This came as no surprise when Anslinger would hire FBI agents to stalk famous singers such as Billie Holiday, Louis Armstrong, and Judy Garland.
Time magazine wrote an article stating that "Emphasizing Holiday's drug use enabled Anslinger to minimize her influence on the arts, social consciousness and the growing civil rights movement—a way to keep the focus on her color not her creativity, on her addictions, not her artistry". 
Anslinger's whole career under the FBN showcased his support for prohibition, criminalizing drugs, and helping the creation of anti-drug policies. Although Anslinger had a bias against Jazz music, his role still impacts many minorities today. 
The same article by article by timeline.com states, "He remained at the helm of the Federal Narcotics Bureau until the Kennedy administration, but his ideas were swiftly adopted by successive administrations — always disproportionately to the detriment of people of color." 
In the 1970s, after the appointment of Richard Nixon, the war on drugs was officially in full effect. Timeline.com recorded that, "Over the course of the next 20 years, the number of drug offenders in U.S. prisons multiplied twelvefold." Why is that?
By 1986, Congress passed an Anti-Drug Abuse Act that made it mandatory to have a minimum prison sentence for drug-related crimes. A source from history.com reported that, "This law was later heavily criticized as having racist ramifications because it allocated longer prison sentences for offenses involving the same amount of crack cocaine (used more often by black Americans) as powder cocaine (used more often by white Americans)."  
With this, a divide was created as black Americans were more likely to be sentenced to a five-year charge for 5 grams of crack cocaine than 500 grams.
The epidemic of America's war on drugs and its lasting effects on minorities are still prevalent today.  The United States vs. Billie Holiday expresses that a tale as old as time holds value more than several decades later.
Leave a Comment
Your donation will support the student journalists of Parkdale High School. Your contribution will allow us to cover our annual website hosting costs and publish some printed editions, as well.