As the school year comes to an end, freshman and sophomores reflect on their first high school year in-person
As the 2021-2022 school year is coming to an end the feelings of the students have changed from the start of the school year to today. With seven months of in person learning and one month of distance learning, these past eight months of the school year have shaped how the freshman and sophomores have felt their first year back to in-person learning and first time in a high school setting since the start of the COVID-19 pandemic.
It's been said that this year at Parkdale there were two freshman classes, the class of 2024 and 2025. At the start of the school year, there was so much to say about the feelings that came with returning to in-person learning. Now almost an entire school year later and close to the end, there are still feelings that haven't been spoken out loud.
"I felt like the school year is ending on a good note. Being in-person has definitely impacted me academically in a positive way, my GPA has gone up every quarter," said sophomore Iveth Martinez, who spoke to us about how her year was going back in October. "Overall as this being my first year in in-person high school, I'd say it's been pretty good." 
Many like Martinez enjoyed returning to in-person learning rather than distance learning. "In-person school just makes me focus more, my grades are better than they were during virtual, those were pretty not pretty," said sophomore Jose Lopez.  The return to in-person learning and entering high school was a big take for the underclassmen as they had to adjust to socializing after almost two years of being at home. 
The class of 2025 was in seventh grade last time that they were in person. This year as they are finally back in person they got to finally start high school. The class of 2024 was in eighth grade when the pandemic hit back in 2019. Their freshman year, their first year in high school took place behind a screen, so you could say that they too were freshman at the start of the school year.
Last December and through the first half of January, Prince George's County Public Schools went back to distance learning. Three weeks of virtual learning had some people wanting it to last longer, it was a break from the intenseness that came with the first few months back into the building.
"When we went virtual, I felt a bit of relief since it was the first time in a while that we had classes on Zoom. I got a lot of the tiredness off of me and it just got me fresh and ready to go in-person again," expressed Martinez. 
In the beginning there was nervousness of starting the school year, and Martinez said at first she was nervous of what was to come from the school year and the rest of high school. That changed as she went through the school year. "I feel overall good about these past months. The school year did change as time went on," she said. Lopez added, "I like how we had spirit week, character day was fun. Oh I like how there's different people in every class and just more freedom." 
Now as the school year is soon to end the freshman and sophomore have experienced their first year in the building and have seen first hand not only what it means to be a high schooler, but what it means to be a Parkdale Panther. With just two more months remaining in the school year many of us can agree with Lopez that "Not gonna lie, this year went by so fast."
View Comments(1)
Your donation will support the student journalists of Parkdale High School. Your contribution will allow us to cover our annual website hosting costs and publish some printed editions, as well.
About the Contributor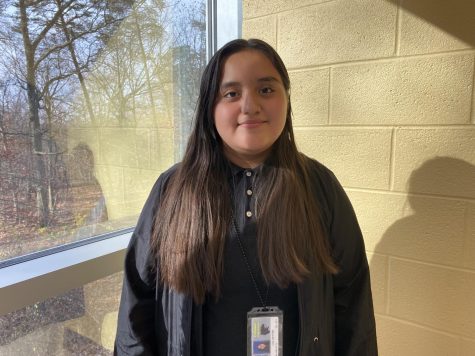 Luz Gaytan, Contributing Reporter
Luz Gaytan is currently a senior at Parkdale and the Chief of Staff for the Class of 2023. She joined The Paw Print during the 2020-2021 school year after...