Parkdale sophomores, freshmen experience similar newness as school returns to in-person
With the start of a new school year, there are always mixed feelings for entering freshmen who are finally transitioning to high school. After 18 months of being home and behind a screen, the Class of 2024 and 2025 have finally entered high school and started their high school careers. At Parkdale there are basically two freshmen classes, the actual freshmen; class of 2025 and the sophomores; class of 2024 who spent their freshman year behind a screen. Entering high school can be scary or exciting for students and just in the first three weeks ,high school has already stirred feelings between the two new incoming classes of students who are brand new to the panthers den. 
The class of 2024 was in the eighth grade right before schools shut down in March of 2020. Without finishing and closing off their middle school career, just a few months later they found themselves starting high school behind a screen. Their whole freshman experience was taken by the pandemic. This year the class of 2024 entered Pardale as sophomores but with the same geographical knowledge of the building that the freshman class has. 
" Well I felt very nervous the first week of school because compared to my middle school, Parkdale High School is enormous! " said sophomore Iveth Martinez. 
Learning to move around Parkdale can be very tricky when most of the hallways look exactly the same. However, aside from a large building, Martinez's high school experience started on a good note. 
"I am definitely enjoying high school so far," she explained. "I am happy with my classes and I don't think I would change anything about my experience so far." Of course the most stressful part is attending school during a pandemic because "who doesn't feel stressed about it to be honest," added Martinez. 
Every teenager has an idea or an expectation when entering high school and for Martinez it was "influenced by shows and movies I have watched but I definitely knew it wasn't going to be exactly like the movies." For some, though, the expectation actually was like the movies.
"I thought it would be like High School Musical," said freshmen Clarissa Granado. "Sadly it isn't but it's good so far." While Parkdale is no East High and our Panthers are no Wild Cats, we have our own diversities and individuality. 
The Class of 2025 had the biggest transition as the last time they were in an in-person setting they were in the seventh grade. With the common saying "they're middle schoolers" by some of the upperclassmen, that hasn't stopped the freshmen class from starting high school on a good note. 
"I am enjoying Parkdale High School," said Granados. "It's a pretty nice high school with amazing teachers and students. I enjoy everything about the school and the amazing teachers and there's nothing hard or stressful yet." Let's see how they feel during midterm season. 
As one of the biggest schools in the county in terms of the number of students, Parkdale currently houses roughly 1,000 freshmen in the class of 2025 alone. With so many students you could see the difference between middle school and high school, but Granados said "I don't find it different, [but] I find it a little more challenging than middle school [though]." 
Upperclassmen advice: 
As someone who has been in your shoes, just enjoy the ride! 

Do your work, try your best, make friends, lose some, join clubs, sports, go to events and just enjoy it. 

You only get to do this once, and if you do it twice then it isn't as fun. 

This is the time where you make mistakes and learn from them, so take advantage of all your opportunities and make it worth it.
View Comments (2)
Your donation will support the student journalists of Parkdale High School. Your contribution will allow us to cover our annual website hosting costs and publish some printed editions, as well.
About the Contributor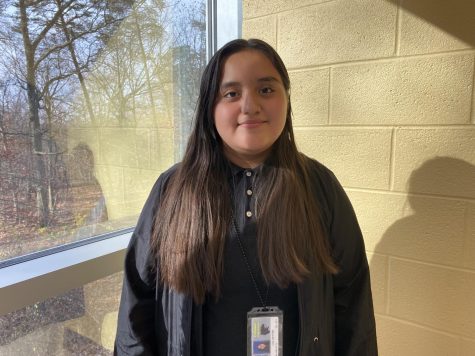 Luz Gaytan, Contributing Reporter
Luz Gaytan is currently a senior at Parkdale and the Chief of Staff for the Class of 2023. She joined The Paw Print during the 2020-2021 school year after...