First airstrike attack in Syria by the US under Biden administration
On Feb.26, President Joe Biden's administration launched its first airstrike on Syria killing about 20 people during the attack. The reason why they attacked is that individuals suspected of being part of an Iranian-backed militia were found in Syria. These strikes are the first action President Biden has taken in regards to foreign policy, an action that has garnered much criticism from Democratic lawmakers.  

According to CNN Politics, The Pentagon has stated that their site was not involved with the rocket attacks, but Secretary of Defense Lloyd Austin said he was "confident" it was used by the same Iranian-backed militias targeting US and coalition forces in Iraq with rocket attacks. Almost a day later, Iran's foreign ministry condemned the strikes. Ministry spokesperson Saeed Khatibzadeh called the airstrikes a "continuation of constant Zionist regime raids on Syrian soil," a reference to the Israeli aerial attacks on Syria. Khatibzadeh also said the US troop presence in Syria was illegal and accused the country of training "terrorists."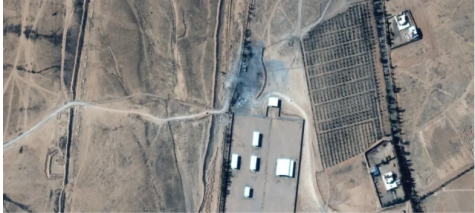 We don't know if these airstrikes were actually Iranian militia groups but what we know is that 20 people died during this process. It was also the strike where it happened near a Syrian facility but although it killed 20 people it got heavily criticized by democratic and republican lawmakers.  According to Yahoo News, Biden sent a letter to Speaker of the House Nancy Pelosi and president pro tempore of the Senate Patrick Leahy. Biden claimed that the strike was "pursuant to the United States' inherent right of self-defense as reflected in Article 51 of the United Nations Charter."
According to the New York Times, the Biden administration has still not briefed senators directly on last week's airstrike at a facility in Syria allegedly used by an Iran-allied militia group, as Democratic lawmakers continue to express anger over the move. President Joe Biden said Friday that Iran should view his decision to authorize U.S. airstrikes in Syria as a warning that it can expect consequences for its support of militia groups that threaten U.S. interests or personnel.

According to the Chicago Sun-Times, Biden said to a reporter that, "You can't act with impunity. Be careful," that's what his message had intended to send with the airstrikes, which the Pentagon said destroyed several buildings in eastern Syria but were not intended to eradicate the militia groups that used them to facilitate attacks inside Iraq. The Administration officials defended the Thursday night airstrikes as legal and appropriate, saying they took out facilities that housed valuable "capabilities" used by Iranian-backed militia groups to attack American and allied forces in Iraq.
Leave a Comment
Your donation will support the student journalists of Parkdale High School. Your contribution will allow us to cover our annual website hosting costs and publish some printed editions, as well.
About the Contributor
Alvin Gonzalez Flores, Reporter
This is Alvin Gonazlez, and he's a graduating senior. He is the life of the Zoom party and really likes to talk and write about politics.  He hopes to...