TikTok crafts you could do for spring
With the popular social media app of TikTok and the beautiful allergy-inducing spring season, why not gather up all your arts and crafts supplies for some cutesy art projects that take less than 30 minutes to complete? We've got time, thanks to COVID. 
Now I promise, these crafts aren't extravagant art pieces, just something to spice up the humdrum mood of what felt like 700 years of winter weather. If you're crafting on a budget, don't forget to grab your supplies at any of these locations: Target, Walmart, and Michaels.
Clay Rings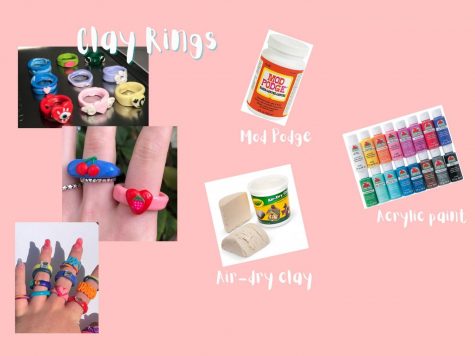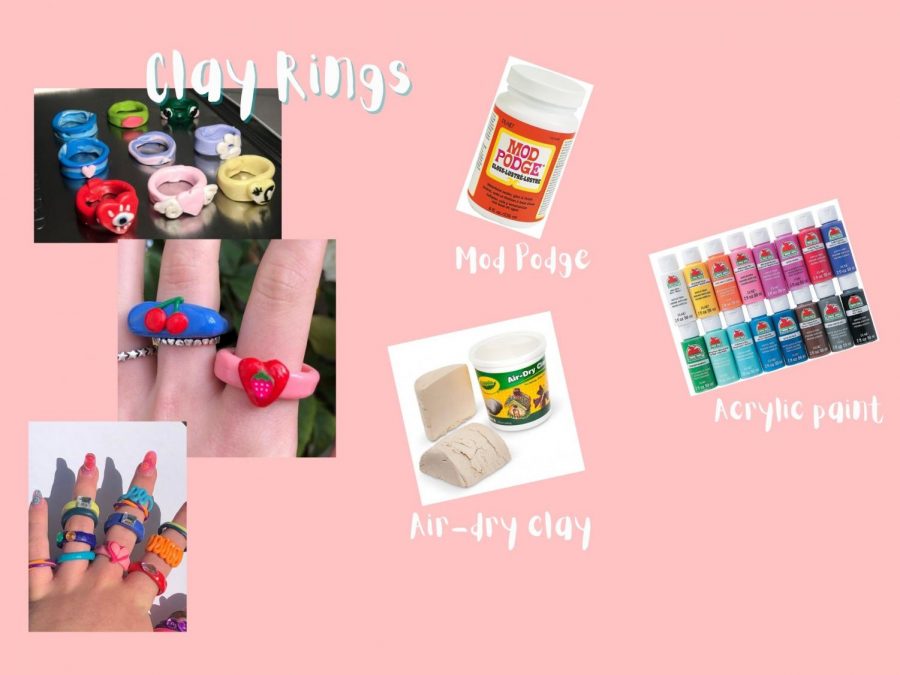 First up: Clay Rings! If you've seen these abstract clay rings all over Tiktok and Pinterest, then you know that they can add a unique accessory to any outfit. Plus, you can make them in so many different colors. the possibilities are endless!
What you'll need: 
Air-dry clay or Polymer clay (If you want something quick without the wait time, go for Air-dry clay) 

Mod Podge 

Acrylic paint 
Steps:
Grab about a quarter-sized piece of your clay and roll it out into a long snake.

Wrap the piece of clay around your finger to fit your desired size.

Cut the excess piece and using some water, smooth out the ring for a secured look!

For air-dry clay, let your clay creations sit out to air dry for a few hours or leave it out for the next day!
For polymer clay users: Bake clay at 350 degrees for 15-25 minutes!
Lastly, grab your acrylic paint and paint them to your liking. Feel free to add any patterns and designs you'd like. Don't forget to top them with mod podge for a glossy finish!
Indie-Inspired Crystal Wire Wrapped Rings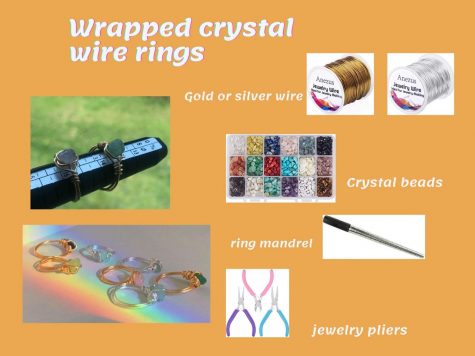 Despite the long name, Wire Rings are a big trend this Spring season, so why not make one of your own? These rings can be made into different sizes with different kinds of crystals. Whether or not you believe in the seven chakras or just want something cute for your fingers, these rings will not disappoint!
What you'll need: 
22-24 gauge jewelry wire (gold or silver)

Crystal beads (any of your choice)

Jewelry pliers 
Steps: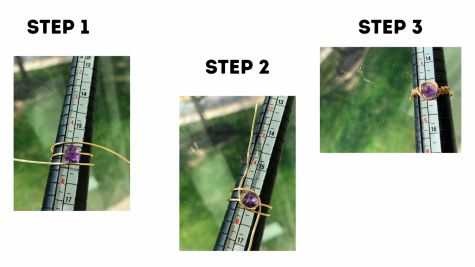 Start out with about 8 inches of wire. Next, thread the crystal bead through the wire until it meets the middle. using your ring mandrel or a nail polish cap, wrap the wire around.  You want to wrap it around 3 times. Once on top and once on the bottom. It should look like the first picture above.
 Stay with me here: to get the wrapped look, take your pliers and start wrapping the wire around the crystal bead in a counter-clockwise motion. It should resemble something similar to the second picture above.
Lastly, cut off the excess wire. You should have about a few centimeters of wire left. Using this, you will wrap this piece of wire around the ring on both the left and right sides. It should look like the third picture above.
Tada! A new ring!
Clay Trays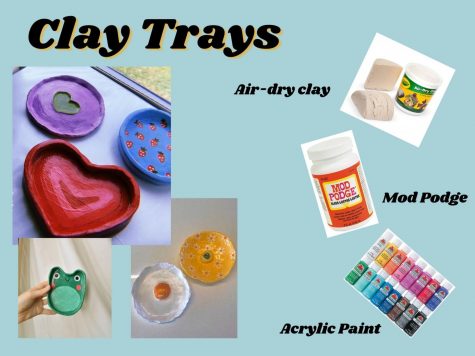 If you're looking for cute and quirky ways to store your jewelry or any miscellaneous items, then look no further. With these insanely personalized clay trays, you can get good use out of them without breaking the bank. I mean, just look at them!
Materials: 
Air-dry clay 

Mod Podge

Acrylic paint 

Exacto knife or paper clip
Steps:
Start out by rolling out some clay, about the size of your palm.

Roll out the clay evenly until it's a quarter of an inch thick.

Decide what shape you want and cut out the clay using a sharp object (an Exacto knife or a paper clip will work).

Assemble all the parts depending on the shape of your tray. Here's a tip, use water when assembling as it'll act like glue. For this part, you can use your imagination!

Let the clay dry for a few hours or you can wait until the next day.

Lastly, paint the clay to your desired color scheme.

Let it dry and top it off with mod podge for a glossy finish!
Whether or not you give these a try, the possibilities are endless. the world is your oyster, and who says crafting is only meant for kids. Anyone with an imagination can make these crafts in no time! Go on, I know you want to try these out!
Leave a Comment
Your donation will support the student journalists of Parkdale High School. Your contribution will allow us to cover our annual website hosting costs and publish some printed editions, as well.
About the Contributor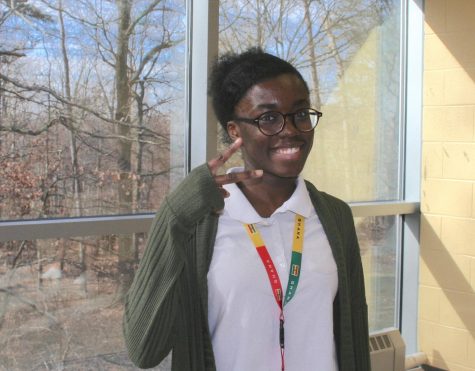 Amanda Addo, Social Media Manager
Amanda Addo is a senior, and this is her second year on the Paw Print staff. In her time of work, she's a writer and Social Media Manager. She enjoys writing...