There is little room for comparison between President Biden's and Trump's actions on handling ICE detention centers
For years, ICE detention centers have been a place where incoming immigrants stayed until they received their court hearing. However, ICE detention centers have become notoriously known after numerous videos began to circulate on social media showing the conditions of these inhumane centers, exposing the living conditions of migrant families that date back to as early as June of 2019.
As the public became more aware of the situation, people began to protest and put pressure on Congress to act on this matter. It became clear that action must be taken and during this time the Trump administration had to take matters into their own hands. However, it begs to question: how exactly did former President Trump and his administration handle this pivotal issue?
For starters, and to no surprise, Trump handled several issues poorly that many Americans were against, one being how he handled ICE detention centers.  According to USA Today, when Trump was asked by reporters at the White House about his thoughts on how ICE agents have been running these facilities, Trump claimed "I've seen some of those places, and they are run beautifully." He goes on to say, "They're clean. They're good. They do a great job."
Americans were outraged after hearing President Trump praise the detention centers, especially after the public became aware of how migrant families did not even have the bare necessities to live in these deteriorating conditions. Moreover, Trump did not hesitate to continue to find other ways to hold migrant families inside these detention centers. One of the many actions Trump decided to take was to end the Flores Settlement Agreement.
According to the National Conference of State Legislatures (NCSL), the Flores Settlement Agreement establishes that the government must release children within 20 days from detention centers. 
Trump argued that ending this agreement would not only allow for migrant children to be kept inside these detention centers for a long period of time until their court hearings for whether or not they can stay in the U.S., but it would also send the message to future migrants to not enter the United States. It was not long before Trump's decision was challenged in court and quickly struck down by a court in California. 
Despite Trump's attempts in trying to hold migrant families in these detention centers for an immense amount of time, data from the CATO Institute shows that at least 21 people have died in immigration centers in 2020 alone. This number does not account for the number of people who have died since the beginning of Trump's presidency. This alone speaks on many levels of the ways Trump has handled these centers. He has taken measures that have affected millions of immigrants who are being detained in these centers. 
Additionally, as the pandemic was worsening and COVID-19 cases were on the rise, Trump and his administration failed to take safety measures to assist migrant families who were kept in the detention centers. It was no surprise that Trump was already doing a terrible job at handling this pandemic, but he also failed to pay attention to families who were kept inside these centers.
As described in an article by the Human Rights Watch organization, "even before this crisis, detained people were unable to get basic care, they were held in a culture of fear, without any clear way to get out of detention. In a global pandemic, these conditions – overcrowding, lack of access to medical care, staff who don't speak Spanish, etc. – become even more deadly.  This is not the kind of country we want to be."
This is a prime example of the conditions migrant families had to endure way before the pandemic occurred and continue to endure even through the midst of a health crisis. Trump has proven to take zero actions to provide these families the bare necessities to live in these horrendous conditions. However, his actions have not gone unnoticed as it only increased more people to protest and speak out against how he and his administration has done a terrible job at handling ICE detention centers. 
Trump's actions spoke louder than words because this past November, Americans went out and voted for a candidate who had different plans in terms of handling the ICE detention centers.
Biden's plans 
As President Biden settled into the White House back in January, he immediately began to sign off on executive orders to roll back policies enacted by former President Trump, some of which involved the conditions of  ICE detention centers. 
One of the actions President Biden took this past February was to reopen an ICE facility for migrant children to take safety measures. This facility would hold unaccompanied migrant children who are seeking asylum. However, Biden's action was received with anger amongst voters who were in disbelief because he was going against everything he promised his supporters.
One of these angry voters is Linda Brandmiller, an immigration lawyer who represents unaccompanied minors, who described her feelings towards this decision in an article by the Washington Post: "It's unnecessary, it's costly, and it goes absolutely against everything [President] Biden promised he was going to do." Brandmiller goes on to say, "It's a step backward, is what it is. It's a huge step backward."
Biden supporters are not hesitating to hold him accountable for his actions and making sure he follows through with the commitments he made throughout his campaign. This decision is not effective and does not change the fact that children are being kept in these facilities. 
Another action that Biden took to handle the ICE detention centers and family separations was to create a task force. Essentially this task force would be required to find the children who were separated from their parents at the border and unite them together. This is a step to undo what the Trump administration had done for migrant families. 
While some may claim that Biden has only been in office for four months, it is not too late to make sure we are holding him accountable for his promises and ensuring he releases the millions of migrant families who are being held in these facilities. The release of migrant families is only part of reforming our immigration policies and changing how incoming migrants are treated every time they enter the U.S.
Leave a Comment
Your donation will support the student journalists of Parkdale High School. Your contribution will allow us to cover our annual website hosting costs and publish some printed editions, as well.
About the Contributor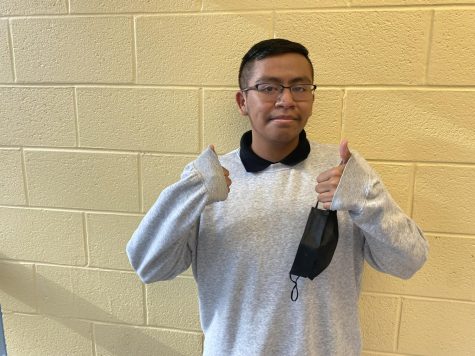 Alexsis Tapia Vasquez, Reporter
This is Alexsis Tapia, and he is currently a senior at Parkdale. This is his second year on The Paw Print. He is a reporter who mainly writes articles...