President Biden passes laws, signs bills in first few months of presidency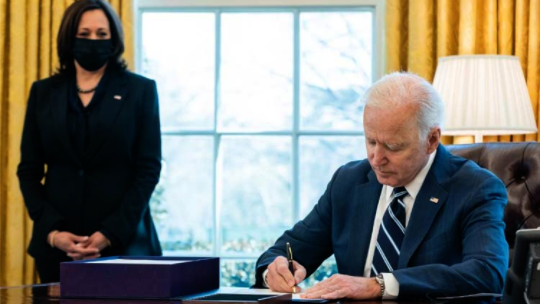 Just within the first 100 days of President Joe Biden and Vice President Kamala Harris being sworn into office, they were already making numerous executive orders. These executive orders focus on reversing former President Donald Trump's policies and combating COVID-19. 
The COVID-19 Pandemic
As everyone has seen, President Biden has taken a different approach than Trump had taken. He has created a plan that will help combat the Coronavirus and prepare for global health threats in the future. 
One of President Biden's latest bills, that many were expecting, was signed into law on March 11th, a $1.9 trillion Relief bill into law. This law is known as the, "American Rescue Package" which will not only permit a third round of about $1,400 for the majority of families but will also help, financially, with other problems that COVID-19 has caused.
This money will help extend additional unemployment support to millions of people that are still out of work. $350 billion will be set aside as federal money to help schools reopen, as well as cities and states facing budget shortfalls. This money set aside will also serve as assistance in the research, development, and distribution of coronavirus vaccine doses. 
There are other smaller ways this money will impact people in the long run. For example, this money will contribute to the increase of food stamps by 15 percent until Sept. low-income household's rent will be covered, child tax credit will also increase, and small businesses will be helped. 
During the signing of this bill the President stated that, "This historic legislation is about rebuilding the backbone of this country," said President Biden. He wants to give the people, "…working people, middle-class folks, people who built this country — a fighting chance."
These are some executive orders that Biden has made, which have contributed to helping the nation recover.
As some may have noticed, stores are getting their shelves filled up again. This is due to an executive order called "A Sustainable Public Health Supply Chain". This is pushing for the manufacturing of critical supplies in order for the public to have the essential supplies they need.

International travelers are now needing to present a negative COVID-19 test before entering the U.S. upon arrival, they will have to quarantine before being able to go out in public.
Immigration 
Much of what President Biden has already accomplished was through executive order, especially when it considered immigration. So far he is pushing for an immigration reform bill. Although the bill is still being reviewed, it is most likely that it will pass considering that there aren't many republicans that may refute the bill. 
The House of Representatives has passed two bills this month. These bills are a designed path for the millions of undocumented immigrants, including those brought to the country unlawfully, allowing them to obtain citizenship or legal status in the U.S. 
The first bill was the American Dream and Promise Act, with a vote of 228- 197, which applies to the Dreamers, which are a group of people that are protected under that Deferred Action for Childhood Arrivals program and immigrants with temporary protected status or other protections. Around 2.5 million people that arrived as children will be eligible for this Act. 
The second bill is the Farm Workforce Modernization Act, with 247-174 votes. This Act will apply to farm workers who are in the country illegally. However, these people will have to pay a fine and stay in the industry that they are in for around four to eight more years depending on how long they have been working in the industry. 
Biden has promised to undo Trump's immigration policies and place more humane policies. However, President Biden has had to face Republicans to repair the nation's immigration laws. With the President's hopes to mend the former president's policies, there have been consequences. The southern border has seen an increase in migration and attacks from republicans. 
This is another bill that is currently being discussed.
Not only will young immigrants receive help but also people in the U.S with DACA, TPS,and other protections. This plan that the President has planned has been named the U.S Citizenship Act of 2021. 
Racial Equity
"I believe this nation and this government need to change their whole approach to the issue of racial equity," Biden said before signing the orders in the State Dining Room.
So far the president has not signed any bills concerning racial equality, but there have been some executive actions that have been placed. There are four executive actions that were signed within the first few days of becoming president that concerned equality.
President Biden has created the "Memorandum on Tribal Consultations and Strengthening Nation-to-Nation Relationship. The action is committing to honor Tribal sovereignty and better the nation-to-nation relationship. Not only that, but it will be a beginning to the consultation that addresses the nation's crisis, such as COVID-19, economic security, racial justice, and climate change. 
These are other laws and executive orders that President Biden has signed in.
Fighting Racism, Xenophobia, and Intolerance Against Asian Americans and Pacific Islanders is another executive order that President Biden has signed 

Biden passed Executive Order 13985, which advances racial equity and support for underserved communities through the federal government.
LGBTQ+ Rights
On the first day of President Biden's being in office, he provided the people with an executive order that strengthened the anti-discrimination protection for the LGBTQ community. 
        Biden had signed Executive Order 13988, Preventing and Combating Discrimination. This executive order is aiming to prevent and combat discrimination on the basis of gender identity or sexual orientation and to fully enforce Title VII of the Civil Rights Act of 1964, employment discrimination, and other laws that prohibit discrimination on the basis of gender identity or sexual orientation. 
The White House says, "All persons should receive equal treatment under the law, no matter their gender identity or sexual orientation."
Leave a Comment
Your donation will support the student journalists of Parkdale High School. Your contribution will allow us to cover our annual website hosting costs and publish some printed editions, as well.
About the Contributor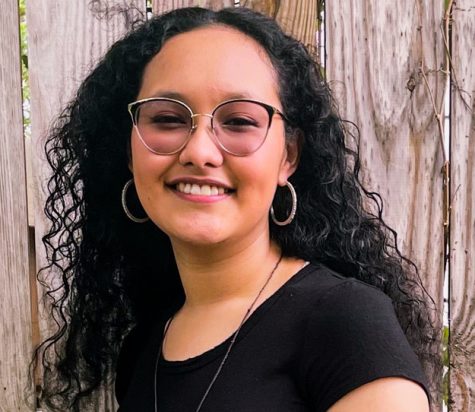 Kimberly Ortega, Chief Copy Editor
This is her second year in Newspaper as a Journalist and Chief Copy Editor with the "encouragement" Ms G has given her. She enjoys reading, being outdoors,...