What are all of the mixed feelings about in Netflix's 'Love Alarm' Season 2?
'Love Alarm' was Netflix's first original k-drama, which came out over a year ago and two months after it came out, the cast announced in a cute video that they'd be filming a second season due to the high demand. That season came out on March 12th on Netflix.
Now, that the new season is available the only question left unanswered is: is it worth watching? Right off the bat, the answer is an absolute yes.
Season one was captivating due to it's fast-paced and shortened storyline in comparison to other k-dramas. This new season is even shorter and still worth-watching too. While some were confused with the ending and others upset, it is undeniable that the drama had a particular and captivating ending. 
Love Alarm is a romantic drama in an alternate reality where people discover whether or not someone loves them or can let someone else know they have feelings for them through an application, also called Love Alarm. The way the app itself works is that when you download it, it will automatically let you know if someone within a 10-meter radius has feelings for you. If you have feelings for someone their love alarm will ring, that is, if they have the app installed. 
At the end of the season, viewers are left in a cliffhanger, which is why the series got renewed for a second season. Season 1 introduced the main characters, Jojo (Kim So-Hyun), Hye-yeong (Jung Ga-ram) and Sun-oh (Song Kang) who are left in a love triangle. In the adorable and short video where the cast lets their viewers know that the show will be coming back with a second  season, the actors said "Thanks to all your love and support, Love Alarm Season 2 has been confirmed! We thank you and we love you! Let's meet soon…"
What about Season 2, then? 
In season two, a lot of things are expected to happen following the events of season one. The app in the show itself will come with a new update. Netflix has an official channel for all things K-drama and Asian Dramas called 'The Swoon,' in which they share exclusive interviews, behind-the-scenes, games with the casts, and iconic scenes of the dramas that fans all over the world enjoy. The Swoon released a behind-the-scenes video and the actors talk about how there will be a more mature relationship between the characters since they are indeed supposed to be older. Director Kim Jun-u said that, "The goal of season two is to tell the stories we couldn't tell in season one." He then added, "Everyone's a little more mature in season two, but they're still struggling to come to grips with life. That's what we tried to portray." 
The app in the show is actually real and can be used in real life. It was usually only available on Androids in Korea but now it is also available here in the U.S. and for iOS as well. According to an article for the Cosmopolitan,  the drama's Director Lee Na-jeong said, "We invested a lot of time and effort in creating an app that actually works, collaborating with app development specialists, designers, and sound designers so that the audience can immerse themselves in the story, watching the characters feeling various emotions looking at the screen of the Love Alarm app…" The app isn't like the one in the show since it can't really tell someone if you like them or vice versa but it's more of a means for fans to enjoy global events relating to the drama and the Webtoon.
Love Alarm has come back with six episodes this time, two episodes less than the last season. The stories that couldn't be told in season one will surely be told in this season. Episode one greeted us with a new relationship between Jojo and Hye-yeong. Jojo is in college, still facing her own personal adversities and Hye-yeong works at a renowned company(hint-hint). Sun-oh is left to the side continuing his life as a model and son of a political figure who cares more about votes than his own son, and a regretful, tired mother.
The 26-year-old rookie actor, Song Kang who plays Sun-oh talked about his experiences while filming the series and he said, "We had to show that we were friends but also caught in a love triangle. That was the most difficult art of playing the role. But since Ga-ram and I are close, we talk often about these things, so it was easiest to portray that on screen."  He said this in a behind-the-scenes video published by 'The Swoon' on Youtube.
Agreeing to disagreeing 
Some viewers didn't enjoy the 2nd season as much because the ending was very controversial. Some may have enjoyed it but we're still thrown off from the unexpected ending. The truth of it all is that although the ending was different it was also a good change. In romance stories, things are very static and when something changes that is unexpected some get upset but the change in this case is actually a good thing. Without spoiling anything, the ending can give us a new perspective in how things can end differently sometimes. Rather than being upset about the ending we should take a step back to see that this unexpected event is revolutionary in the world of kdramas and that change may not be so bad sometimes. 
The app itself seems to be the only factor that confuses Jojo and her feelings. Even though Love Alarm was created to make confessing our feelings esters, once again we might wonder, would an app really make things easier or would it just make things more complicated than they already are? Love is indeed complex but regardless of its complexity, will Jojo finally find the answers she is looking for?
Some recommendations to cope with finishing Love Alarm: 
Sweet Home: If you want to see Song Kang again, his latest show, 'Sweet Home' came out in December. It is about an apocalyptic story that involves residents in an apartment building during the time of the apocalypse and how they survive such events. Song Kang plays the main character who moves to this apartment complex shortly before the virus begins to spread looking for a new start after the death of his family. If you like action-packed apocalyptic, science fiction-gory-ish shows, this series is perfect for you. This story is also inspired by the Webtoon 'Sweet Home'. Platforms: Netflix.com 
Vincenzo: The story of a Korean-Italian lawyer for the Italian mafia who moves back to Korea to run a few errands and while at it, he gives a conglomerate a hard time and a sense of justice, his type of justice at least. Song Joong-ki stars in this dark comedy/thriller series and gives life to a very charming and unappeasable character that speaks italian and is very rich. Platforms: Netflix.com 
Navillera: A story of a young gifted ballerino and a 70-year-old retired man looking to start learning ballet which he had given up on due to life events. Song Kang is of course the young ballerino and Park In-hwan gives life to the 70-year-old grandpa.Together, they both will work out their problems and channel their energy into the beautiful practice that is ballet, even if for one of them, even a relevé can be very excruciatingly hard. Both characters will interpret the story of the Webtoon 'Navillera' from which the upcoming series is about. Platforms: Netflix.com and Tvn.com
True Beauty: Jug-yeong is a young enthusiastic high school girl with a passion for gory comics. When she is in middle school she is bullied for her appearance and during the summer before high school she learns how to do her makeup, which she is very good at. In her new school life, she becomes a 'goddess,' which is what they call the prettiest girls in the school because of her makeup. Because of this, she is in constant fear that her real identity will be uncovered and everyone will know about her real face, the makeup-less face. A touching and funny story that will surely make you feel a little bit of every feel. Platforms: Viki Rakuten.com
These are all highly rated dramas which may interest some. Most are available on Netflix while 'True Beauty' can be found on Viki.com.
Could an app really make things easier in terms of confessing your feelings? Could love be easier with an app that does the whole confession part for you? These questions and the ones we   hadn't even thought about are to be answered in season 2 of Love Alarm.
Leave a Comment
Your donation will support the student journalists of Parkdale High School. Your contribution will allow us to cover our annual website hosting costs and publish some printed editions, as well.
About the Contributor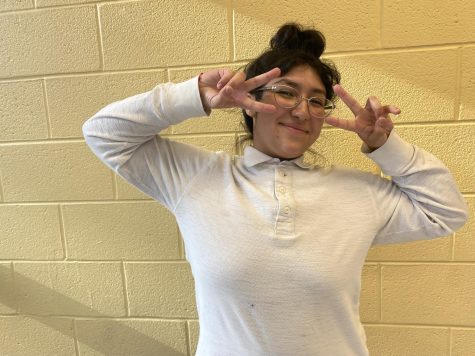 Sandy Zelaya Pena, Reporter
Sandy Zelaya is a junior at PHS, proudly representing class of 23'. This is her first full year on staff as a reporter, and she usually focuses on topics...