Class of 2024 plays catch-up after missing out on key fundraising year due to pandemic
It' official: the Class of 2024 is now the new seniors of the Parkdale building!  May 12th marked the last in-school day for the 2023 seniors, but the question remains: how will the Class of 2024 senior year turn out?
Due to the COVID-19 pandemic national quarantine in 2020, the Class of 2024's freshman year started off rough with virtual learning. Due to being online,  this ultimately resulted in the class not attaining a school sponsor for their entire first year. Once back in the building for their sophomore year during the 2021-2022 school year, the Class of 2024 was still left unadvised. Fortunately this year, two Parkdale educators stepped up to the challenge.
"When we went to do the homecoming parade, [the Class of 2024] all didn't really have any guidance or leadership; [they] all were just kind of there," said Algebra 2 teacher Ms. Danielle Yates. "So then when this year came up, I discussed it with a few of my coworkers, and we talked like, 'wow, they still don't have a sponsor this year. No one's stepping up to do it.' We just thought about how there weren't any funds in the account, and [they] only have this year and next year to basically raise all the money [for graduation, prom, and more senior fees]. 
 And so Ms. Yates asked English 10 teacher Ms. Judyann Sutherland to work with her so that they could both sponsor the class of 2024 and now here they are, trying to raise funds in just several months for the class for a successful senior year.
Senior year activities do include a large amount of work. Most students want to relax their senior year and have a fun time, but Ms. Yates, and newly elected officers have to work hard to ensure that.
"
"The top priority for me is to ensure that the seniors have an amazing year, and by having an amazing year, I mean ensuring that we have enough funds to support our financial goals, which would be to secure a venue for prom, to have good senior packages with a variety of options, and to go on field trips."
— Ms. Yates, Class of 2024 sponsor
Ms.Yates explains that all she wants is for the students to have an eventful and memorable senior year supported by fundraising so that they can pay less out of pocket. So far, concessions and chocolate fundraising have been the best means for raising money this year. However, the chocolate fundraising was more for the individual students than the class so that they can have discounted prices on their senior packages.
However, there are so many new plans and creative ideas that the sponsors have in mind for next year.
"We're looking at, next year, doing some field trips that can definitely raise money for the class and doing online fundraisers," Ms.Yates explained. "Also, we're going to do activities such as Paint Night, which we have one coming up this year, the end of May." (By time of publication, the Paint Night occurred and was a success!)
There was another paint and snack that happened earlier this year, which got a pretty good turnout. Roughly 25 to 30 students came out and seemed to have enjoyed the activities.
Ms.Yates explains how next year, the Thursday concessions will start earlier so that they can put deposits down for the seniors' prom activities.
It is very important for the Class of 2024 to know that in order for their senior year to flourish, they have to support the activities and plans that our class puts out there.
"I just think the kids need to buy in," said Ms.Yates. "Like, if we're selling chocolates, if we have concessions, seniors aren't buying it. Encourage underclassmen, go over there and buy some snacks. Or just encourage us if we do an online fundraiser to make sure they participate."
The Class of 2024 needs to help out by sharing and promoting the activities with their families and community members. 
The worst case scenario is the alternative, which is senior packages costing an excessive amount of money. Just for comparison, the Class of 2023 prom cost more than $10,000, which includes the venue, food, DJ entertainment, photobooths and more.
According to Ms. Yates, the Class of 2023 sponsors got all the funding to cover that so that seniors didn't have to pay for that part. The Class of 2022 seniors only paid for their packages and their cap and gown, which is exactly what Ms.Yates hopes to achieve for the class of 2024.
Look out for next year because the Class of 2024 is ready and prepared. Be sure to support any class activities in the future and purchase your class shirts if you haven't already.
Congratulations to our newly elected class of 2024 officers, and feel free to reach out to them with any questions: 
Class of 2024 President Justin Zhang
Class of 2024 Vice President Fatmata Sesay
Class of 2024 Secretary Halimatu Bundu
Class of 2024 Treasurer Nkemdilim Ike
Class of 2024 Publicist Jeffrey Saavedra
Leave a Comment
Your donation will support the student journalists of Parkdale High School. Your contribution will allow us to cover our annual website hosting costs and publish some printed editions, as well.
About the Contributor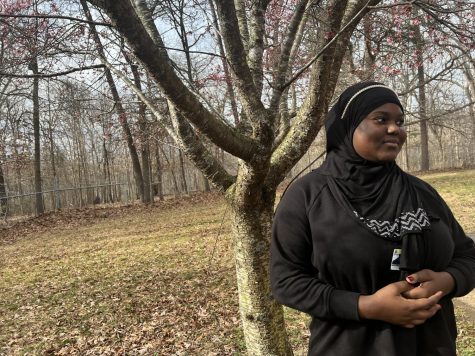 Aissata Kallo, Chief Copy Editor
Aissata, more commonly known as That Girl, is a junior and has been working at the Paw Print as Chief Copy Editor for two strong years. She is a future...