Farewell Seniors: Boys LAX ends the season by winning quarter-finals
On May 10, the Parkdale Boys Lacrosse team took a win against Bladensburg to start the playoffs. The game went extremely well with a win of 6-0, moving the team up to semi-finals. 
Since many of the Lacrosse players last year graduated, the team this year was almost completely new, which is astonishing considering the performance of the boys this year. They deserve much praise for their performance, and a congratulations for ending the season off strong. 
"I feel like the team certainly played down to other teams and played exceptionally well against adversity," said sophomore Joshua Adewami (#8). "Though over half of the team is new so, I'm proud of our overall development as a team." 
Many players agree with Adewami that despite having to build their teamwork from almost the ground up, the results were exceptional for both the team and the players individually.
"I feel the season was great [and] we did better then we ever had before," said junior Brian Manzanares (#21). "I'm very proud as we lost so many players last year [and] this team was almost completely brand new so everyone has to work harder to get as far as we did." 
Honorable mentions go out to seniors Matthew Conte, Tyler Debrow, Cristian Larios, and Edwin Amaya and junior Edress Faiz for bringing Parkdale's score to 6 with their goals during the final game against Blade
It's safe to say the boys made tremendous progress with their performance this year, and we're looking forward to seeing them next season. 
Since the boys didn't win semi-finals, unfortunately, this was their last winning game of the season, and the senior's final winning game as well. A few players have bid their farewells. 
Here are what some of our graduating seniors on the lacrosse team had to say, as they say goodbye to Parkdale and the their team. 
"To the non-graduates this year, I'm proud of what we did and I hope y'all continue practicing and [getting] better because I know if y'all do, y'all can do great things next season."- Edwin Amaya (#30). 
"Thanks for the memories. Signing off, #25" – David Honore (#25). 
"Good luck to you all. Next season is yours." – Chiemerie Okekeocha (#23).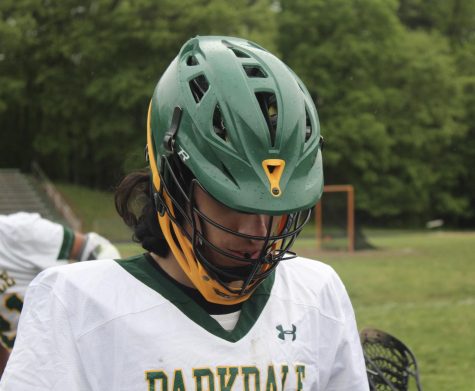 "Play harder. New players come every season and you need to accept them into the family. Goodbye everyone, I'll remember you all in therapy!" – Andres Chica (#6).
"Although I may not have played as much as I would've liked, being part of this team was still an incredible experience. I will always cherish the memories and friendships that were made. Thank you all for making me feel like a valued member, even when I wasn't on the field, ([despite] the subdued homophobic attitude of the team.)" – Richard Potts (#13) 
The remaining members of the team also had a few words to say to the seniors leaving us:
"It's been a pleasure to be able to play and grow as a team and make new bonds, but the seniors will be missed and we as a team will come back next season stronger than before." -junior Erik Mejia (#20)
"I would like to wish the seniors good luck in life, in whatever they decide doing. If they decide to continue playing lacrosse or something else, good luck." -junior Christopher Guardado De Jesus (#15)
"Thank you for the memories. I will never forget all the time we spent together. Good luck with the rest of your lives." – junior Brian Manzanares, #21 on the field. 
"I'm better than y'all, but I will miss y'all and the pregame/pre-practice sing alongs we had. Wakanda foreva." -sophomore Joshua Adewami (#8)
Congratulations boys, you gave it your all this season and made Parkdale proud.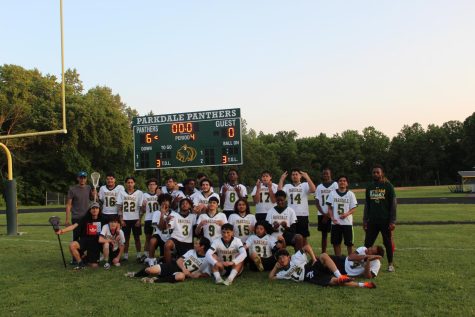 Leave a Comment
Your donation will support the student journalists of Parkdale High School. Your contribution will allow us to cover our annual website hosting costs and publish some printed editions, as well.