LIFE AT PARKDALE : THE PAST FOUR YEARS
Parkdale High School is a public high school located at 6001 Riverdale Rd, Md, 20737. It resides in the gorgeous Prince George's County. That is the place where I would graduate from. 
Throwback to the summer before I started high school, I wasn't thrilled to be going to high school or rather, should I say: I wasn't thrilled to be attending Parkdale. At the time, there was many numerous rumors going around saying it's a bad school and all that. However, that's not the case. 
I came into high school with three particular things on my mind: 1. Maintain a high gpa, 2.Don't get into trouble and 3. Join clubs.
I can say I kept all my promises I made to myself. 
Coming into high schoo,l I was already in Student Government in middle school. I have a passion for advocating for my fellow peers and helping the community. The Parkdale SGA was very different from the one I was coming from which was obvious.
Through SGA, I began to grow in many ways. Mr. Adams is not just our teacher or SGA Advisor. He's like a mentor. He helps you hone your skills. SGA gave me many opportunities. Through SGA, I got involved in both county and state-level Student Government and had many amazing opportunities to grow as a leader, student, and a person.
Apart from SGA, Parkdale has many extracurriculars and programs to offer such as Liberty's Promise, The International Baccalaureate Program, Advanced Placement Program, FAC, Homeland Security, Business and many more. And I can gladly say I dabbled in each one throughout my high school year; however, the one that has impacted my learning the most is the International Baccalaureate Program.
 According to Parkdale IB, "The International Baccalaureate program, referred to as IB, offers an education for students from age 3 to 19, comprising of four programmes that focuses on teaching students to think critically and independently, and how to inquire with care and logic". 
The IB program is very rigorous. You must have time management and the strength both mentally and physically to finish the program. It taught me to be open minded, have better time management skills, critical thinking and expand on my knowledge about many things. The program also gives you the opportunity to develop  a close relationship with both classmates and teachers.
The one thing that'll forever be stuck with me is our lunch table. Since the class was not so big, we were all able to fit at one lunch table. I would share my rice with the class and we would all just laugh, talk, and jokes. I was very grateful to have met such unique people in my life. 
Another program I enjoyed was Advanced Placement. According to College Board "AP gives students the chance to tackle college-level work while they're still in high school—whether they're learning online or in the classroom. And through taking AP Exams, students can earn college credit and placement". 
This year, I transferred into the AP program from the IB program. Both programs have their pros and cons and for me personally, I'm more compatible with the AP program. Though it's not as rigorous as the IB program, it's also challenging for the students who take it. I was lucky to have Ms. Lail as the AP World teacher. She made the class very lively and easy to manage but challenging as well.
Lastly, according to USA Lacrosse, lacrosse is the oldest team sport in North America with the sport documented back to the early 17th century. It originated in Native Communities and over the years became popular in the country. 
I joined lacrosse in my junior year just to try out something new. It was very fun, and I learned many new things from the sport, my coach (Coach Lail), and lastly my teammates. Being a part of the lacrosse family is something I'll never forget. Our bus ride kareoke back from the games was the best and I will always cherish it.
All together, I've had an amazing high school experience. I would like to thank my family, friends, and teachers for the amazing support I continue to get daily. For the Class of 2023, it was my pleasure to serve as your senior class President and thank you for trusting me with your senior year.
Always remember no matter what happens or how hard it gets, you'll get through it. Find a way to release stress and put yourself first. Don't feed into peer pressure. Healthy delusions and having a planner and hobbies can help you.
Delusion is the best solution,
Fedora C/O 23. Signing out
Leave a Comment
Your donation will support the student journalists of Parkdale High School. Your contribution will allow us to cover our annual website hosting costs and publish some printed editions, as well.
About the Contributor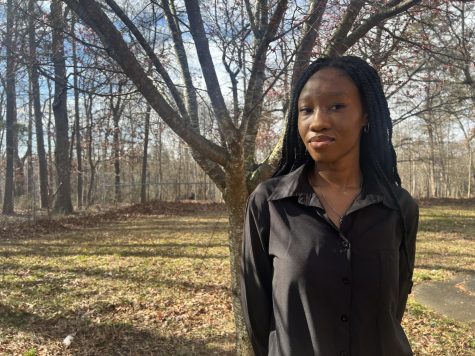 Fedora Tettekpoe, Reporter
Fedora is currently a senior at Parkdale High School and is the Class of 2023 President. This is her first-year on staff, and her friend Christiana recommended...