Parkdale theater reopens after extensive hiatus with 'The Verdict' production
On Thursday, April 27, Parkdale celebrated the reopening of its theater program for the first time in more than 4 years. With new drama teacher Mr. Carter joining the Parkdale team this year, he was able to create the Drama Club and direct their first production in just his first year. 
This years production, called "The Verdict", was based off the famous theatrical play "12 Angry Men," an iconic play that deals with a jury deciding whether or not a kid is guilty of murdering his father. If he is found guilty he will receive the electric chair. At the start, all but one juror feels that the kid is guilty. As the play progresses, the one juror conveniences the other jurors that the kid is not guilty. But in between his fight for this kid's life, there are arguments, trouble, and confusion that bring about a masterpiece of the play–all of which takes place in one single scene: the Jury Deliberation room.
Before the play, we sat down with Mr. Carter for an exclusive interview to chat about his feelings and expectations of the play and where the inspiration to remake this play in particular came from.
"I'm very excited," Mr. Carter explained. "I liked that the play is a drama not just a comedy […] I worked in film before mostly production, [and] I like to be behind the camera".
We received the inside scoop that there was a last minute cast change, which "reignited the theme of the play," according to Mr. Carter. Although no specifics were given, through this speed bump, Mr. Carter looked really relaxed.
As for the play itself, it set a high precedent for any future productions for Parkdale. Doors opened at 6pm but by 5:45 pm, the front lobby was filled with parents, teachers, students, administrators and members of the community. For it being the first play since the pandemic, there was a generous audience to witness it. Admission was free, but 20 VIP tickets were sold for $10, which included front row seating and snacks.
The play was divided into two acts with a 10-minute intermission. The first act consisted of getting to know the character; it was a smooth introduction with not much action but more of a comedic feel, with the jury members taking jabs at each other. The second act was where the story fully developed into the ebb and flow of suspense, proving the innocence of the kid.
With the acting in this play, all actors–no matter how big or small– shined and showed emotion. And the audience agreed as well as a roar of clapping and cheering came at the end of each act.
Although every character had its own time to shine, the two leading jurors–who argued most over the innocence or guilt– were played by junior Aissata Kallo and freshman Naomi Mull.  From yelling matches, crime scene re-enactments, and even a death threat, Kallo's and Mull's energies consistently bounced off one another, making the scenes as intense as they were suspenseful.
Currently, there is no plan on what or when the next production at Parkdale will be, but Mr. Carter does have some ideas up his sleeve.
"The next big spring production that I am already working on will be a musical," said he explained. He did add on that there will be other productions before and after the musical, but what is confirmed is that a musical will come to Parkdale next Spring. For anymore information and updates, follow @parkdaleplayers on Instagram.
Leave a Comment
Your donation will support the student journalists of Parkdale High School. Your contribution will allow us to cover our annual website hosting costs and publish some printed editions, as well.
About the Contributor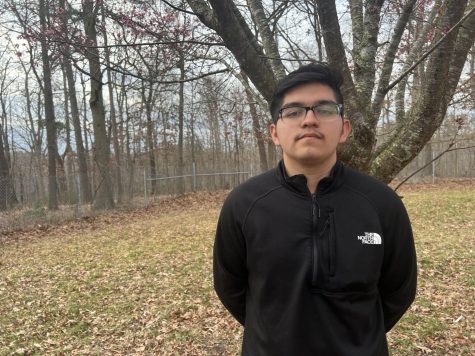 Brian Viveros-Saavedra, Chief Copy Editor
Brian is a Senior at Parkdale. This is his first year on staff. He likes to be informed on the latest political and sports news. Brian enjoys spending...