Flawed celebrity lives leaves fans questioning support
Trigger warning: mentioning of sexual assault
We all have that specific artist in our music library who has had something controversial come up from their past, done something morally questionable or associated with an unfavorable person. But the question is: do we, as listeners, continue to listen to and support them? Do we cancel them, along with the rest of the world, and stop listening and supporting their music all together? Or do we just ignore what they did and "separate the art from the artist?"
All of these are reasonable concerns that listeners have when something from the past is brought up. 
For instance, Travis Scott, a well-known rap artist, hosted a performance named "AstroWorld," on Nov. 5, 2021 which ended tragically with ten people killed and numerous others injured. Following this tragedy, a significant number of people stopped buying and streaming his songs and stopped giving him any support at all. Because it was poorly planned, much too many tickets were sold. Allegedly, important information was known but ignored in order to proceed with the concert, and this tragic event quickly became a massive news issue.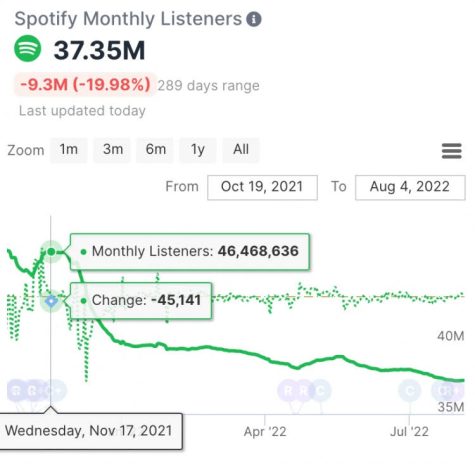 According to "What's the Cost of Controversy for 'Canceled Artists? The Data Deep Dive" by Ashley King, a few days after the accident Scott's Twitter followers had spiked by 498,000 people compared to his music which took a hit of 9 million monthly listeners since the concert.
Some people chose to support him while others chose to stop listening to his music altogether. Does this, as audience members, make us second guess what's right and what's wrong? 
Kali Uchis is another artist who had a controversial past, as she's allegedly supported ex-boyfriends who have a past of sexual assault and currently has a boyfriend who has allegedly assaulted women. This has caused a shift in a small percentage of her audience. 
While some continue to support her and defend her, others stopped listening to her music and stopped supporting her all together. 
It's difficult to say whether we as audience members should stop or continue to support these artists; it really depends on the situation. The decision is different every time because it depends whether you were really attached to the artist or their music or if you ever supported the artist by buying their albums, clothes, etc. 
For example, Kanye, as we know, has said many controversial things over the years and he's made music and clothes. But has that stopped people from buying his clothes or music? 
No, but that doesn't mean we should still continue to support him. He has said antisemetic things which caused a huge shift in how people view him. Yes, he is bipolar and we don't know when it started, but that does not give him the excuse of saying those types of things. His hateful words have led him to be dropped from advertisements and deals, including Adidas, Balenciaga, Gap, etc. But does that stop us from wearing the clothes that people have bought with their own money? 
"After hearing the artist's opinion, I'm definitely disappointed to hear that someone who makes such influential music had a controversial opinion," said senior David Honore of the Kanye controversy. "It made me feel disappointed to support the artist at one point."
As artists build up and make their way to the top, it seems someone about their past always tends to come out whether it be negative or positive. 
"It seems everyday an artist has some type of controversy surrounding them," said Honore. "I could say it does make me generalize how often it happens because it seems that a lot of mainstream artists at one point have had some type of controversial past, it as they grow, it rises to the surface." 
Everyone has made mistakes in life, that's what makes us humans. It doesn't necessarily mean that they're right choices or opinions but everyone changes. Maybe for the better or for the worse. In your opinion, what should we do as streamers: continue to support the artist or drop them completely? Leave a comment below!
Leave a Comment
Your donation will support the student journalists of Parkdale High School. Your contribution will allow us to cover our annual website hosting costs and publish some printed editions, as well.
About the Contributor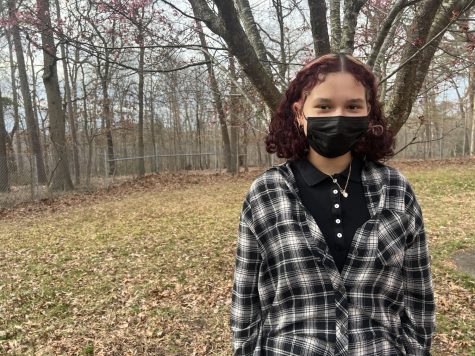 Aileen Gallegos-Escobar, Chief Copy Editor
Aileen (she/her) is a Senior class of 2023. This is her first year on staff, and she's super excited to be a part of staff this year! She can contribute...