Popular girl group Twice announces a comeback and a world tour
Twice is a K-pop group that debuted in 2015 under JYP Entertainment. The group consists of nine members: Nayeon, Jeongyeon, Momo, Sana, Jihyo, Mina, Dahyun, Chaeyoung, and Tzuyu. Jihyo is the leader of the group. On March 10th, they released their 12th mini album, Ready to Be. This album consists of seven tracks with "SET ME FREE" being the title track. The only track to also have an English version. The songs included are "Got the Thrills," "Blame It on Me," "Wallflower," "Crazy Stupid Love," "Moonlight Sunrise," and "Set Me Free  ( Korean & English Ver).
Moonlight Sunrise was originally released as a single on January 20th.  This track is all in English and it gives refreshing vibes.
"Moonlight Sunrise is a song about wanting to know the other person's heart," said Tzuyu.
They compare a fluttering heart-like feeling when you're in love to moonlight and sunrise using metaphors. The song is very catchy and the first listen makes you want to listen more. 
Since it was released before this comeback it was trending on TikTok for quite a while. If you're on "K-pop stan TikTok", this would've been one of the most recurring songs on your fyp from mid-late January till even early February. The line that got the song to start trending was "I need you o'clock.¨
¨Moonlight sunrise, sounds like a song straight out of those teen movies,¨ said Junior Vania Okia- Aryeetey. ¨It's my favorite song and it fills me with nostalgia and lastly I also listen to it with the maximum volume on.¨
¨Got the thrills¨ just the name gives you the thrills. The first few beats give hippy and upbeat vibes and feel. 
According to the bias list, "Got The Thrills borrows from syncopated beats of the 80's". It gives you a unique sound especially with all the girls' vocals joining in along with the instrumental. 
Next on the track is ¨to blame it on me¨ It's the 4th track on the album. This song is like being directed to an ex-lover. One of the lyrics is " You're out of control", and they're directing this toward their ex. 
According to Twice "Blame It On Me is a foot-stomping, kiss-off anthem that's begging for an HBO sync".
Now, ¨Set Me Free¨ is the title track of this album. It has both a Korean ver and an English ver. This particular song is about finding the courage to confess your feelings to your crush. One of the lines goes " I've been hiding how I feel for you forever.¨
There are so many tracks to choose from on this album. Twice gave us different vibes and relatable songs to choose from. However, the listeners have their own personal favs. 
¨Set Me Free¨ is my favorite song from the track¨ said Junior Liz Nyugen. 
The fandom was divided and had different responses about the tracks.
Everyone's reaction was different to the songs. 
"Initially my first reaction was to simply listen to it to see if I liked it, which I do with every new album," said Junior Halimatu Bundu. "It was a different direction and style for twice so I got used to it after three listens. I loved every song by the second day." 
For ¨Set Me Free¨, the chorus was the part that was trending on TikTok along with the choreo. Everyone was doing the dance including other K-pop artists.
"The chorus for ¨Set Me Free¨ is very catchy and makes me want to dance", said Senior Christiana Ogbolu. "The chorus is very easy for me to perform and it only took me a day to learn it."
Twice is usually known for doing cuties-like concepts but everyone agrees that it's time to move on from that. That era is over and this new concept is here to stay. Many are excited to see that they are branching out to do more suitable concepts for their age. 
"I love the rock-pop concept this comeback, " said Bundu. "I love how Twice is trying new concepts and being more free to release an older and mature music variety."
With this album, it was only right we get to hear the songs live.  On February 21, Twice announced their fifth world tour part one. The tour is set to start on April 15th in Seoul ending with their last stop in Atlanta on July 9th, and on March 22nd, they announced additional stops and dates for the North American Tour. They added three more shows which will be in Oakland, Houston, and Chicago. 
"Yes I'm excited for the tour because I'm going to their concert in Melbourne on May 6th.", said Junior Nguyen.
You can check out the twice comeback stage below and stay tuned for what the group has to offer. https://youtu.be/w4cTYnOPdNk
Leave a Comment
Your donation will support the student journalists of Parkdale High School. Your contribution will allow us to cover our annual website hosting costs and publish some printed editions, as well.
About the Contributor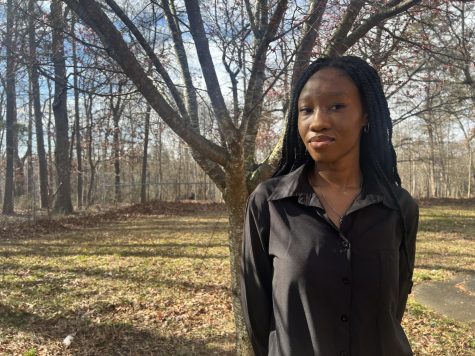 Fedora Tettekpoe, Reporter
Fedora is currently a senior at Parkdale High School and is the Class of 2023 President. This is her first-year on staff, and her friend Christiana recommended...