Brothers in Athletics: Two Parkdale students create sibling powerhouse on football, basketball teams
When it comes to Parkdale, there is a variety of sports available for the athletic students who attend. In many cases, those students become longtime friends, frenemies, or even friendly rivals in competition. However, what's it like when two siblings are not only athletic, but they also play on the same sports teams? 
Senior Christopher Wilson and his younger brother sophomore Jacob Wilson both play on the varsity basketball and football teams here at Parkdale. Seeing as Chris will be graduating with the 2023 class, and Jacob will remain to leave his own legacy, what are their future plans for themselves and one another?
Chris first began playing sports when he was around 8 years old, and he and Jacob played on the same football team as younger children. Jacob, on the other hand, was inspired by watching other people play sports on the T.V when he was younger and liked to imagine what it was like to have his friends and family watch him play sports on the big screen.  Having his older brother play sports also helped to light the spark. 
"It feels good to play varsity football and basketball as an underclassman," said Jacob. "But I don't think I would be where I am without God and the help of my parents investing their time and money and making sacrifices for me and my siblings." 
Because both brothers play two sports teams here at Parkdale, one can assume that a big commitment like that can have a major toll on those who chose to take it on, right? Well according to Chris, the work it takes is worth it. 
"Playing multiple sports in high school can help you grow as a player and as a person," said Chris.  He was participating in several sports before high school, so joining a sports team upon attending Parkdale was a given. 
During the 2019-2020 school year, his sophomore year, Chris was stuck at home rather than being in school, but he didn't let the shutdown get in his way of pushing forward with his athletics. 
"Honestly, [the COVID-19 shut down] was mostly a positive effect because it gave me time to work and focus on getting my skills better," said Chris.
Jacob is described to play aggressively and roughly by his teammates and especially his brother. Chris states that "Jacob is just very passionate about playing." He takes full advantage of being an underclassmen starting on varsity teams.
"When I'm out on the field/court, it really doesn't feel real," Jacob said. "Sometimes I think about how I got my opportunity and try to make the best of it when I'm out there."
Chris, on the other hand, is described as playing intensely and with lots of energy, Jacob even stating that his older brother plays "fearlessly" out on the field and court. 
Of course with both brothers being athletes, they not only practice at Parkdale after school, bt they would practice at home, normally working on "footwork or skill drills in our backyard," according to Chris. 
In a sense, it is a given that a sibling rivalry will build between the two considering they are playing in competitive sports to begin with. However, the brothers are both competitive and supportive of one another. 
"We are both competitive on the court/field trying to show one another who is better, but off the court/field, we are much more supportive of one another," Chris explained. 
Often with support comes expectations. For the most part, the expectations from the coaches of the brothers will be to play hard and be serious about the game to bring the Parkdale Panthers to victory, but it should also be taken into account that the brothers have expectations for themselves and one another, too.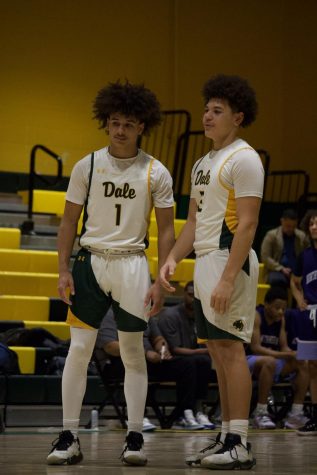 "I do expect a lot from him because I know what he is capable of with only being a freshman just last year and a sophomore this year, as well as starting on Varsity and being on of the best players on the team," said Chris, referring to his brother.
Since Chris is graduating this year and Jacob played for the junior varsity teams during his freshmen year, the two brothers only got to play for one full school-year on the same Parkdale teams. Jacob explained that he will be happy for his brother when he crosses the stage for graduation in May, but that  "he wasn't just a player on the team, he was a leader, and I think losing his leadership will be felt." 
Jacob also believes that Chris graduating "means losing a valuable member of the team as he had an impact on both sports. He was the guy they called on to make a play for both sports."  
According to Chris, sports plays a big part in what he wants to do after high school, stating that he has offers to play both sports in college, and that it all comes down to which sport he chooses to play.
Chris leaving doesn't purely mean something bad for the team, though. In his absence,  Jacob will have a chance to leave behind his own legacy and make a name for himself, as well. When Jacob does graduate in 2025, he wants to be remembered as an impactful student-athlete who contributed to putting Parkdale Athletics back in the big leagues. This legacy mirrors the one Chris hopes to leave behind as "an athlete who shows it is possible to be successful coming out of Parkdale [sports]."
View Comments(1)
Your donation will support the student journalists of Parkdale High School. Your contribution will allow us to cover our annual website hosting costs and publish some printed editions, as well.
About the Contributor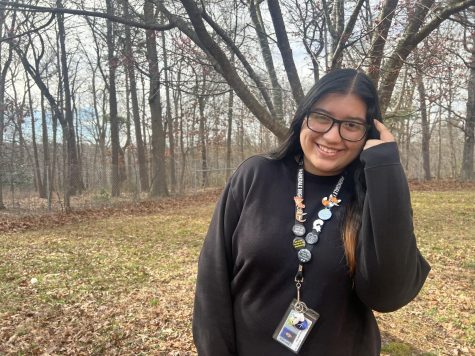 Julissa Blanco, Reporter
Hey there, Julissa is a senior at Parkdale! Her pronouns are she/her/hers. It's her second year on staff, and she got recommended by Victor Valdez, her...