Christmas spirit takes over as holiday season reigns upon us
At long last, the year is at its end. Seems like just yesterday we were in February celebrating Valentine's Day, or in May saying our farewell's to last years students and teachers. Finally, however, we are in December. 
With Christmas around the corner, you're either excited about the Christmas music and decorations, or you're working in a retail job and you're beyond annoyed with all of the songs– especially the Mariah Carey Christmas classic, "All I Want For Christmas Is You." For some of you, even just mentioning it makes your eyes roll. Regardless of your standing on Christmas or any of the other holidays, the fact is that it's right around the corner.
Of course, there's so much more to look forward to such as the annual Christmas Lights festival held (I'll link some local ones at the end) and across the nation or the music playing on the radio, restaurants, or retail stores. Maybe you look forward to the snow that comes with Christmas, or the idea of staying inside on cold days; waking up on a weekend the day after it snows to look outside your window to see the untouched blanket of snow covering everything. The idea of staying in tucked under the blankets by the fire with a cup of hot chocolate, tea, or coffee and a holiday film might warm your heart the most. Whatever your fancy, you look forward to being cozy for the holiday season. 
However, others might oppose the Christmas spirit and feel Grinch-y about it all. What is to blame? People who work in retail stores like Burlington, JCPenny, Ross, Macy's, Target, Marshalls and so much more are constantly bombarded with the never-ending playing of Christmas songs replaying over the speakers. It's especially worse for the workers since they have to come in almost everyday of the week, listening to the same 100 or so songs play for as long as they're working. A study done by mLive shows that "One-in-six retail workers say too much Christmas music damages 'emotional-well-being…'" It is similar with customers in that only about 17 percent say that they genuinely dislike Christmas music in the background while they shop.
Isn't it funny though? It seems that every year, Christmas music has started being played on the radio much sooner. Previous years, it was just in December, next it's November and December, and lately it's been the day after Halloween. Not to mention the Christmas decorations. Some stores go as far as decorating even before Halloween has passed. It seems as though stores have to put us decorations to help customers prepare for Christmas sooner. Stores might have some decorations on the shelf to help others prepare for Christmas sooner. Maybe a whole section behind all of the Halloween decorations, just in case. 
The overall early set Christmas Vibe can be overwhelming due to it being almost everywhere. For instance, some people go as far as decorating their cars with wreaths on the grill, or dressing up their cars as Rudolph with a red nose on the grill and antlers on the side.
The fact of the matter is that a lot of people like or even love Christmas, and decorating early or celebrating early, regardless of what anyone else says, makes them happy. Even if it doesn't snow much, almost everyone is looking forward to the holiday season, and with the price drops and excuse to enjoy Christmas movies and that warm feeling in your heart, who could blame them?
Trek Rockville Holiday Lights Ride
Twelfth Annual Alexandria Holiday Lights Walk + Ride   
Holiday Lights Walk to The North Pole at Willow Oak
You can find more by searching "Christmas Lights Festival Near Me"
Leave a Comment
Your donation will support the student journalists of Parkdale High School. Your contribution will allow us to cover our annual website hosting costs and publish some printed editions, as well.
About the Contributor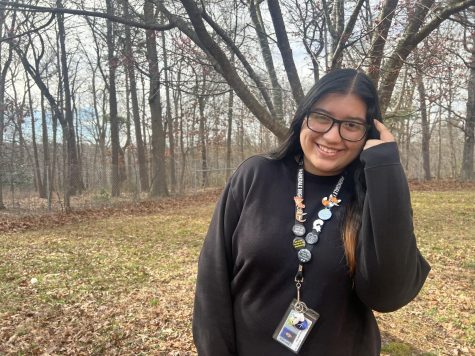 Julissa Blanco, Reporter
Hey there, Julissa is a senior at Parkdale! Her pronouns are she/her/hers. It's her second year on staff, and she got recommended by Victor Valdez, her...