Representation in Latinx LGBTQ+ community rises in pop culture focuses
On Oct. 22, 2021, the Doritos Mexico's YouTube channel uploaded a commercial that involved a family visiting a deceased relative on Dia De Los Muertos (The Day of the Dead), seeing them again and finding out that he found love with a man in the afterlife. A year later, Doritos Mexico rereleased that same commercial, and this time, some people commented that the video is extremely heart-felt for Doritos.
Most comments are about family members who have passed on whilst being in-the-closet. Other comments are about family members who have been ostracized by almost everyone. As the world progresses with most of it biggest issues, it opens new levels of growth. Progression has been shown in the media and entertainment industry by having the LGBTQIA+ community represented through character and or people.
What if we focused more on the cultural aspect of LGBTQIA+? Be it from India, Pakistan, Sweden, The United Kingdom, Mexico, Spain, and even from Japan or China? Would it make a difference, or be more inclusive, or would it seem more insensitive? Quite the contrary.
Like mentioned before, many of the comments under the video were in a way praising the video for including a character who is part of the LGBTQ+ community.
"I've seen a lot of movies where a lot of LGBTQ+ characters are the main characters or the stars," states Parkdale senior Adrien Aguilar, an openly gay student. "It makes me feel comfortable seeing a lot of people support it."
Although nowadays you have to be very wary of what you say so as to not offend anyone, one could think people would be upset or in disbelief at the idea of inclusion, but there's actually more support behind the screen than you think.  For example, when it came to the Disney show Andy Mack revealing that one of the main characters is actually gay and being the first Disney program to do so, many praised the company for its inclusion of the character.
Students like Aguilar and Icarus Mancia Vasquez, another senior in the LGBTQ+ community, who come from Hispanic backgrounds and religious/strict parents, can find it very difficult, not only to figure out themselves, but also to tell the people they trust and look to the most.
"In family members, no one knows except my stepmother," began Aguilar. "She's really kind, and she really appreciated when I told her." Aguilar stated that his stepmother showed him immense support and gratitude being trusted with something so delicate. Not everyone is as fortunate, however.
In the case of Mancia Vasquez, he attempted to tell his mother once when he was in middle school, and it did not go as he hoped.
"She took it badly, said I was confused and delusional, that I didn't know what feeling were yet," he recalled. "And I haven't told her about my full identity since." Mancia Vasquez identifies as a Biromantic, homosexual, transgender male.
And this is where the importance of representation comes into play. Almost anyone can name a character from a movie or a game that is their comfort character. A comfort character is a character you like to look to for representation or guidance or even just someone to relate to, especially when they were younger or in their early stages of figuring themselves out.
"I would've been so happy [if I had had a comfort character]," said Mancia Vasquez. "I feel like I might've actually cried happy tears to see people like me.  I would've felt seen, like I could have a person like me to look up too."
A big part of growing up if figuring yourself out: what your likes and dislikes are, who your friends are, and what you want to do in life. All of that becomes harder when you realize you have to do it by yourself, and even more so when you're trying to figure out your sexuality on top of it all. Being represented on the big screen is, in a way, what gives people hope.
When it comes to LGBTQIA+ communities representation, many people part of the community feel seen and heard when they see characters on T.V or in movies go through the same or similar struggles they went through.
"The greatest representation is in "The Owl House," began Icarus, " I relate to Amity Blight, a character on the show because she was afraid of her own sexuality at first"
Other popular representation shows movies include "The Umbrella Academy" when the character Vanya comes to her own realization that she is a transgender male, as well as "Love, Simon," all about how Simon comes to terms with his sexuality and how he deals with his struggles.  The show was followed up by spin-off "Love, Victor." 
Just as it's important for shows and movies to represent the minority of Black, Hispanic, Latino and even Asian, we should never forget to represent other minorities like the LGBTQ+ community. In a way, we all deserve representation and people to look up to.
"Honestly I want people to listen to our stories," said Mancia Vasquez. "We need to be heard and I wish for anyone else who reads this to feel heard through me too."
Leave a Comment
Your donation will support the student journalists of Parkdale High School. Your contribution will allow us to cover our annual website hosting costs and publish some printed editions, as well.
About the Contributor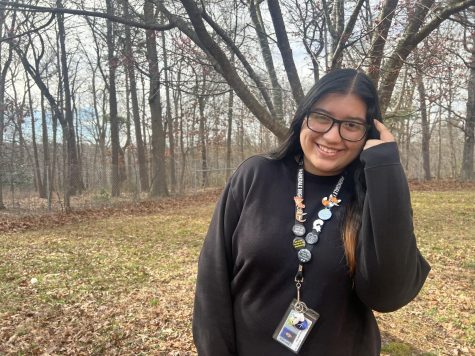 Julissa Blanco, Reporter
Hey there, Julissa is a senior at Parkdale! Her pronouns are she/her/hers. It's her second year on staff, and she got recommended by Victor Valdez, her...