Parkdale's history of uniform policy stretches back less than two decades; former principal weighs in
During the 2006-2007 school year, the Parkdale High School Parent-Teacher Association (PTA) successfully adopted a mandatory uniform policy following the outlined procedures in Administrative Procedures 0600 (currently known as Board Policy 0114). This uniform policy has remained in effect for roughly 15 years and counting. 
When the uniform policy was introduced to Parkdale, many schools were following suit in Prince George's County since the idea of uniforms was widely popular. By the school year of 2014-2015, 22 out of 24 high schools would have adopted a mandatory uniform policy, not including Eleanor Roosevelt High School and Bowie High School who remain non-uniform schools. 
Parkdale's principal from 2006-2010 Mr. Burton was very involved with the adoption process.
"I met with the PTA several times to share my opinion on this topic," said Burton in an exclusive interview with The Paw Print. "We were in agreement that we thought uniforms were needed to help reduce some of the problems we were seeing at the school. "
While all schools had reasoning for the policy adoption, Parkdale suffered from an unusually high amount of gang involvement within the student body at the time. When asking Mr. Burton about the reasons for the adoption of uniforms, this was one of the issues brought up.
"We were having a lot of issues that were gang-related and we felt wearing a uniform with standard colors was needed and warranted to help reduce this problem," stated the then-principal.
The use of uniforms would stop students from wearing gang-affiliated clothing.  "It did reduce many of the issues we were seeing at the time."
Uniforms are said to be a positive and creative method for increasing school safety, reducing discipline problems, and enhancing the learning environment. While some of these may be true, many students at Parkdale have been negatively affected by the uniform policy in one way or another.
Parkdale High School alumna Zenaida Vasquez, who graduated in 2020, was one of those students.
"As a previous Parkdale student, one of the ways that wearing a uniform negatively affected me was when there was a "no hoodie" policy," she explained. I remember classes being so cold and all I had at the time were hoodies."
She recalls that the hoodies were not just for fashion and certainly not for any gang-related situated, as many have stereotyped hoodies to be, but in fact, for her health and comfort.
"One of my worst experiences was when I had to go out to my class in the temps, and the heater wasn't working," Vasquez recalled.  "So it was super cold, but I still couldn't wear a hoodie. The worst thing was that it wasn't just me, there were many other students at the time wearing short sleeves shirts in the middle of the winter that had to deal with this new policy." Many current students have and stillwill face similar experiences. 
Additionally, with uniforms, students do not have the opportunity to express themselves and learn about themselves until after high school.
"Now that I have transitioned from high school to college, I can say that I do not miss at all the uniform rules," Vasquez expressed. "I love being able to pick out clothes that make me feel like me everyday. This comes in real handy when it's in the colder months like December and January. I don't have to worry about wearing those school pants and shirts that retain no heat at all. I can wear sweatpants, hoodies, beanies etc. in class and the professors do not care at all, in fact they are more worried when they see students wear short sleeves or shorts in the winter. " 
The reason for adopting a mandatory uniform policy may have been vaild in 2006. However, 15 years have passed. When asked, Mr. Burton expressed uncertainty.
"I'm not sure, said Mr. Burton"  "I'm not certain of the demographics now so I don't want to give inaccurate information.  I also think that uniforms help to reduce feelings of inadequency as it relates to socio-economic status for students.  This might still be relevant today." 
A number of Parkdale students, teachers and parents feel that mandatory uniforms are unnecessary. Currently, there has been a push to change the uniform policy and adopt a voluntary one, an option that was provided to every uniform school by the Board earlier this school year. Although Principle Burton, the person who signed off on the final votes in favor of the mandatory policy, didn't give direct support of a change, he does believe student input could be beneficial.
"I like it," said Burton. " I strongly support student voice, so I think it would be great if students are given the opportunity to voice their opinions on this important topic. "
A petition to change the uniform policy is currently spreading around the community with 180 parent signatures so far. Only 311 signatures are needed for a school-wide vote to occur.
View Comments (5)
Your donation will support the student journalists of Parkdale High School. Your contribution will allow us to cover our annual website hosting costs and publish some printed editions, as well.
About the Contributor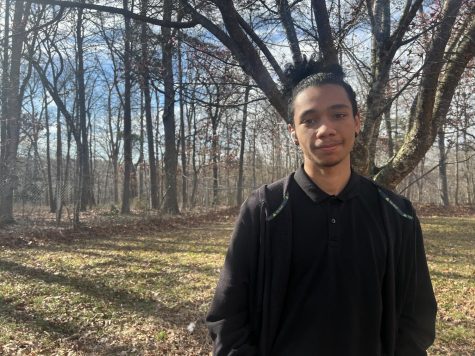 Richard Potts, Reporter
Richard Potts is currently a senior at Parkdale High (2023 last GOATed). Even though they have been on staff since 2020, he finally has a staff profile!...