Parkdale uniform policy: Time for change
Let's get straight to the point: Parkdale's uniform policy does more harm than good in most if not all categories. Walking down halls where everyone wears virtually the same clothes is like a scene from The Giver, restricting individualism and praising sameness in order to preserve the structure.
Why We Have a Uniform Policy: 
Uniforms in Prince George's County Public Schools (PGCPS) have been around for some time. In 1997, the PGCPS Board of Education passed its first uniform policy: Administrative Procedure 0600 – School Uniforms (currently named A.P. 0114). Its purpose was to increase school safety and enhance the learning environment. As time went on, schools and communities voted on mandatory uniform policies in order to reap the benefits uniforms entailed. In the school year of 2014-2015, 22 high schools (including Parkdale) had a mandatory uniform policy in place. However, out of this list, the top two PGCPS high schools are excluded. 
Uniforms Don't Work: 
Uniforms didn't hold up long to the standard they were given in 97. The advantages they carry just don't stack up to the disadvantages. One of the main disadvantages is that they are costly. In 2021, 76.9 percent of the student body at Parkdale High were listed as  Free and Reduced Lunch Students (FARMS). This means that an average family of four makes $51k or under at Parkdale. Uniforms are also uncomfortable and only last for about a year due to growth over the summer. Students also seemed to express the same thoughts. "I don't think it's necessary, we should still have a dress code but not uniforms," said freshman Mia Miranda. "Uniforms are uncomfortable [and] hard to find. For different-size girls, some pants are either way too loose or way too tight. They are also expensive if you want good quality." A poll conducted by the Paw Print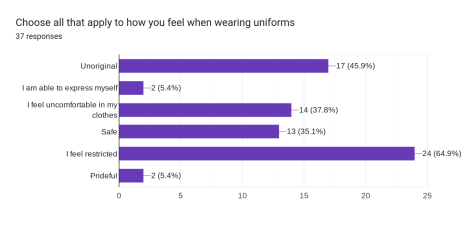 gave students the option to choose between positive and negative responses in regard to the school uniform. The majority of students expressed feeling discomfort and restricted when wearing uniforms. "Honestly I understand the whole hoodie restriction, however, I feel as if they actually checked school ids here that would make an impact," said Junior Daniella Sesay. "Not [to] mention the school uniforms make me feel more like a prisoner than a student, I feel like they could more refine even for a public school. And as a female student, the khaki pants do not make me feel comfortable when a monthly friend arrives". With uniforms so unfavorable, why should parents be chipping out money every year struggling to buy them?
Is The Uniform Policy Fine As It Is?: 
Many school officials argue that uniforms are the best method for public schools. They create a safe environment, raise school pride, and install discipline. Do they really effectively do any of these though? On the contrary, a minority of students did express that they felt safe wearing uniforms because it could be a method to easily identify an intruder. This may be true on some accounts, but because uniforms are accessible to everyone in stores like Walmart, anybody could dress as a student, rendering the uniform policy practically useless. 
Shouldn't We Be Following The Exemplary Schools? : 
During the time PGCPS schools were transitioning to a mandatory uniform policy, two schools decided to stick out: Elenor Roosevelt and Bowie High School. These two schools have never adopted a uniform policy. Concurrently, they are some of the top high schools in Prince George's County. Another prominent school is following suit. Charles Herbert Flowers High School, ranked 3rd by Niche for best PGCPS High School, is also adopting a voluntary uniform policy for the school year of 2022-2023. Would Parkdale reap the same benefits by following their lead?
It's Time For Change:
The time to change Parkdale's uniform policy is long overdue. In a conducted survey, the results determined that students were in favor of removing Parkdale's uniform policy altogether.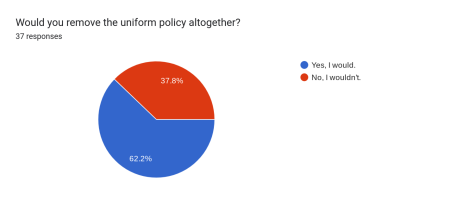 A majority of 62% of the students voted for the latter. This is fully possible too. According to PGCPS's Board Policy 0114, "The mandatory uniform program will remain in effect for five years or until 20% of the parents or guardians petition against the program, at which time the school will conduct a new process following the same procedures for adoption of a mandatory uniform program." The outline for change is stated. It all depends on how badly it's wanted.
View Comments (5)
Your donation will support the student journalists of Parkdale High School. Your contribution will allow us to cover our annual website hosting costs and publish some printed editions, as well.
About the Contributor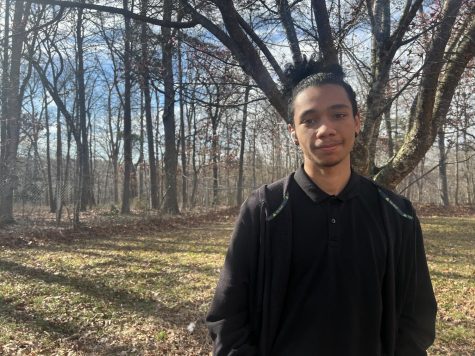 Richard Potts, Reporter
Richard Potts is currently a senior at Parkdale High (2023 last GOATed). Even though they have been on staff since 2020, he finally has a staff profile!...