Parkdale Student Government Association continues to leave 'paw print' around PG County
On May 19,  Prince George's Regional Association of Student Governments (PGRASG) held their very last general assembly of the 2021-2022 school year, and two Parkdale students were elected this year for leadership positions.
Junior Isha Sesay was elected as the PGRASG president and represent the students in Prince George's County Public Schools (PGCPS). Junior Rayanna Morris will be joining Sesay as the elected Vice President during the 2022-2023 school year.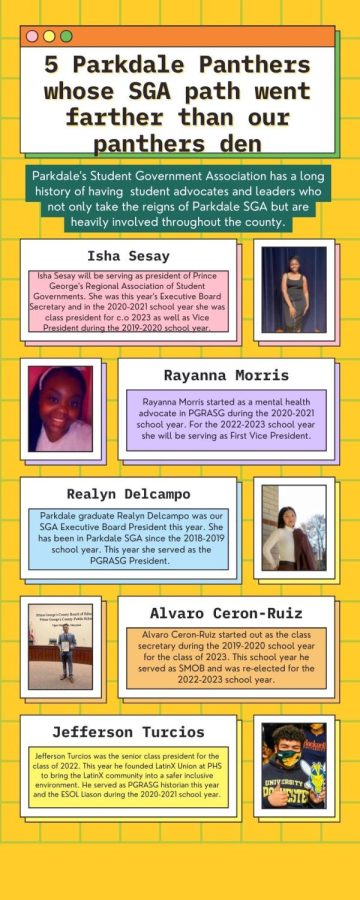 PGRASG is the county-wide Student Government Association (SGA) and at their general assemblies, schools throughout the county with an SGA attend and make countywide decisions. In this last general assembly, PGRASG officer elections were held as well as elections for the county Student Member Of the Board of education (SMOB). 
Although it's easy to say that PGRASG is "just" county-wide SGA, the responsibilities of the student elected-officials is extensive.
"We serve all 140,000+ students in Prince George's County, and we strive for equity and inclusion," said Sesay. "I had the opportunity to see what changes need to be made in schools and the resolutions to such issues. Knowing that there is an organization like PGRASG that can create a safer environment for students in the county is what makes it important to me." 
These two exemplary students have had their fair share of student government experience and are now going outside of the the Parkdale Panthers' den into more work in the county. However, their journey started here as members of Parkdale SGA.
With guidance from SGA advisor Mr. Neville Adams, students like Sesay and Morris have been equipped with the skills to engage in politics outside of Parkdale.
"Luckily, I was vice president for my sga class (shout out 2023) which allowed me to understand the duties and responsibilities," said Morris. "It exposed me to the world of bylaws and constitutions, and overall the political gauge of being in SGA. It taught me the power of advocacy and the power of a single voice.  It made me want to dive deeper, which guided me to PGRASG. Joining Parkdale SGA exposed me to greater opportunities and prepared me."
Sesay agreed with Morris and added that "Mr. Adams and Parkdale SGA shaped me to be a leader and develop such great leadership skills. I have been in SGA since my freshman year and it has helped me develop public speaking skills along with the skills of being a strong advocate for student success."
Parkdale's SGA has had a long history of sending students into large county SGA organizations like PGRASG and even statewide like Maryland Association of Student Council (MASC). This year the Student Member Of the Board of Education for PGCPS is Alvaro Ceron-Ruiz, who was once a Parkdale Panther.
During the 2019-2020 school year, Ceron-Ruiz started his freshman year at Parkdale and served as the class secretary for the class of 2023 and was also treasurer for MASC. Ceron-Ruiz explained that before joining Parkdale SGA, he only took appointed positions because they felt like a safety net, and he never dreamed of running for higher positions.
"I met people who not only believed but inspired me to honestly want to achieve more and believe in myself and gain the confidence to seek higher positions," said Ceron-Ruiz. "Parkdale definitely helped shape who I am today. I'll say that in terms of activism."
He explained that unlike other schools, Parkdale students take more charge with issues throughout the county. He said through Parkdale SGA, he learned the importance of students' voices and that he learned to not be shy of his opinion in front of those in power in order to make change happen.
"As SMOB, I think SGA is one of our most important organizations in school," said Ceron-Ruiz. "It encourages students to tap into their leadership skills that I know all students hoan and possess in themselves. I don't think I would have the position of student board member if I hadn't joined SGA." 
Like Ceron-Ruiz, many students in Parkdale's history have been county SMOB. Before Alvaro, the SMOB was Ninah Jackson, a graduate from Oxon Hill High School. However, before Jackson, the position was held by Joshua Omolola, Amanya Paige, and Juwon Blocker: all Parkdale alumni.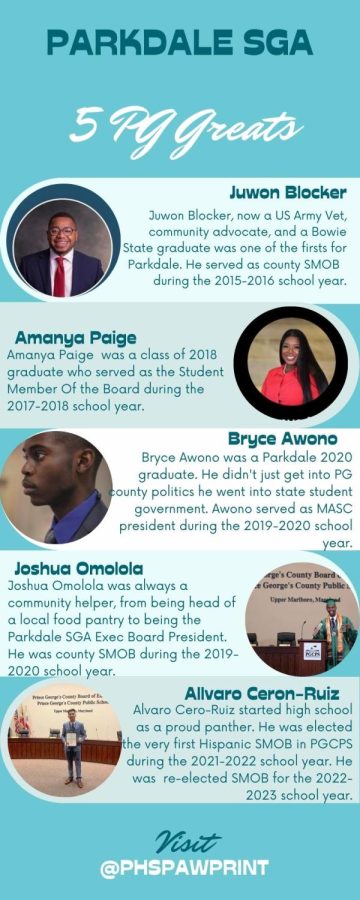 Juwon Blocker was the first SMOB to come from Parkdale SGA. Blocker attended Parkdale from 2013 to 2017 and joined SGA his sophomore year.
"SGA was so active in school and in the community. I felt inspired and empowered and knew that my voice mattered because of the changes that we were able to make while being a member of SGA," said Blocker.
He explained that in his time in Parkdale SGA, the voting age for municipal elections in the city of Hyattsville was lowered to 16. He and others took part in helping candidates run their campaigns as well as creating peaceful protests to bring awareness to social issues throughout the community. Blocker's most memorable moment from his time in SGA was that thanks to Parkdale and being SMOB, he was able to secure $500,000 to cover the costs for exam fees so that students who were taking the Advanced Placement (AP) exams could test free of charge. 
"After serving as SMOB, I went on to attend Bowie State and run to serve as a regular member of the school board at the age of 20," said Blocker.  To this day, Blocker is still involved in politics. He is the youngest member of Maryland Comptroller Peter Franchot's (a statewide elected official) front office staff. Blocker He is also a candidate running to serve on the Charles County Democratic Central Committee.
"Being a SMOB gave me firsthand experience and knowledge of how a school board operates," he added. "I've found through experience that the most important voice on a board of education is the SMOB's because no one else is in your current shoes as a K-12 student."
For several years, Parkdale students have consistently occupied these big roles throughout the school, county, and even state. Through the skills and experiences given through Parkdale SGA, Panthers continue to be big throughout the county. "
Being a member of SGA strengthened my public speaking and networking skills," Blocker explained. "Mr. Adams taught me soft skills which were necessary to be SMOB.  SGA was so active under Mr. Adams's leadership that students were featured in several news media outlets and newspapers, including Fox 5, NBC 4, WUSA 9, and The Washington Informer to name a few."
Last month, at the general assembly some students even said "Parkdale always wins" as they left after voting.
Parkdale SGA continues to create student leaders and serve the community for the people's and most importantly, the students best interest. With the huge success that Parkdale SGA showcase, it leaves quite the impact on those involved and beyond.
"I will forever remember Parkdale SGA and Isha Sesay and Mr.Adams, because they both have contributed greatly to my exposure and push to be more," Morris said. "Being a part of it feels like a family and an umbrella of inclusivity, where all is accepted."
Leave a Comment
Your donation will support the student journalists of Parkdale High School. Your contribution will allow us to cover our annual website hosting costs and publish some printed editions, as well.
About the Contributor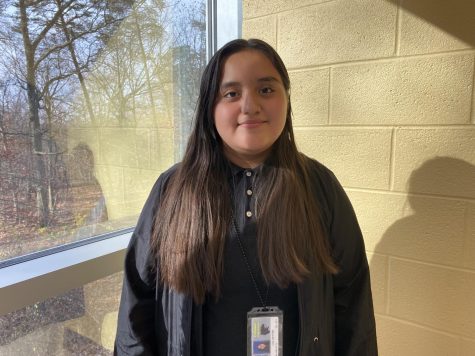 Luz Gaytan, Contributing Reporter
Luz Gaytan is currently a senior at Parkdale and the Chief of Staff for the Class of 2023. She joined The Paw Print during the 2020-2021 school year after...