Summer activities, ranked according to fun level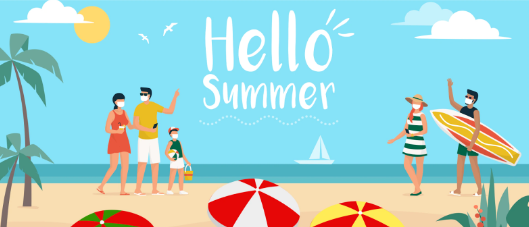 It's hard to believe the school year has gone by so fast. Summer is just right around the corner, and it won't be long until Parkdale closes its doors to commence its much needed break.
During summer break, students can finally relax from the long grueling school days and the never-ending work loads piled on top of them daily. Summer break is the one thing many students look forward to their entire school year, but who can blame them? Freedom is fun!
Freedom from school allows you so many possibilities. Whether it's getting tanned at the beach, eating at new spots, or going on spontaneous road trips with family and friends, the possibilities are endless. Unfortunately boredom is never too far, and we can all relate to the fact that Maryland only has so much to offer!
With Summer in pending, here are honest ratings of activities either worth or not worth trying to keep you and your friends occupied and making the most of your summer break.  
Going To The Beach: Fun Level 4/5
Going to the beach is a summer classic. Whether you're swimming in the ocean or playing in the sand or just tanning, the beach has lots to offer. Personally, the beach for me is a summer favorite and one of the things that you just can't pass up during summer break. Some downsides are the heavily crowded public spaces, the way some people don't have the common sense to pick up after themselves, and the fact that sand gets on EVERYTHING.
Trip to Downtown D.C.: Fun Level 5/5
If you have ever been in D.C you know that there are so many things to see and do. There's the Whitehouse, and other monuments that are popular tourist attractions as well as museums and highly underrated restaurants. Some downsides to this activity are crowded public spaces, and almost impossible parking if you aren't taking the metro.
Backyard Camping:  Fun Level 3/5
For us who aren't able to go out anywhere but want to try something new, backyard camping is right on target. All you need is a couple of blankets, some snacks, entertainment and you're good to go. Using a trampoline is a popular way to camp but setting up tents is also an option (if you know how to!) The downsides to this activity are the bugs! They are everywhere, especially during the summer! Other than that this activity is definitely something worth trying.
Have a Picnic: Fun Level 4/5
Picnics are lots of fun, even if you are doing it with or without friends. The idea of a picnic is to be able to sit out in the sun or shade and spend time with nature while enjoying your favorite foods and snacks.  This is a personal favorite for me, as the location doesn't have to be anywhere special. You can set up a picnic in your yard, at a local park, or if you want you can have a little indoor picnic with a movie of your choice.
Self-care Shopping: Fun Level 5/5
Ok, who doesn't love shopping. I mean as someone who is broke, I am guilty to say that shopping is something of a sweet poison, and I will overdo it from time to time. Also, self care is an important thing that many of us forget to do! We have to enjoy ourselves once in a while and maybe going on that shopping trip to Target to treat yourself isn't a completely bad idea. 
With all that being said, I hope you now have a more clearer idea of what to do this summer. And always remember to stay safe, as we are still in the midst of a pandemic, no matter what unvaccinated Karens may say.
Leave a Comment
Your donation will support the student journalists of Parkdale High School. Your contribution will allow us to cover our annual website hosting costs and publish some printed editions, as well.
About the Contributor
Sybill Anja, Reporter
Sybill Anja is currently a sophomore at Parkdale High school and is on her first year on the newspaper staff as a reporter. Typically not one for chitchatting...