A new restaurant in town stirs the pot
Iron Pig is an excellent place where family and friends can eat and enjoy themselves experiencing a different eating style. All with reasonable pricing. Located at 6107 Greenbelt, Maryland, Iron pig was opened in late November. They have gotten trendy in the DMV area. The restaurant/Korean BBQ is jam-packed almost every day, so customers are given a two-hour dining time limit. So that others can have a chance to eat. There is little to no wait time.
Their menu offers excellent combos,deals, and entrees/specials. They have an all-you-can-eat dinner menu with a price of 36.99 per person and eleven types of meat to choose from the menu. They also offer an all-you-can-eat lunch menu costing 27.99 per person. Customers can choose from eight different types of meat in the menu option. With parties, two or more can get one side order.
They also have four specials/combos; beef lovers, pork & chicken lovers, and beef & pork lovers; all three can feed up to two to four people, whereas the other combo iron pig combo can feed four to six people. The bigger the group, the more you would have to pay.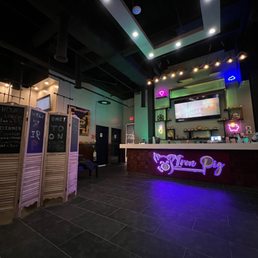 I recommend that future customers order from the all-you-can-eat menu. If you are starving, come with more than two people because they will give you a significant amount of meat that you can share with your friends and family. I recommend that you try their thick spicy pork belly. It is very well seasoned. The best part about eating Korean BBQ, is the fact that you can cook the meat to your liking. If you don't necessarily like spicy food, I recommend trying the new york steak; it is incredibly delicious.
If you can't decide what to order from the all-you-can-eat dinner or lunch menu, I recommend you try both. If you are with more than two people and want a large meal, all you can eat is an excellent option. Especially if you're not looking to spend too much money.
The Iron Pig restaurant has become extremely popular in the past year. They have introduced a different style of eating in the DMV area. Customers think that "The portion of meat is great and the service is awesome!" and "Loved their side dishes." Although their food is excellent, they still have the policy that customers would have to pay a thirty-dollar fee if they waste food.
This policy is ridiculous since customers are already paying for the meal itself. To spend more money because you couldn't finish all at once, especially if you are ordering off the all you can eat menu hence the name all you CAN eat. Given the two-hour eating period, you won't have enough time to eat if you don't necessarily eat at a steady rate.
Leave a Comment
Your donation will support the student journalists of Parkdale High School. Your contribution will allow us to cover our annual website hosting costs and publish some printed editions, as well.