A pixel of nostalgia: Looking back on the phone games that defined our childhoods
Most of you readers are high school students, which means you were alive during the early and mid 2000's and definitely during the 2010's. I'm also betting many of you had some kind of mobile device too, maybe an ipad, a tablet, or even (somehow) a phone of some shape/brand. A phone is nice when it can do the basic stuff, like being able to send and receive messages and calls. Though it definitely gets boring after 5 minutes. So to pass the time, you decide to look through the Google Play Store or the App Store, and find one of more of these top five mobile games (in my opinion) from the 2000's and 2010's.
Minecraft: Pocket Edition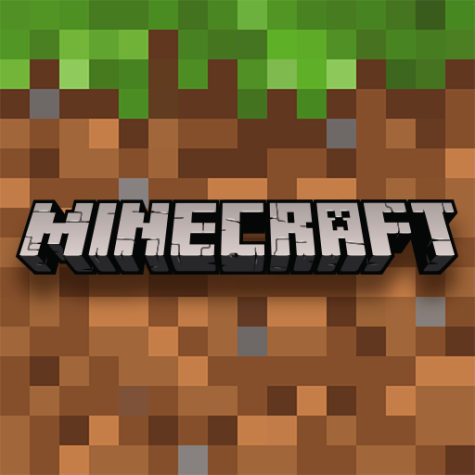 Minecraft is an open world sandbox game where your character can defeat enemies, create and build objects, and you are in a world of cubes. Minecraft P.E is the same way. The mobile version of the game came out on August 16, 2011 and played the same way, just with touch screens. The game became popular on youtube causing parody songs, music videos, animation, and even youtube challenges and single or multiplayer series on their respective channels. The Veteran Minecraft Youtubers walked so the new, Modern Minecraft Youtubers could run. In 2015, the game reached 72 million downloads.
Cut the Rope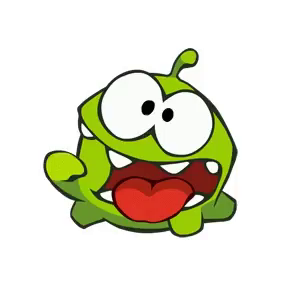 Cut the Rope is a mobile game where you are trying to feed your Nommie, Om Nom. He's a small green alien that eats candy and sweets. You can customize the candy yourself by tapping it on the title screen. There are 25 levels per "box" in the original game. Evey level tests your smarts and skills to solve the puzzle. You attempt to get time bonuses, collect the three stars in each level, and give the candy to Om Nom. The game came out on October 1st of 2010, and skyrocketed to about 600 million downloads in 2015.
Fruit Ninja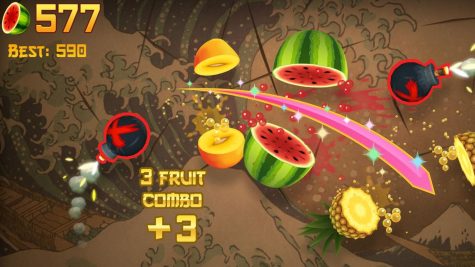 Fruit Ninja is a game where you are a ninja, and you are swiping to cut the fruit that flies on screen. There are many modes to the game. There is a single player mode in which any fruit that falls that you haven't sliced gives you an "x". Three strikes and you're out. You can also play this mode in two player mode, where you can play with a friend directly across from you. For both modes, you can get combos and power ups, but don't slices the bombs and those can either give you a strike or completely end your game. There's a zen mode where any fruit that falls doesn't count against you, and there are no bombs. It's like a practice mode. You can adjust your "slice" sword or streak from your finger, and the background. The game came out on April 21, 2010, and reached a staggering 1 billion downloads in 2015. You can even play the arcade version at Dave and Buster's
Subway Surfers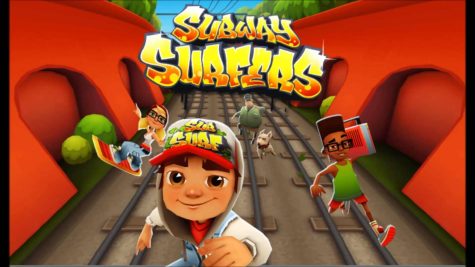 I know most of you remember Subway Surfers. It's a running game in which your character (you unlock more as you play) starts by spray painting a subway, and a security guard and his dog chase you along the subway track. The area changes between seasons and even between places in the world. There are special events in which you can unlock certain characters for a certain amount of time. There are quite a few power ups as well, including a surfboard that acts like a hoverboard. The game came out on May 23, 2012, and zoomed to 1 billion downloads in 2015.
Angry Birds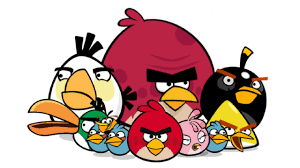 Angry Birds had many spin offs. Angry Birds Go, Angry Birds Rio, Angry Birds Space, and even Bad Piggies. However, everyone can remember at least one of these titles and play them alone to pass time or with friends to attempt to pass the level. Angry Birds was a tower destroyer game. You'd get a certain number of birds, each with different power ups, and you would launch them from a slingshot to attempt to knock down a tower where the green pigs were keeping the bird eggs. The game came out December 10, 2009, and as of 2015, surpassed 3 billion downloads.
Here are some honorable mentions (and their release dates) as well:
Doodle Jump – April 6, 2009

Temple Run – August 3rd, 2011

Jetpack Joyride – September 1, 2011

Where's my Water? – September 22, 2011

Clash of Clans – August 2, 2012

Pou – August 27, 2012

Flappy Bird – May 24, 2013

Clumsy Ninja – November 1, 2013

My Talking Tom – November 14, 2013
I hope you're not in tears, or maybe just happy. Many of these games may have been forgotten or lost, in fact, some games, like "Angry Birds GO," the go kart version of Angry Birds, was silently discontinued and taken off both the google play store and the app store. It's unfortunate, but I'm glad these games brought happiness to me then and nostalgia to me now.
Leave a Comment
Your donation will support the student journalists of Parkdale High School. Your contribution will allow us to cover our annual website hosting costs and publish some printed editions, as well.
About the Contributor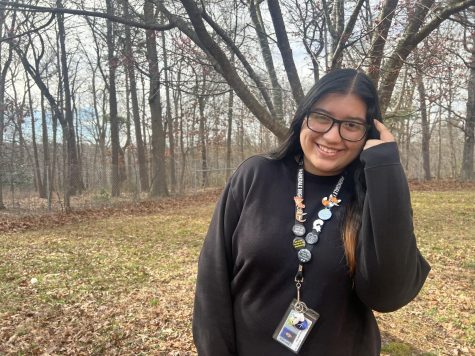 Julissa Blanco, Reporter
Hey there, Julissa is a senior at Parkdale! Her pronouns are she/her/hers. It's her second year on staff, and she got recommended by Victor Valdez, her...