Gardening Tips for Beginners this Summer Season
As the summer approaches, and the spring ends, and the flowers outside start to bloom, more and more people get ready to start their gardening season off strong. After all, there's no greater joy than to pick a perfectly ripe and juicy veggie from your own garden and taste the delicious taste of your hard work after taking care of that plant.
Gardening can be a fun hobby to pick up this summer. But for those who have never planted a single seed in their lives, it may be a bit harder to get started. People always wonder why their plants don't grow or think they can't because they lack the space. It can be for a number of reasons but gardening isn't hard once nurturing and basic knowledge is applied.
"The size doesn't matter, we have to work with what we have…," says German Youtuber and home gardener Her 86m2. "…Whether we plant a big garden full of flowers or put little pots of houseplant on our narrow windowsill, seeing those plants, breathing in the air will nurture everyone…"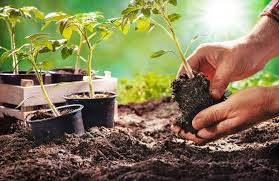 Here are some steps to take as you begin your gardening journey.
Decide what you'd like to grow
Visit Almanac.com to find out what grows best and when to plant it near you by just typing in your zip code for a more accurate answer.
Choosing a location
Gardening is a little bit like buying a home. Location is incredibly important when it comes to gardening. If the location where you place your garden gets no sunlight or is tucked away from your eyesight, your plants won't grow as much without the sun's rays and you will neglect your garden if you forget about it.
"Mistake number one is putting your garden in an inconvenient location…," warns Youtube gardening channel, Epic gardening. "What you want to do is make it accessible and easy to work in."
That's why it's best to locate your garden somewhere where you can immediately see it in your house and somewhere that gets a good amount of sunlight.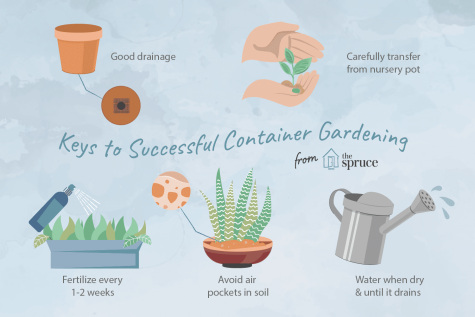 Plan out the layout of your garden
You can either plant your crops directly in the ground, in raised beds, or in pots. Just as long as the plant gets the sunlight, water, soil and appropriate space to grow, it should be comfortable enough.
The almanac.com says, "Container gardening allows those of us who don't have room for raised beds or a huge garden plot to grow our own food, too."
Purchase basic gardening tools
A shovel, rake, good organic soil, fertilizer and other tools can help you more comfortably take care of your garden. There are a lot of stores like Home Depot, Lowes or Amazon that can provide you with the necessary tools for gardening. However the basics are a good soil, the plant whether it's a seed or a seedling, and shovel to prepare the soil for the plant.
Prepare the soil for the new plant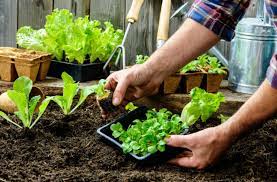 If you're planting on the ground, the soil should be properly raked, and turned so it is level. All organic material should be well rotted and decomposed. All rocks and sticks should also be removed so that they don't get in the way when planting the plants in their designated areas.
Choosing the proper seeds or transplants
Whether you live here in Maryland or in Antarctica it is important that you find the proper plants and seeds that grow best in your area. This will give you a higher chance of success and will help the soil and the plant species in your area.
If you are starting seeds, make sure that you look at the gardening calendar to help you figure out when to best start your seeds. Most likely they should be started in late April or early May. With the calendar you can figure out when it would be best to transplant your seeds into the permanent pot or garden bed where they will continue growing. This is because seeds are much more vulnerable in the cold so it's best to grow the seedlings inside and transplant them when the cold is gone and they can adapt easily into the summer season.
After planting your crops, always water them regularly in the early morning before the sun heats up or during sunset to avoid shocking your plants by watering them while they're hot midday under the scorching sun.
Give your plants enough water, prune the dead leaves, and feed them bone meal or some other type of organic fertilizer to help your plants grow strong and healthy. Nevertheless, make sure to hold back on the fertilizer because too much can kill your plants.
"Don't over fertilize, too much of a good thing is bad." says Self Sufficient Me, an Australian gardening Youtuber.
Also, always check the leaves and the stalks to make sure there's no weeds or animals munching on them.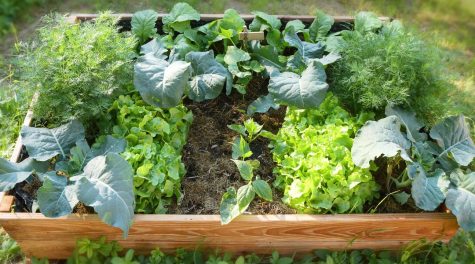 Gardening isn't complicated but it's important to know how to properly care for our plants if we want them to grow strong and have a good harvest.
Visit almanac.com to find out what grows best and when to plant it near you by just typing in your zip code for a more accurate answer.
What to Plant this Summer
Now, for all the usual hot weather veggies like beans, corn, squashe, cucumbers, watermelons, and sunflowers, you should plant those seeds directly into the ground around mid July.
Tomato, eggplant, peppers and potatoes do well in Maryland. Tomatoes are the most common in the state. Think about what your favorite veggies are and pick a few to focus on. That could be green beans, tomatoes and cilantro or Tomatoes and cucumbers. It is your garden after all! So you get to choose what goes in it.
If you don't have a yard, a balcony garden would be splendid! No balcony? Indoor gardening is more possible than ever!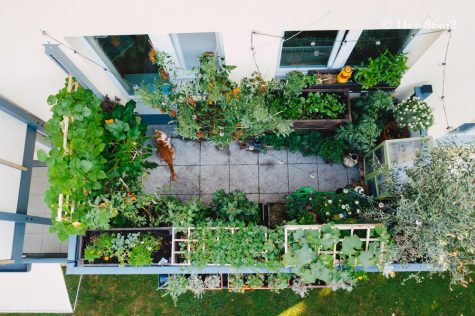 This gardener in Germany manages to plant her garden in an 8m2 balcony.
You can place your garden in pots next to a window or give the plants lighting with artificial lights that can easily be found on Amazon or in hardware stores.
For more ideas and tips on gardening, you can also visit several YouTubers and bloggers like Her 86m2, a lady who harvests all her veggies in her small balcony garden located in Germany.
Self Sufficient Me is another YouTube channel that gives useful tips and ideas on backyard gardening all the way from Australia!
Gardening is a satisfying and fun hobby and there's nothing better than to learn how to produce your own food and then harvest all of the delicious fruits of the hard work that you put into your garden.
Leave a Comment
Your donation will support the student journalists of Parkdale High School. Your contribution will allow us to cover our annual website hosting costs and publish some printed editions, as well.
About the Contributor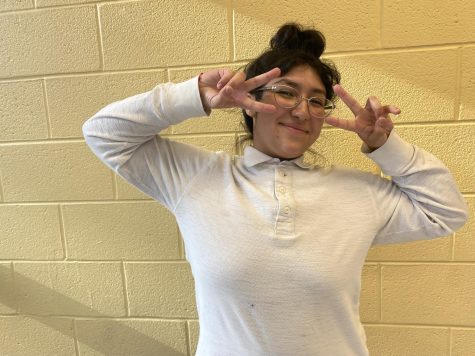 Sandy Zelaya Pena, Reporter
Sandy Zelaya is a junior at PHS, proudly representing class of 23'. This is her first full year on staff as a reporter, and she usually focuses on topics...