Book Review : "The Heartbreak Duet"
*SPOILER WARNING*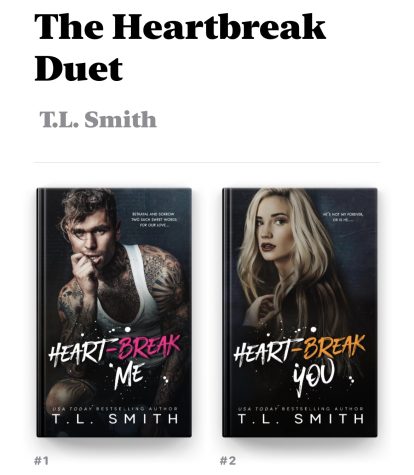 "The Heartbreak Duet" is a two book romance series, by author T.L. Smith. The first book in the series is "Heart-Break Me" followed by the second book, "Heart-Break You" . I first heard about this series on….you guessed it, BookTok. The Tiktok video was displaying one of the pages of the book, and after I saw it, I never was so quick to buy a book a day in my life. I went to the book app on my phone and started reading it at like, 1pm. When I looked up at the time it was already 5pm!
The book was so addicting ,there was always something happening. Which made me go through a rollercoaster of emotions, mad/sad/irritated, etc. I just wanted everyone in the book to be happy, but of course in these books happiness was not in everyone's hand of cards they were dealt. With different events always going on back to back in this book, I just had to keep reading. Literally finished both books in a total of eight days.
"Heart-Break Me" (Book 1)
"Heart-Break Me " is how it all started, it's about this girl named Theadora who gets kidnapped by this man named Atlus Hyde. Atlus is a businessman, who owns a whole lot of properties like restaurants, business and even a casino. His reason for kidnapping her was because of Theadora's little sister, Lucy. Lucy stole money from him at one of his establishments, and was doing different jobs for Atlus to pay it back.
Theadora is like a "good girl", she doesn't get in any trouble, works at a clothing store, and keeps to herself. Her sister owes Atlus almost a million dollars and because of that Theadora has to do odd jobs for Atlus to pay off her sister's debt. I know what you're thinking, why is her sister not doing it? She owes him the money! Well Lucy was doing the jobs to help pay it off, but she has a thing for Atlus, whereas Atlus wants nothing to do with her.
While Theadore is paying her sister's debt, Atlus locks Lucy up in a room. While Theadora is doing these things for Atlus, Atlus starts to have feelings for her but of course (like in every romance novel) Neither he or Theadora want these feelings. Everytime her feelings for him would spark up she reminds herself that he isn't a good man and that HE KIDNAPPED HER. Then, at the end of this book Lucy goes above and beyond what Atlus and Theadora would ever think Lucy would do to prove her love for Atlus and her hate towards her sister.
After I read this book I looked at other people's reviews on the book. I know you're supposed to read the reviews on things before investing, but this book was way too good for me to read some reviews. Plus it seems the reviews would have just verified me buying the first book. User/reader "Brunettebabygirl" enjoyed the the book as much as I did giving it five stars, saying it was "Salivating".
"I'm Salivating!!!" Brunettebabygirl continues, saying "This Is an Intense dark romance and I need more! Kidnapped by a man named Atlas Hyde. Theadora Fitzgerald is taken because of her sister's debt. Can she do what Atlas asks of her? Who is this enigma of a man & what does he really want with her? From the very first sentence you will be taken on a wild ride of unadulterated fierceness and passion. Atlas sizzles off the pages. He is so hot! An outstanding enemies to lovers dark romance. Get ready for the anti hero of the year! This does end in quite the cliffhanger so be warned."
"Heart-Break You" (Book #2)
The second book is a continuation of the first so we get to know what Lucy did. Even though this book is supposed to be about Theadora and Atlus, Lucy always seems to find a way to make her presence known and her feelings known to Atlus. She wants him all to herself, but when I tell you he wants nothing to do with her, literally locks her up in a room and only sees her once a week. Until Lucy ends up getting pregnant with Atlus' best friend, Benji. I still believe that she only did this to get closer to Atlus because even though she was with Benji they never really got along because she still wants Atuls.
On one of Altus' jobs for Theadora, he takes her to an island that Atlus owns.While there she meets a guy but isn't supposed to be with him, because he is considered a customer. But when she came back home, something massive happened regarding her, the man that she met, Lucy, Atlus, and Benji that would change Atlus and Theadoras relationship. Atlus blames her for what happened, but then she finds out why she was really kidnapped in the first place! After she found out what he did, Atlus let her have her old life back and then some.
Yes, Yes, Yes, very toxic but I love them though, not the fact that he kidnapped her. The whole series is really good, but the last few pages of the book just verifies why I love their relationship. Reading the ending, knowing what happened to Theadora and Atlus, I wanna know where they are now. After reading both books I know I'm not the only one.
After finishing this book, my curiosity was peaking. So I went to see the reviews people left on the book. But there was only one review that was left on the second book that praises the book even more.
"No ones perfect." User/reader Sparklin Reads continues, saying "This book picks up where HeartBreak Me left off. Thea is trying to start over. No matter where she goes or turns. Something reminds her of Atlas. Heck Atlas seems to be having the same problem. These two have a hate love relationship. Their love is so strong, they have outside forces trying everything in his or her power to see they never become a official couple. Once I started I could not put it down. Until the very end. It was full of mystery, suspense, love, hatred, laughter, revenge."
With all that being said, If you love romance novels or just want to read a book, tap into this short little book series, it will always keep you wanting to read more. You can find this book "duet" on amazon and on the "books" app on Iphones.
Leave a Comment
Your donation will support the student journalists of Parkdale High School. Your contribution will allow us to cover our annual website hosting costs and publish some printed editions, as well.
About the Contributor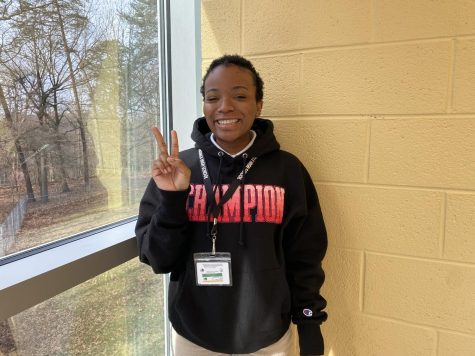 Cayla Washington, Web Content Manager
This is Cayla Washington's First - Last year being on the Paw Print, this is because she is apart of this this years 2022 graduating class of seniors....