RECAP: President Biden's State of the Union Address on March 2nd
On March 2, President Joe Biden held his first State of the Union Address, an event that occurs annually and allows the President of the U.S. to address Congress. Alongside the President were Vice President Kamala Harris and House Speaker Nancy Pelosi, making it the first in history where two women stood behind the President during the State of the Union address, according to CNN. Some of the topics mentioned include the U.S. economy, the COVID-19 pandemic, taxes, infrastructure, and Russia's invasion of Ukraine.
Ukraine and Russian War
President Biden first began by addressing the invasion of Russia in Ukraine (Russian President, Vladimir Putin's actions). The week of March 2 marked seven days since Russia invaded Ukraine. Much damage was done even during that time. The President stated, "We in the United States of America stand with Ukrainian People." 
Citizens of Ukraine continue to be greatly affected by the attacks from Russia. As he stated, civilians such as students, retirees, and more, are doing whatever they can to fight back against the enemy, including blocking tanks with their bodies. Ukrainian Ambassador to the United States Oksana Markarova attended the event as one of First Lady, Jill Biden's invitees. The audience gave her a standing ovation as a form of support for her as her country undergoes these unfortunate events.
President Biden remarked that NATO was formed to create peace and stability after world war II. He stated that Russian President Putin's actions were "premeditated and totally unprovoked" and that rejected diplomacy countless times. 
"We are united and stay united," said the President. "We're going to be okay."
COVID-19
Another topic President Biden addressed was the COVID-19 pandemic. It is the main priority to each day get closer to the normalities we once had in the United States. 
President Biden presented four common-sense steps to recover from this pandemic nationwide:
Americans to receive their vaccination. 

Prepare for new variants.

Prevent the shutdown of schools and businesses.

Continue vaccinations around the world.
He stated that people will now be able to get tested for COVID-19 in pharmacies. If people test positive, they can receive a pill from P-Fizer which decreases a person's chance of going to the hospital by 90 percent for free. Pfizer is working "overtime" to get a million of these pills by this month. He also wants to begin with the normal routines that were once present before the pandemic. 
Many places in the country don't require people to wear masks anymore due to the decrease in COVID cases. The President stated that more of the country can reach that point as well in the next couple of weeks. 
Additionally, masks are available free of charge along with COVID-19 tests that can be taken at home. People may order them to their door.
President Biden remarked that we need to go back to the normal lives we once had. This is to allow people to attend work in person, keep schools open so students can receive a proper education, and keep downtowns open and running.
U.S. Economy, Infrastructure, & Inflation
President Biden explained that more jobs were created for the people of the U.S. Both President Biden and Vice President Harris agreed that they should build the economy "from the middle out, not from the top down." 
The U.S. infrastructure was ranked 13th in the world, and President Biden wants to fix that because it would be more difficult for people to compete for jobs which explains the importance of passing the Bipartisan Infrastructure Law.
Inflation was also talked about in the State of the Union address this year. It has been one of the many reasons why people struggle financially. From prescription drugs to car models, prices have been constantly increasing in the U.S. 
"Let's close that coverage gap and make these savings permanent," President Biden said.
His focus also expanded to making electric vehicles more affordable not only to help lower costs for individuals but also to help climate change.
Taxes
Another of President Biden's plans includes making tax payments more equal to citizens who don't make as much income a year. 
"…We all agree that the present tax system ain't fair," the President said. "We have to fix it."
In order to do this, the President expressed his desire for large companies as well as wealthy citizens to begin paying a fair rate of taxes each year.
So far to amend this, President Biden has proposed a 15 percent minimum tax rate for large companies. There have been some who made nothing in taxes in the past years.
Fixing Nursing Homes, Job Requirements, and Crime
The quality of nursing homes will become a big priority under Medicare meaning that care will expand to make sure seniors get the care they need. 
Everyone will have a "fair" chance to be selected for a job. Companies will be needing to look at their abilities instead of the degrees they have obtained in school.
Crime also is a factor the U.S. will need to work on. There have been many situations where violence has taken place. Police officers and civilians lost their lives innocently.
Mental Health of Americans
President Joe Biden presented that we must help those who struggle with mental illness, especially children and teenagers. He suggested that Americans should participate in helping people with their struggles. 
Immigration and Voting Rights
During his address, he called on the Senate to pass the Freedom to Vote Act, John Lewis Voting Rights Act.
More security will be implemented to the borders of the U.S. This will hopefully decrease the number of drugs, weapons, and misconduct entering the United States. 
Additionally, new technology will be installed on the borders, "cutting edge scanners", and setting up joint patrols. 
The LGBTQ+ Community
"Let's finally get the Bipartisan Equality Act to my desk," said President Biden.
Not only does he want to pass this act but the president also reassures the LGBTQ+ community  that he will have their backs. This is because he wants them to be able to be themselves and "reach your God-given potential."
Other
President Biden honors and gives thanks to Justice Breyer. According to the President, he has served and dedicated his entire life to the U.S. Justice Breyer is a former "army veteran, constitutional scholar, and retiring Justice of the United States Supreme Court."
Leave a Comment
Your donation will support the student journalists of Parkdale High School. Your contribution will allow us to cover our annual website hosting costs and publish some printed editions, as well.
About the Contributor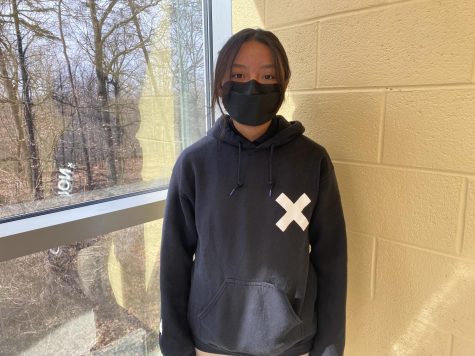 Rashel Tapia, Chief Copy Editor
Rashel Tapia is a senior at Parkdale High and is currently a Chief Copy Editor for the Paw Print. She hopes to provide articles ranging from local/international...