Nascar makes major changes, appeals to new audiences, fans
When you think of NASCAR, you probably think that it's a southern type sport, but now NASCAR has become more diverse than ever before, and it is becoming one of the top sports again in a bigger and better way. 
On February 6, NASCAR kicked off their 2022 season in California at the LA Memorial Coliseum. Pitbull, better known as Mr. Worldwide performed a pre-race concert. During the Lap 75 race break, sort of like a halftime show, Ice Cube performed his greatest hits before the winner was crowned and made history for winning the shortest track NASCAR has raced on.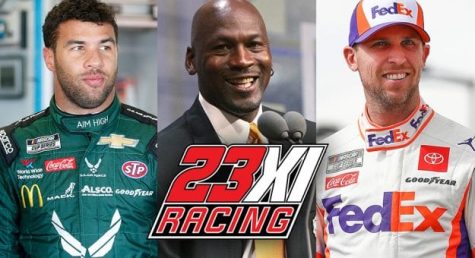 Famous people such as Michael Jordan, Pitbull, and even Floyd Mayweather have invested in a NASCAR team in the highest level of stock car racing, the Cup Series. Pitbull and Mayweather decided to tap into being a stakeholder after seeing how successful Jordan's team, "23XI" was becoming. 23XI is co-owned by Jordans long-time friend and veteran NASCAR driver Denny Hamlin. Hamlin, the driver of the #11 car, posted a video clip on his Instagram from a documentary series called "Race: Bubba Wallace" and explained how he and Jordan decided to make the Nascar team.
"A news article came out- kind of one that wasn't really real. And it says well- 'a current NASCAR driver, Denny Hamlin, and Michael Jordan looking to purchase a stake.'" Hamlin said in the clip. "I think it was just a speculative article. I will never forget I was on the ninth hole at my home golf course, and I'm like, should I send Michael this article? Let me get his temperature here, and I sent it to him. And he responded immediately and says 'haha, you know, obviously fake news, not real. But If you want to make it real news let me know'…"
And the rest was history. During the 2020 season, 23XI debuted; their main driver is Nascar's only Black driver in the NASCAR Cup Series, Bubba Wallace.
According to the Netflix documentary "Race: Bubba Wallace," it all started in May of 2020. It was when the whole world came together to seek justice for George Floyd and really voicing that  Black Lives Matter (BLM), with different celebrities even taking to the streets to protest as well. Because of the pandemic everything was shut down, including sports. While at home, Wallace got involved with the BLM movement and began speaking out about his experiences inside and outside of the race track. 
People watch their favorite sports or tv shows to escape the outside world, but when Wallace brought BLM to Nascar, his fellow drivers didn't mind and actually stood with him. When asked what should change about the sport/his workplace, he said "that the confederate flag needs to go, and it's not welcoming". 
Wallace was on Don Lemon's CNN show talking about BLM, and how it feels to race a predominantly white sport. 
"No one should feel uncomfortable when they come to a Nascar race," Said Wallace. "So it starts with Confederate flags. Get them out of here.
They have no place for 'em. It should not be allowed. We shouldn't be having an argument over that. It's a… It's a thick line that we cannot cross anymore."
The Confederate flag used to represent the sport back in the day, like in 1965. The winner would always have the flag behind them while they were in the "victory lane" after winning the race. The flag was considered a part of the culture, and it would even be used for marketing efforts. 
After recent outrage against the use of the flag, Brandon Thompson, the Vice President of Diversity and Inclusion of Nascar, explained that the use of the flag should be reconsidered. 
"In the early stages of Nascar the confederate flag I think represented Southern pride," Thompson said. "I don't think at the time there was a lot of education around what it actually meant, the history behind that. If i'm honest, I think a lot of those drivers and people who flew the flag as part of the sport at the time meant that for what it stood for: slavery and discrimination against black and brown people."
On June 10th, 2020 the confederate flag was banned from all Nascar events and properties. Of course when that happened those people who would wave that flag were mad, and took their anger out on Wallace, sending him death threats etc. 
Everyone who heard about this, like his friends and coworkers, wanted to let everyone know that they stand with Wallace. Before the race started, all the drivers, pit crews, and even his boss at the time, "The King" Richard Petty, stood next to him, walking his car to the front of the grid of cars.
After all of Wallace's trials and tribulations with him making a change in his work place, there is no other better place for him to continue his NASCAR career than in Hamlin and Jordan's 23XI team in the  #23 car.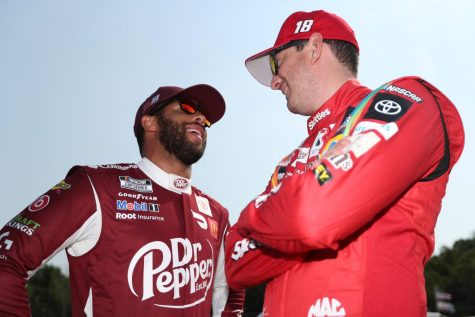 With Michael Jordan as your car owner you're bound to have some good sponsors, Wallace is sponsored by McDonalds, Draftkings, Petsmart, Doordash, Dr.Pepper, Columbia, Beats etc. He has some of the best sponsors next to two-time Cup Series champion Kyle Busch, aka the "Candy Man" because Busch's main sponsors are Skittles, Snickers, and M&Ms.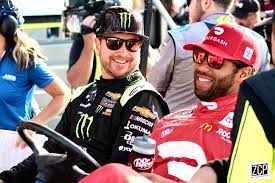 The funny thing is that Kyle Busch's older brother, Kurt Busch, is Wallace's teammate for the 2022 season. Kurt Busch, like his brother, is also a champion, having won the Cup Series in 2004. Kurt Busch is not only beneficial to his new team because he won the championship, but he's also a veteran and has also driven all three different manufacturers, so be on the lookout for the Monster Energy Toyota Camry #45 car. 
A little fun fact about the 23XI team is that 23 is obviously Jordan's basketball number. XI (11) is Hamiln's car number. But where did 45 come from? Well, in the 1994-95 season Jordan returned to Chicago in a last-ditch effort to compete for the championship. But when he returned he didn't return as 23, he competed with the number 45 on his back.
When you compare NASCARs peak in 2005 to now, NASCAR has seen a gradual decline, with TV viewership reaching record lows in 2018 and race day attendance suffering from record lows as well, especially with the pandemic.
The only way that you can watch Bubba Wallace, the 23XI team, or just NASCAR general is every weekend on Fox or FS1.
You can also watch some races on their Youtube channel.
Leave a Comment
Your donation will support the student journalists of Parkdale High School. Your contribution will allow us to cover our annual website hosting costs and publish some printed editions, as well.
About the Contributor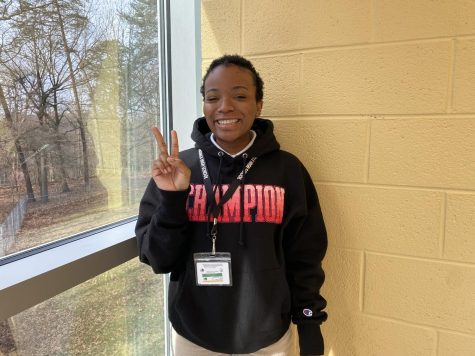 Cayla Washington, Web Content Manager
This is Cayla Washington's First - Last year being on the Paw Print, this is because she is apart of this this years 2022 graduating class of seniors....