Meet Parkdale's clinician who aims to provide mental support to all students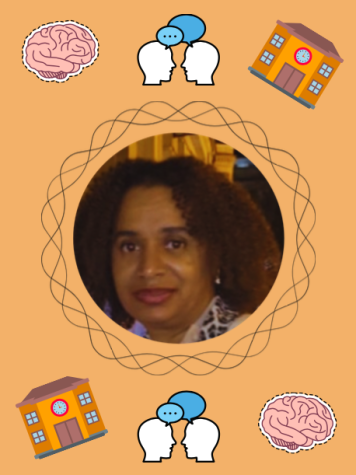 January 10, 2022 marks the start of Ms. Gregory's career as a school clinician here at Parkdale. We spoke with Ms. Gregory to learn more about her labor and the impact she hopes to make on students' lives.
 Q: Tell us, who is Ms. Gregory?
"I am a Licensed Social Worker. I have always been a helper within my community, friends and family. I enjoy watching basketball live. I  prefer watching basketball games in person." 
What is your favorite basketball team?
"My favorite basketball team is the Boston Celtics." 
Q: What level of education do you have?
"I have my Masters in Social Work and a License as a Social Worker. I did my Undergrad at Johnson C. Smith University, a HBCU in North Carolina and I also attended Capella University online."
Q: Have you always lived in Maryland?
"I am originally from Boston, Massachusetts and then I moved to North Carolina for some years and now I live here in Maryland. I like living in Maryland." 
Was it hard for you to adapt to life in Maryland?
"No, it wasn't hard for me to adapt to Maryland." 
Q: Have you always wanted to be a school clinician?
"When I was younger I knew that I wanted to help children. I changed my major from being a teacher to social work. I wasn't aware of other jobs other than teachers that would work with children. After conducting an observation in class I figured out that [being a teacher] is not something that I really want to do. I wanted to be behind the scenes. I began by doing social work one to one and I loved it."
Q: How many years have you helped children with their mental health?
"As a school clinician this is my first year. I have worked with children being removed from their home. I worked in a school setting, but I wasn't the school clinician. Instead I was helping staff and managing to provide students with mental  support. I worked with adults for most of my time here in Maryland and I have also worked in foster care." 
Was your original focus working with children? 
"When I decided to become a Social Worker it was definitely about children. When I moved here in Maryland my job was strictly working with adults. So that was different. But my original focus was to work with children" 
Q: How often do students come and talk to you?
"I have met with around 70 students. Since January 10, I have had at least one  encounter with those 70 students. I get email, walks, and referrals. Some students are referred to by parents or teachers. The gamit goes from anxiety, depression, grief, loss of a family member, dealing with boyfriend and girlfriend issues, and behavioral issues."
 Q: How long will a session with you last?
"I schedule for about half an hour; however, if I notice that they would need more time. I would spend more time with them. Occasionally I spend two hours with some students. I follow up with some students when it's needed. My calendar stays colorful. I like to organize by color."
Q: How do you feel about the children who didn't receive mental support during the pandemic?
"I feel sad for those kids that didn't have mental support during the pandemic. Could you imagine having a broken leg and no one has attended to your broken leg and you try to deal with it but it's the fact that it's still broken. I feel sad for students having to undergo certain issues and not having the resources to help them. Many times people don't know that help does exist."
Q: What difference do you hope to make in the lives of students here at Parkdale?
"I hope that students that may be hurting or experience hurt or whatever trials that they may be going through that they feel like they have an outlet and that they are not alone and that someone is listening and their feelings are validated. I hope that whatever they are feeling is not dismissed." 
Q: Do you have anything else about you that you would like to share?  
"I am here [room G-3] and I am willing to listen to your feelings. When you step into this office, what you share with me is confidential. The only times that I would have to speak with someone outside of us is in the event of you wanting to harm yourself, you wanting to harm somebody else or you reporting any form of abuse. But other than that those conversations stay with me." 
Leave a Comment
Your donation will support the student journalists of Parkdale High School. Your contribution will allow us to cover our annual website hosting costs and publish some printed editions, as well.
About the Contributor
Anthony Valverde, Section Editor











Anthony Valverde is currently a senior at Parkdale High School. He wrote his first article for the Paw Print in February 2022. He...