How intense is the IB program at Parkdale?
The International Baccalaureate (IB) program has been around at Parkdale since 1995 and yet so many students are unaware of what this program really is and what it entails. IB is one of the high school specialty programs throughout a few schools in  Prince George's County Public Schools (PGCPS). With less than 100 kids a year being accepted, it creates competition between the IB students, but the hardest thing isn't getting into the IB program, it's staying in it. 
IB is not all bad as it allows students to further themselves with a grade point average (GPA) that is on a 5.0 scale contrary to the 4.0 scale that regular classes face. IB also prompts students to get a degree that can signify finishing the program as well as college credits that omit classes once they get to college. One of the biggest factors that makes IB so different is that it strays away from the American education's curriculum, instead it provides an international scope of information with resources from Switzerland, France, Japan, and many other countries around the globe.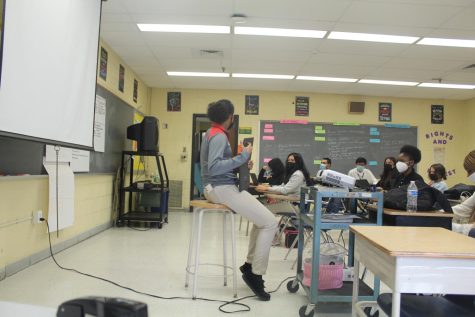 One of the greatest  questions is what makes IB so different from Advanced placement (AP)?AP is available to anyone who wants to get in with the approval of the teacher and the counselor whereas IB is a selected program that students have to get invited into after qualifying through a list of requirements. The IB program's goal is to build well rounded students who can thrive in the real world and the work field with their education rooted in an international education system. With advanced classes it is a common trend that students are left behind or feel that they don't want to be a part of it and this sets apart an IB student from any other student. 
" It's college level courses, and in advanced placement you take one course, maybe two courses, with IB it's the entire thing it's like having a college schedule in eleventh grade," said IB Theory of Knowledge teacher Mr. Eric Pavlat. 
Since all of the IB course set is designed to prepare students for college, it is like college. There is more work but with that comes more credits. All the classes in IB are possible college credits for students depending on their final exam scores and the schools they end up choosing for college. One of the things that allows for the International Baccalaureate program to stand out from the other specialty programs is its ability to prepare students for college. "It turns into a game of survivor when they get to college because they're in college and they get assigned this paper and they knock it out in two hours," stated Mr.Pavlat. He added "They turn to all these people who didn't turn it in and this class of 36 students turns into 16 at the end of the semester and they ask where did everybody go because it's easier for them because they've been through IB." 
Equally important to the alluring benefits of the IB program are the feelings of the students at Parkdale who are in it. "Honestly the IB program to me was new, I went into the IB program, I came here unfortunately and now one semester in I can say I want to get out of here," said IB junior Koi Tavares. Students may not fully love the program itself but there are a few positives they can think of.  "The people are pretty chill, honestly it's not that different, they just slap  more work onto our table and say IB and give us exams that are worded differently compared to other tests," added Tavares.
Because IB is such an intense program, some students decide to leave it. This doesn't necessarily mean anything negative, the program does have benefits but leaving it could too. "I decided to leave because I wanted to explore other things that were out there such as work opportunities and just explore what interests me and I think I definitely achieved that after leaving the IB program," said senior Jennifer Mercado. Mercado got into her dream college even after leaving the program. She left on a good note and did have a couple good things to say about the program, "What made me stay and continue from sophomore to junior year was the teachers that I had already met, they were absolute gems." Mercado added "They were my push factors, I didn't want to waste the opportunity to have such good teachers, I said if these teachers are available to me I'm going to take the chance and have them." 
The biggest pressing issue for students in the IB program is the rate of actually receiving the International Baccalaureate diploma. In order to get the diploma you must receive at least 24 points in the final exams along with a few other requirements found in the International Baccalaureate page. With the scary average of around eight or less students receiving the diploma each year it really changes the students feelings about the program. "I would not recommend the IB program to anybody. You are not guaranteed the diploma and I think that's one of the biggest things that they don't tell you until you're in deep, that's when you find out," emphasized Mercado. 
Not only do students have strong feelings about the program but teachers as well. Teaching an IB course is a struggle itself, "For teachers I think it is difficult because we're use to something that is no longer the case and the teachers when presented with the IB students they're presented with new expectations," explained Mr.Pavlat, "for the first couple years of teaching IB it's not going to be pretty." At Parkdale there have been a few teachers like Mr.Pavlat who have taught the program for years, but there are a few new teachers who are finding their way through it. One of the problems at Parkdale is that they haven't been able to find long-term staying teachers for a few of the IB classes thus making it more difficult for students and teachers.
After all the struggles of teaching courses inside the International Baccalaureate program there is a bright side,"Under the confines of IB you create your own curriculum," said Mr.Neville Adams former IB Literature teacher, "When I started working in IB I chose literature that related more to the population, so I made it diverse." Mr.Adams explained that when teaching IB you get more creative freedom in teaching and you can really experiment. 
Parkdale's International Baccalaureate program isn't just a stressful rollercoaster of hard college level courses. With its goal to "develop inquiring, knowledgeable and caring young people who help to create a better and more peaceful world through education that builds intercultural understanding and respect," every member of the IB program learns a few sets of skills that sets them apart from the rest and this is all further explained by Parkdale's IB page. Whether academically or socially the students all collaborate with each other and help one another grow. The connections between students, teachers, the IB counselor  and coordinator are all different in comparison to other programs or school areas and like Mr.Adams said, "It's a community of your peers, that's the difference." 
View Comments (3)
Your donation will support the student journalists of Parkdale High School. Your contribution will allow us to cover our annual website hosting costs and publish some printed editions, as well.
About the Contributor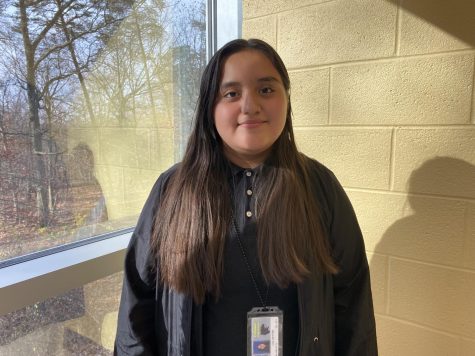 Luz Gaytan, Contributing Reporter
Luz Gaytan is currently a senior at Parkdale and the Chief of Staff for the Class of 2023. She joined The Paw Print during the 2020-2021 school year after...