IB student, Mock Trail participant aims high through high school career
Part of the IB program? Check! Deeply involved with SGA? Check! A Paw Print Student Spotlight? Check! Isha Sesay is a junior at Parkdale who checks all the boxes that will secure her future success. Ms. Sesay sat down with us to share her experience finishing up her juinor year and how she balances so many responsibilities. 
Q:What are two characteristics that describe you and why?
A: The best characteristics to describe me are determined and resilient. Being determined when it comes to my goals is the only way I will be able to complete them efficiently. My resilience comes from the goals I have for myself. Many people may call me a perfectionist, but I make sure everything is done in the best way possible, and if it isn't, I always assure myself to get it done.. 
Q: How do you feel about this school year so far?
A: This school year, so far, has been a never-ending rollercoaster. I have never had a full year of high school, but I am making the most of every experience I have in this building. Overall, I am very content with the way things currently are.
Q: What after school activities have you participated in throughout high school and can you describe your role in each?
Mock Trial: I am a mock lawyer, who performs in mock court cases. (Editor's Note: Parkdale's Mock Trial team, headed by English teacher Dr. Jedidiah Blake, won their regional competition in January– an accomplishment the team has earned multiple years prior).
Student Government Association: I am currently the Executive Board Secretary at Parkdale. I, along with other officers, lead many of the events at the school and we advocate for the student body.
Q: What encouraged you to be part of the IB Program?
A: The IB Program was one out of the many specialty programs that intrigued me because of the benefits and challenges that I will receive from this program. Knowing the rigors that come with the program didn't intimidate me. Being able to learn new things and gain new knowledge is what really encouraged me to be a part of the IB program.
Q: How do you balance school, clubs, friends, and your mental health?
A: Time management and organizational skills has helped me balance my entire life. I complete all of my work within the week, and that gives me extra time to engage in activities with my friends. It also gives me time to rest and rejuvenate from a stressful school week. 
Q: You do a lot of work as part of SGA, what are you looking forward to when it comes to next year's Senior activities?
A: It is surreal that I will be a senior next year, but I have many plans for the future. Knowing the struggles the class of 2023 had to face in their high school years makes me want to bring engagement and satisfaction to myself and my class. However, I am mostly looking forward to graduating.
View Comments (1)
Your donation will support the student journalists of Parkdale High School. Your contribution will allow us to cover our annual website hosting costs and publish some printed editions, as well.
About the Contributor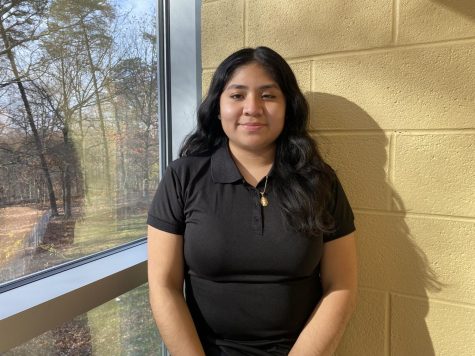 Cristal Lucero, Instagram Reporter
Cristal Lucero is a junior at Parkdale High School. She is on the Social Media team, part of The Paw Print association. She is a daily Instagrammer, which...