Band students adapting to wearing masks while playing
With the return to school during an ongoing pandemic, music classes have been faced with difficult decisions for young scholars and their instructors. Could students make music together while remaining socially separate? Or would teachers have to come up with new ways to help their students incorporate music into their lives without having to be in large ensembles?
Around the world, and in Parkdale's music department, instrumentalists are slowly adapting to the new life of playing while wearing masks. These masks are not the same as the ones students and teachers wear on a daily basis. The instrumentalist's mask is designed to be worn by wind players, an overlapping spandex access panel allows the instrument to easily insert while creating a good seal around the mask and closes when instrument is removed according to the Broadway relief project. 
While it is a new experience for music students, many are adapting.
"Playing instruments with masks on hasn't been too difficult," said senior Daniel Chavez. "It was something that we all had to get used to but there was a time at the beginning of wearing these masks where it was a little bit challenging."
With some instruments in particular, like the clarinet which has a mouthpiece, it proved difficult for some students to put their mouthpiece in their mouth with the mask.
Although there are instrumental masks to provide protection for instrumentalists, there is also something called bell covers for the instrument. It's as if the instruments are wearing masks too. Despite the fact that the design of the mouthpiece and instrument tubing constricts the airflow exiting the instrument, playing a wind instrument produces aerosols and droplets in quantities higher than normal breathing or speaking.
Recent studies show bell covers with a multi-layering material and filtration should be used according to Give A Note. MERV 13 filters can be cut to fit and easily inserted in the back opening of the bell cover to provide enhanced protection as recommended by the  University of Colorado aerosol study.
Any K-12 public school music program can make a request for mask and bell cover assistance from the Let's Play Music Fund by clicking the Make a Request button. Requests will be fulfilled from the  Let's Play Music Fund's budget determined by a needs-based assessment that includes the school's Title 1 status, percent of students on free/reduced lunch, percent of minority, and verified music program budget restrictions. According to Give A Note. 
 Mitigating guidelines were provided in late August by Dr. James Weaver, Director of Performing Arts and Sports with the NFHS (National Federation State High School Associations), for children in schools around the country who are beginning band activities. They include the use of instrument bell covers and face masks, enhanced classroom ventilation, and a reduction in the size and duration of rehearsals, all of which, when combined, may make playing as safe as other in-school activities. 
As band students learn to adjust to this new way of playing, band instructors are looking for innovative ways to teach. 
"Teaching students with masks on has been difficult because band students need to see my aperture in order to adjust themselves to play the right note on the instrument," said Parkdale band teacher Mr. Martin. 
To demonstrate, Mr. Martin uses a clear face mask in order to do this. Other schools around the state are also looking for ways to play their instrument; the Lowa High School Music Association recommends cutting a slit in a surgical mask to slip an instrumental mouthpiece through while playing.
Leave a Comment
Your donation will support the student journalists of Parkdale High School. Your contribution will allow us to cover our annual website hosting costs and publish some printed editions, as well.
About the Contributor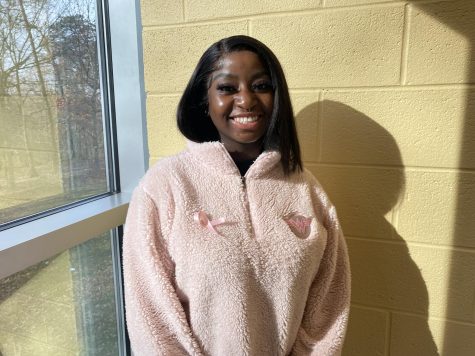 Princess Passie, Reporter
Princess Passie is a senior year, and this is her first full year on The Paw Print staff. She contributes to the staff by writing informational articles....