Caps and Gowns: How do seniors really feel?
After a long wait, Parkdale seniors have finally made it to their last year in high school. With the COVID-19 outbreak causing them to go through virtual learning for more than a year– and surprisingly return back to virtual for what will hopefully only be two weeks–seniors have missed out on having a normal high school experience. 
With schools opening back up for the 2021-2022 school year, many hoped to have a fun semi-normal year.                                                      
Students got the chance to be more involved with the decision of different events and designs for their class. One thing they got to vote on was what color cap and gowns they would receive for graduation. Between the options green, yellow and black, black became the leading option two times in a row. 
On November 23, however, one of the 2022 class sponsors Ms. Sutherland posted onto Google Classroom stating "Hello all! Due to conflict with cap and gowns.. we will be re-voting on yellow or green."
Seniors flooded the comment section, questioning why black wasn't an option anymore:
"For what??? What conflict?" 

"What happened with black"

 "Where is black" 

"Why is there a revote? This is not fair at all"

 "What's wrong with black"
Many students felt as though it was unfair to take black out of their options given that black won after the first and second time.
Because of this, we sat down with Ms. Sutherland to get to the bottom of the cap and gown debacle.  She explained that there are valid reasons behind not allowing black.
"Safety reasons and higher education reasons," said Ms. Sutherland.  "When students were passing out [at last year's graduation], we couldn't determine if it was adults or students […] And because graduation is going to be outside this year, it was a no."
Regarding black being a collegiate color, Ms. Sutherland went on to explain that she spoke with principal Dr. Graves about the conflict behind the students choosing black, and that Dr. Graves agreed that black caps and gowns should be left to post-secondary institution graduations.
The class president of 2022, Jefferson Turcios, and SGA have been working hard behind the scenes to get seniors what they want this school year. We sat down with him to figure out how this situation has affected him and his interactions with other students. 
"Personally this has not affected me," said Turcios. " I think I've done my part to the best of my ability. I met with sponsors and even spoke to our principal who had the final word. This has not affected my interactions with students as I am listening to their voices, but as we know I don't have the final say."
The Executive Board president, Realyn Delcampo goes on to say that SGA itself does not control the cap and gown situation and that because she does not make the final decision, it has not affected her interactions with students either. 
After re-voting for the third time for cap and gowns, green ended up being the leading vote. Senior Brianna Respress was asked by Ms. Sutherland to walk around the school with the green cap and gown to show seniors what they will be wearing and what they thought of it.
"Some people were okay with the color and some were upset that we weren't able to get black or gold instead," said Respress. "A few people actually thought I was in a choir which was hilarious […] A lot of people also had a few things to say about the material and how thin it was." 
Respress went on to explain that many students were not a big fan of the green and that the teachers were the only ones that liked the color choice. 
Although many students are upset with black being taken out as an option for cap and gowns, seniors will be graduating in green on June 2nd, 2022.
Leave a Comment
Your donation will support the student journalists of Parkdale High School. Your contribution will allow us to cover our annual website hosting costs and publish some printed editions, as well.
About the Contributor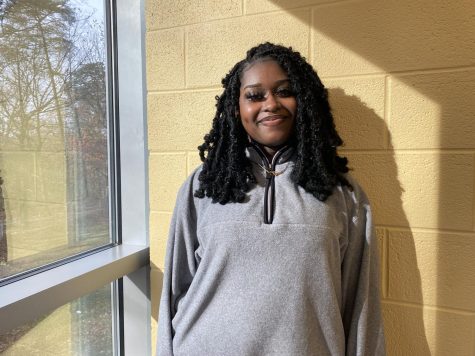 Toniah Grant, Chief Section Editor
Toniah Grant is a senior at Parkdale. This may be her first full year on staff, but with being the outstanding and positive student she is, she feels like...