Meet the five Parkdale seniors earning prestigious scholarships!
As many seniors finalize their college applications and await their decision letters, five Parkdale seniors were awarded two types of scholarships that will pay for their college education. Three Parkdale students: Jefferson Turcios, Realyn Del Campo and Jasmin Maldonado are Posse Scholars. Another two students, Mahlet Dagnachew and Oluwadamilola Akinyemi are QuestBridge recipients. 
Although these are two distinct scholarships, both guarantee them the opportunity to pursue higher education whilst lowering the financial burden off their backs. 
So, what is the Posse Scholarship? The Posse scholarship is a full-tuition leadership scholarship, in which prospective students are matched to one of Posse's partnering schools.  While this is a nationwide program, for DC-area Posse students, they are awarded a full-tuition scholarship at one of the following schools: Bucknell University in Lewisburg, PA; Lafayette College in Easton, PA; Lewis & Clark College in Portland, OR; Sewanee: The University of the South in Sewanee, TV; University of Rochester in Rochester, NY; or University of Wisconsin-Madison in Madison, WI. 
The process to become a Posse Scholar includes: being nominated by a high school counselor or a community organization and demonstrating leadership within your family, friends, and community. The process for this scholarship is far more than being nominated, though. After being nominated, students must undergo three rounds of interviews. During their second round of interviews, students are asked to begin ranking their schools.
On the other hand, QuestBridge recipients are required to submit a series of essays and letters of recommendation. Additionally, QuestBridge takes into consideration an applicant's: academic achievement, financial qualifications, and personal circumstances. After submitting their application, students await a decision as to whether they are QuestBridge finalists and can begin ranking their college preference.
Meet the Posse Scholars: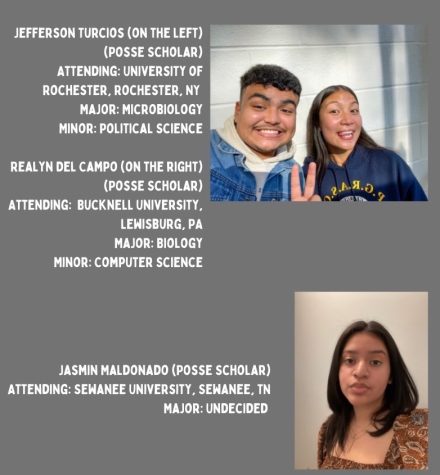 Jefferson Turcios: From being born in El Salvador and migrating to the U.S. at the age of eight, a part of the International Baccalaureate program to creating his own business (Instagram: @jsweetstreats), Jefferson will be attending the University of Rochester majoring in microbiology and a minor in political science.
Realyn Del Campo: From serving as the SGA President and the PGRASG President to playing lacrosse, Realyn will be attending Bucknell University majoring in biology and a minor in computer science.
Jasmin Maldonado: Jasmin was a dedicated member of the Paw Print as a reporter writing numerous articles from features to news, where she also served as a section editor. Jasmin will be attending Sewanee University, undecided of her exact major yet.
Q: What was the hardest part of the entire application process?
Turcios: "The hardest part of it all was the individuals I was against. Their stories, academics, extracurriculars, and leadership positions were very extraordinary."
Del Campo: "I would say the hardest part of it all was actually processing that I have made it this far into the interview process. I did not think I would make it this far to be completely honest because I did not know what they were looking for in an applicant."
Maldonado: "The hardest part of undergoing three interviews was feeling anxious and nerve-wracking before the interviews began. I feel that when we think of interviews, we'll often overthink the meaning behind the process… However, if you're staying true to yourself throughout the interview, there is no wrong way to answer a question."  
Q: What was it like balancing school, extracurriculars and your application?
Turcios: "Balancing out applications, schoolwork, and extracurriculars was a struggle. Balancing out the work and time was a struggle oftentimes I had to miss school and get pushed back on work as a result of the interviews, but at the end of the day it all paid off."
Del Campo: "Personally, it was not hard to balance out my application with my extracurricular and schoolwork. With having a half-day, although I only have 2 classes a day, my extracurriculars and assignments are already planned out for the most part."
Maldonado: "Whenever I received an email or text from Posse, I didn't see it as an application; I saw it as my homework. I was set on getting it done because I knew that it would benefit me in the long run."
Meet the QuestBridge recipients: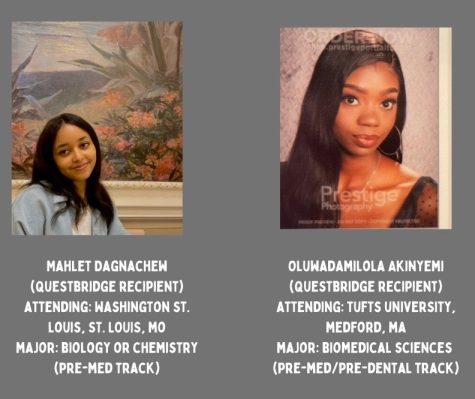 Mahlet Dagnachew: From serving as the executive board SGA treasurer to interning at Pacific Northwest National Laboratories, Mahlet will be attending Washington St. Louis, Louis, MO. Mahlet will be majoring in either biology or chemistry on the pre-medicine track.
Oluwadamilola Akinyemi: From serving as the Class of 2022 treasurer to being president of Liberty Promise, Oluwadamilola (Dami) will be attending Tufts University in Medford, MA. Oluwadamilola is majoring in biomedical sciences and on the pre-medicine and/or dental track!
Q: What was the hardest part of the entire application process, with an earlier deadline than most colleges?
Dagnachew: "The hardest part was definitely after I found out I was a finalist and had to complete multiple essays and send financial documents to each school I applied to. I was really stressed… During that time, working on my application was the first thing I did when I woke up and the last thing I did before I went to sleep."
Akinyemi: "I believe the hardest part of the entire process was trying to put my essays together. For so long I believed that my writing was not the best and this thought took a toll on me… As time went on, I had to remind myself that the only thing that matters is me showing my true and authentic self to the admissions committee." 
Q: What was it like balancing school, extracurriculars and your application?
Dagnachew: "It was a lot harder than I expected. Especially when I had to finish many things by a quickly approaching deadline. I had to prioritize my college application over work, extracurriculars, school, and my social life. This was even harder to balance with dual enrollment courses, so sacrificing my sleep was inevitable."
Akinyemi: "To be honest, it was very hard to balance all my activities with my school work. I would sometimes sacrifice social activities just to get my essays and applications done… At the end of the day, it was worth it because I invested in my education and in my future."
All five seniors expressed their gratitude and feel like they are one step closer to reaching their once-unattainable goal: going to college without worrying about the financial burden of tuition. Despite going through a long and tedious process, they all agree that it was all worth the long and stressful nights.
For the juniors and underclassmen preparing to embark on the college application process- specifically, those applying to the Posse Scholarship and QuestBridge Scholarship- here are some words of advice from our five recipients! For anyone interested in applying and learning more about these scholarships feel free to check them: Posse Scholarship and QuestBridge.
Turcios (Posse Scholar): "Be yourself, being yourself will get you places. Apply to the scholarship, submit everything on time and just be YOU. Being You is the key to success."
Del Campo (Posse Scholar): "Just do it. It may seem cliche, but if you never take the opportunity to do something you will never know what could've happened… Do your research, and whenever you are in doubt, think about the people who will support you to get through the process."
Maldonado (Posse Scholar): "As cheesy as it may sound, the number one suggestion I'd give would be to be yourself throughout the interviews… Just be honest about everything, and keep in mind that the staff is just trying to help students achieve their dreams, they are not there to intimidate you. Therefore, don't let that scare you away from starting or finishing the journey. It's a once-in-a-lifetime opportunity, so please take advantage of it!" 
Akinyemi (QuestBridge Recipient): "I would advise you to start as early as possible so that you can spend as much time on the applications… Especially the essay, because the admissions committee can tell when something was rushed… Finally, If you have questions about the process don't hesitate to ask people who have been through the process, we are all willing to help."
Dagnachew (QuestBridge Recipient): "… Start your research as soon as you can. For juniors, apply to the Questbridge college prep scholars program… Colleges want well-rounded students, not just students with perfect grades. Make sure to keep your eyes on your own application, because it's easy to get lost in comparison."
View Comments (2)
Your donation will support the student journalists of Parkdale High School. Your contribution will allow us to cover our annual website hosting costs and publish some printed editions, as well.
About the Contributor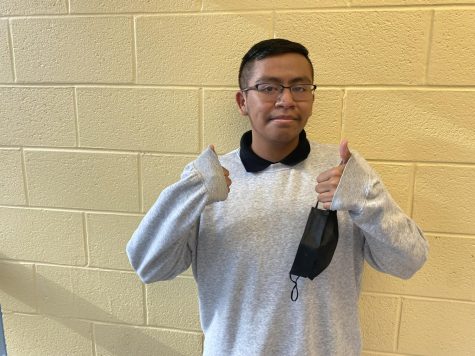 Alexsis Tapia Vasquez, Reporter
This is Alexsis Tapia, and he is currently a senior at Parkdale. This is his second year on The Paw Print. He is a reporter who mainly writes articles...