With COVID cases rising, vaccine mandates could be on the horizon
On Dec. 15, PGCPS CEO Dr. Monica Goldson notified the county via email about major concerns regarding COVID-19 in PGCPS.
According to the email, Benjamin Tasker Middle, EXCEL Academy Public Charter, and Kettering Middle School, will be entirely virtual until Monday, January 3rd, 2022. Goldson went on to explain that "a two-day total last week consisted of fewer than 100 cases [but] This week, we saw a high of 155 cases reported in a single day."
Days later, on Dec. 17, Dr. Goldson notified the PGCPS that all schools would transition to fully-virtual learning until Tuesday, January 18th and for students K-6 in the virtual learning program, until Monday, January 31st.  She explained that "the increased positivity rates have significantly challenged the ability to [deliver in-person instruction safely], causing anxiety among many school communities and disruption to the school day."
Although neighboring counties are leaving virtual learning up to the individual COVID-positive rates of each school, schools across the state have been enforcing mask mandates since the beginning of the in-person school year in September. However, nothing regarding a vaccine has been enforced apart from the mere recommendation of getting the vaccine. With recent developments, though, this might change.
On Nov 2, The Washington Post reported that"pediatricians are preparing to administer the nation's first coronavirus children's vaccine as early as Wednesday after the Centers for Disease Control and Prevention signed off Tuesday night on giving the Pfizer-BioNTech shots to millions of kids ages 5 to 11."
The vaccine has been regularly admitted to young adults with the consent and supervision of a parent or guardian. The testing of the vaccine as well as making sure the dosage is safe for smaller children is the biggest obstacle companies have had with making the vaccine. The distribution of these vaccines to children who are 5 and older opens the door to everyone possibly being vaccinated. 
The possibility of all ages getting the vaccine also plays a part in what will happen in schools and how they are managed. 
On Dec 6, The New York Times reported, "Mayor Bill de Blasio set a vaccine mandate for religious and private schools. Jewish and Catholic leaders are frustrated, and some have predicted legal challenges."
Vaccine mandates at schools have been evaluated and some already put in place. However, this involves religious and public schools that are not available to the public. With forthcoming vaccines school districts will vote whether they want to put a vaccine mandate in place or not.
In a sample survey of 82 Parkdale students, some feel that the vaccine is not something that will bring change but rather put families in uncomfortable positions.
"Afraid: that's the only word I can really think of. I have 3 little siblings that are 6 and under, and if this mandate is implemented, there's no telling how younger immune systems will react to it," said Parkdale student "However, if it's not mandated, and there is a breakout where my siblings attend school, I'm afraid that there won't be a way for them to attend school online."
Because most students start kindergarten at five, the potential mandate includes all K-12 children, meaning that all schools in a district would have to abide by the guidelines.
On Nov 19, NPR reported, "California has become the first state to announce that it will add this vaccine to its list of the shots required for all school children. And a handful of districts in 14 states are making similar moves, starting with mandates for student-athletes to participate in sports."
The mandates not only roll out to private schools where you agree to their terms but also public schools who are adding this vaccine to the lists of shots required. This could also involve the sports teams, making it so any students who does any extracurricular activities has to get vaccinated.
At the beginning of the school year on Sept 10, PGCPS issued an email to the community on Sept 10, which made the decision to make vaccines required to play sports due to the risks of contact tracing and spreading of COVID-19.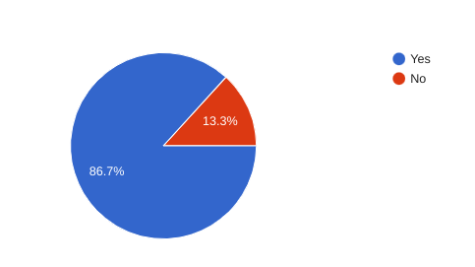 In the sample student survey, 86.7 percent of them are vaccinated while the other 13.3 percent are not. When asked about the vaccine mandate, 47 students responded and of those 30 students support a vaccine mandate in schools, 10 are against the mandate, and 7 are neutral in the situation.
This potential mandate would be effective due to the fact that many of the students and staff abuse the system put in place to protect us.
"I believe that it's more of the students that are at fault here. I see students with their masks under their nose, and students without their masks on at all," said junior Julissa Blanco, " I've seen students that walk by a teacher that tells them to put their mask on properly, and as soon as they're out of the teacher's sight, they pull their mask back down and ignore the teacher."
The recent developments with the vaccine for all ages, along with PGCPS's hope to return to in-person learning within the next two weeks, may help students possibly feel safer but also leave some of them feeling that it is unfair and unjustifiable.
Leave a Comment
Your donation will support the student journalists of Parkdale High School. Your contribution will allow us to cover our annual website hosting costs and publish some printed editions, as well.
About the Contributor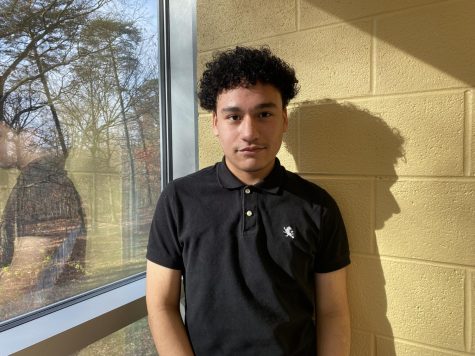 Anthony Umanzor-Rojas, Chief Section Editor
This is Anthony's first full year on the staff team through a recommendation from a teacher. He is a junior and is currently writing articles as well as...