Seniors attempt to have normal senior year despite ongoing pandemic
For the class of 2022, their final year of high school is different from any other. Unlike past senior classes, this year's class is the first one to come back to the school building after a devastating worldwide pandemic kept them out of in-person learning since their sophomore year. 
Coming back to school after being stuck at home in virtual learning is a huge transition for many students, and some have not taken it that well. 
"This school year has been the most stressful year I have endured," said senior Mistura Muritala. "Being a senior during the aftermath of COVID-19 is challenging when you take into consideration that half of the sophomore year and all of junior year was virtual and the connections we could have built with our teachers were limited."
The lack of or missing connections that Muritala is referring to has affected seniors greatly in that many seniors were not able to develop proper connections with their former teachers which later affected how they requested and received recommendation letters. It has also affected the quality of those letters as teachers and students were not face to face during virtual learning. 
Adjusting back into in-person learning and developing lost connections is just one of the struggles seniors have been facing so far. Finding out what they are going to do or where they are going after high school is an internal question many students have in their final year of high school However, as the pandemic passes, this concern appears to be heightened. 
Peer Forward co-sponsor Mrs. Amanda Metzel explained that the pandemic has affected the way seniors plan their futures as it has implemented an amount of uncertainty and anxiety in students  that is centered around whether their plans would suddenly be forced to change due to circumstances beyond their control.
"
"There's always uncertainty, no matter what plan you come up with. We're in a situation now, [though] where you can come up with a perfect plan and it gets thrown out of the window because we have another huge surge.""
— Mrs. Metzel, Peer Forward coordinator
As of today, the Class of 2022 SGA has made plans to make this year as normal as possible. So far, the SGA is still in search of prom venues and has reported that a good profit was made from the recent chocolate fundraiser. Along with this, the cap and gown colors have been chosen for the Class of 2022's graduation, which will be held on Thursday, June 2 at the University of Maryland field.
However, with COVID-19 still infecting people all over the world and in Maryland– where Fox 45 reported that on November 20 there were 1,017 new cases reported in just 24 hours– who knows whether or not a lockdown could happen again, greatly affecting these plans at senior year normalcy.
In addition to these school-related plans,  many seniors have already submitted or filled out college applications, and the uncertainty over if their future plans will go accordingly is festering. 
Recent research done by D.C Policy Center shows that 29 percent of adults have canceled their plans to take classes at post-high school institutions due to the pandemic and at least half of those adults changed plans due to an inability to pay for those classes or changes done by the pandemic. 
While many students are concerned about their futures, some are concerned about the present. 
"So far, one of the struggles is time," said senior Melissa Lopez. "There is never enough time. I have to work, I am in the process of getting my drivers license, I have assignments and homework to do, and other responsibilities. It is very hard to manage your time." 
Lopez is not the only one struggling to balance her time between school and work as Walden University reports that 30percent of high school students work during the school year for a variety of reasons, whether to afford their social lives, help their families and save for their futures. 
Even with all these concerns and anxieties, many students appreciate the aid teachers and administrators have been providing. 
"I am fortunate enough to have been taught by teachers who love their jobs and love working with students," said Muritala. "Even down to the administrators and counselors who make sure their students have everything they need for college applications."
Leave a Comment
Your donation will support the student journalists of Parkdale High School. Your contribution will allow us to cover our annual website hosting costs and publish some printed editions, as well.
About the Contributor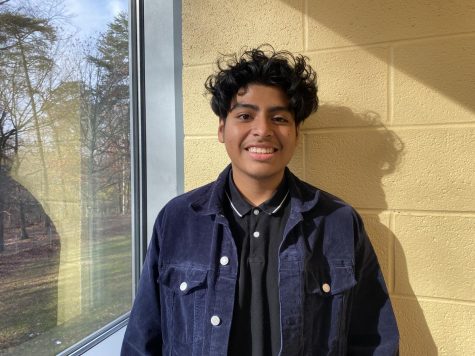 Johnny Martinez Duran, Editor-in-Chief
Johnny Martinez Duran is currently a senior at Parkdale and a proud member of the Paw Print. The great year of 2021 marks his first year of being a member...