Students raise concerns for lack of crossing guards present at Parkdale
On September 23, a Parkdale student, presumably 14 years old, was hit by a car on Good Luck Road in front of Parkdale. While there is limited information about the teen's recovery, it begs to question: were any crossing guards present at the time of the incident? 
Students who walk or take the metro bus in the morning have witnessed the lack of crossing guards present as they arrive at school. While that is not the case in the afternoons when everyone's released, crossing guards play a pivotal role in preventing potential car accidents. Car accidents can happen at any moment, whether it is in the morning or afternoon. If a crossing guard was present in the morning of September 23, the day of the incident, there could have been a chance that the girl would not have gotten into an accident in the first place.
Ever since the tragic incident, PGCPS has done the bare minimum to ensure there were no other car accidents involving students. Their decision to make announcements urging students to be careful when they cross the road rather than finding ways to hire more crossing guards to be in the morning is not sufficient enough.
The role of a school crossing guard can often be overlooked when it does not directly affect students who take a school bus every day. 
"Adult school crossing guards play an important role in the lives of children who walk or bicycle to school," reports the National Center for Safe Routes to Schools. "They help children safely cross the street at key locations. They also remind drivers of the presence of pedestrians."
Although the incident took place back in September and no other incident has taken place since then, students continue to express concerns and are fully alert whenever they cross the road.
"I do feel unsafe and do care if there is a crossing guard present," says senior Sonia Taylor. "I say this because after and even before the incident that occurred, I had to be more cautious when crossing the street… So in the end, I and many of my peers are forced to cross the road praying that we don't suffer the same fate as the young girl."
Students go to school to learn and socialize with their friends. They worry about sports, exams, homework and more, but having to worry about their safety as they cross the road in the morning should be the least of their worries upon arriving at school. The presence of crossing guards can go a long way in ensuring students that they can cross the road safely.
Since the day of the incident, there has not been any change to prevent future accidents that pose a risk for students. However, junior Isha Sesay, who is the current Prince George's Regional Association of Student Governments (PGRASG) 1st Vice President alongside senior Jefferson Turcios, who is the PGRASG's historian, are both taking matters into their own hands.
They are both working together to take this issue directly to the Board of Education (BOE) to create legislation to prevent future incidents both at Parkdale and at schools across the county.
"Raising this issue to Parkdale High School's administrative team and the PGCPS Board of Education is a great resolution to a major change," said Sesay. "Involving other great school leaders, including Parkdale High School's Student Government Association, to write a testimony at the BOE meeting to raise an argument and fight for the safety of the county will be our first step."
Leave a Comment
Your donation will support the student journalists of Parkdale High School. Your contribution will allow us to cover our annual website hosting costs and publish some printed editions, as well.
About the Contributor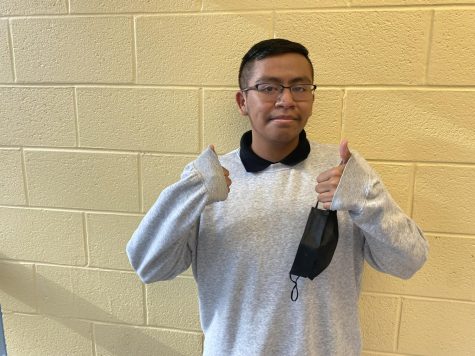 Alexsis Tapia Vasquez, Reporter
This is Alexsis Tapia, and he is currently a senior at Parkdale. This is his second year on The Paw Print. He is a reporter who mainly writes articles...