Lack of Latinx representation in Hollywood calls for concerns and outrage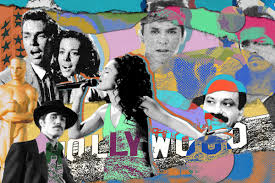 As millions of Latinx people celebrated Hispanic Heritage Month (September 15 – October 15), many have taken the time to acknowledge the inequities and underrepresentation the Latinx community faces in various areas. One of the major areas includes media and their lack of representation in Hollywood. While it may not seem like an issue to some, for the Latinx community, it raises concerns and frustration. 
For centuries, Hollywood has failed to include more lead Latinx actors/actresses in mainstream movies and T.V. shows. Representation in Hollywood is imperative for the many Latinx who buy a ticket to go see a movie premiere. Some people don't know how imperative representation is needed in various aspects of society- not only in government. So, what exactly are the numbers, what percentage of popular movies included a Latinx actor/actress?
"Just seven percent of major films in 2019 featured a lead Hispanic or Latino actor," reports USC's Annenberg Inclusion Initiative. "When it comes to speaking or named roles, about 6% of characters cast that year were Hispanic or Latino — not even a full percentage increase in representation when compared across the total 13 years of hit films."
If the percentage continues to be low in the upcoming years, aspiring Latinx directors and actors/actresses will feel discouraged from pursuing a career in Hollywood. The lack of representation also affects Latinx youth who spend endless hours watching shows and movies. The Latinx community has also noticed trends within the movies and shows that feature Latinx actors and actresses.
"I do feel that there is a lack of representation," says senior Ashly Rodriguez. "While there is more diversity than before, I feel like society is just using the same actors usually. As long as they have a little bit of diversity they suddenly become famous and underground artists who are more focused on their culture are usually ignored it's oppressed by the media."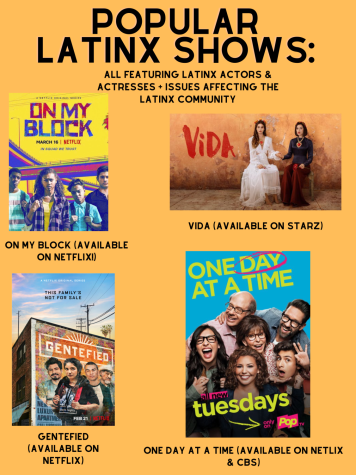 The low number of Latinx people appearing in Hollywood does not take into account the low number of Latinx women who are being represented on the big screen and/or behind the scenes. These numbers are not the only reasons the Latinx community is outraged; in the vast majority of movies that highlight the Latinx community, directors tend to showcase the stereotypes. 
"… lack of accurate representation, especially in Hollywood, means at the very best that Americans don't get a full understanding of Latinos and their contributions," says politician Julian Castro. 
Numerous factors play a role when it comes to the lack of representation. Whether it is the inequities the community faces, preventing aspiring actors/actresses whose dream is to appear on the big screen, or failing to have connections with known directions. Directors must do a better job at hiring rising Latinx actors/actresses, stop filling Latinx stereotypes, and stop hiring actresses/actors who are white-passing Latinxs. There are more areas than just in Hollywood where the Latinx community needs more representation. 
If you are looking to watch T.V. shows that include Latinx actors and actresses, the issues the community faces, and showcase the culture, then consider watching the following:
Gentefied: 
The show revolved around three Mexican-American cousins who must deal with their own lives while balancing to keep their Grandfather's taco restaurant alive in their rapidly gentrified community. Not only does this show cover issues the Latinx community faces, but enjoy a good laugh along the way! (You can find the show only on Netflix.)
On My Block:
One of Netflix's current trending shows, On My Block, has fans raving over their season finale. The show revolves around four teens who navigate their personal lives while taking on threats from gang members. You can enjoy binge-watching the show, and learning about what it's like to live in a Hispanic household. (Only on Netflix!)
One Day at a Time:
This sitcom revolves around a Cuban family who lives their everyday lives whether it is during the good times or the bad. The show not only tackles issues within the Latinx community, but they endure their challenges as a family. You are sure to get in a good laugh and maybe a few tears here and there; catch the show on CBS and Netflix!
Vida:
This comedy-drama series focuses on two Mexican-American sisters who live in L.A. and have a distant relationship but are soon reunited by unexpected circumstances. Vida not only includes Latinx actresses but covers issues such as immigration, gentrification, and the LGBTQ+ community. You can watch the series on Starz!
These are just a few out of many shows that feature Latinx actors and actresses while also discussing issues within the Latinx community. There are thousands of shows and movies you can watch featuring Latinx actors and actresses that you may have never seen on the big screen!
Leave a Comment
Your donation will support the student journalists of Parkdale High School. Your contribution will allow us to cover our annual website hosting costs and publish some printed editions, as well.
About the Contributor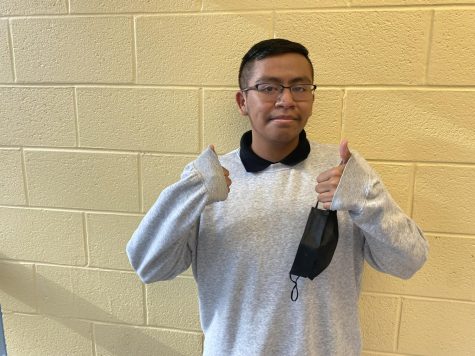 Alexsis Tapia Vasquez, Reporter
This is Alexsis Tapia, and he is currently a senior at Parkdale. This is his second year on The Paw Print. He is a reporter who mainly writes articles...