Nicki Minaj's husband: who is he really?
Nicki Minaj is a multi millionaire Tridiandian rapper. For the past 10 years Nicki has been breaking records and winning  multiple awards. Her and her husband, Kenneth Petty welcomed their beautiful baby boy in October of 2020. For the most part, Nicki has been off and on with social media and spending more time with her family and friends, but recently the internet has been skeptical about her actions in the media. 
Although the media loves Nicki, some of them may be perplexed as to  why she married Kenneth Petty.
Petty was convicted of sexually assaulting Jennifer Hough in 1995. According to Latimes.com , she is now suing Nicki and her husband. Hough states "she's been living in fear" for the last year after allegedly being threatened by their associates.
Accusing them of witness intimidation, intentional infliction of emotional distress, harassment, assault battery, sexual assault and sexual harassment, Hough has filed a lawsuit against Nicki and Petty. According to Thedailybeast.com Hough states that "She hopes her lawsuit will encourage other women and young girls, especially her own daughters, to stand up for themselves—even and especially when it seems like no one else will."
After almost 25 years, Hough finally spoke out. She made a guest appearance on the show "The Real" back in September of 2021. On the show she talks about her first encounter with Kenneth Petty. 
She was at her bus stop on September 16th 1994 when she saw Petty. They shared a brief conversation at the bus stop and "before you know it, he was grabbing a hold of my jacket […] I felt something in my back […] I assumed it was a gun and I started walking" Hough states. She goes on to say that she walked the whole way with him trying to figure out what he wanted. They ended up in a house and Petty proceeded to push Hough onto a bed. She goes on to state how the rape began.
"We wrestled for my clothes, cause all I could do was hold my pants as tight as I could […] he squeezed the sides of my stomach so hard […] after a while I just got tired. I just felt maybe if we hurry up […] , I can just go home […] after he got off top of me he stood in the mirror and beat his chest and said 'I'm the man, I'm the man' " Hough goes on to say that she ends up running away after taking a big plastic bottle, swinging it at him and pushing him down between the bed. 
Hough also states in the talk show that Nicki and Petty offered her $20,000 to stay quiet and take back her allegations, but refused their offer each time. 
Many fans have different opinions on this situation.
"With me being a Nicki fan, I don't feel any type of way about her husband's case, as a Nicki fan you should stay in a fans place and not interfere with her personal life," said sophomore Abdul Turay. "I feel like you can separate the artist from the music because people will still support your music, but they just won't support what you do outside of music"
Leave a Comment
Your donation will support the student journalists of Parkdale High School. Your contribution will allow us to cover our annual website hosting costs and publish some printed editions, as well.
About the Contributor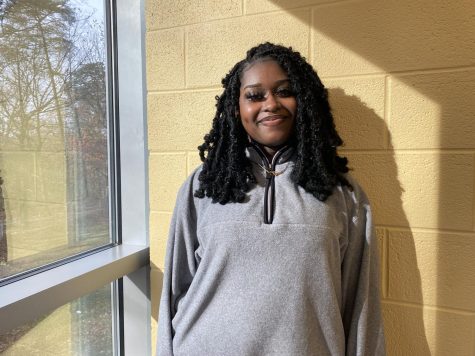 Toniah Grant, Chief Section Editor
Toniah Grant is a senior at Parkdale. This may be her first full year on staff, but with being the outstanding and positive student she is, she feels like...