When does activism become dangerously performative?
Police brutality and racial inequality activism have been on the rise and social media has been a useful tool for activism. However, it's no secret that social media has ultimately changed the way we showcase our stance on issues and how we engage with them. Generally, people use their platform to spread awareness about social issues and share important information. You would think people using their platform in such a manner would truly care about these issues but some people only care how it could popularize their social status. How it makes them look in front of their friends and ultimately the world. For the sake of fame, activism has become more performative.
What is performative activism? Performative activism is taking action to increase one's social status rather than supporting the movement at hand. This type of activism is when someone doesn't care about the movement but will continue to pretend and spread support for the movement on social media.
Movements like Black Lives Matter (BLM) are being treated as trends where people post about the issue once and never talk about it again. Performative activism is a disease plaguing many social media users across the board. According to Pew Research Center, 53 percent of U.S. adults in 2018 engaged in political or social-minded activity on social media that year.
In this day and age, being "woke" is a trend and a competition for people to present a better version of themselves to the public. For example, in June 2020, around 28 million Instagram users collectively posted a blank black square with the hashtag #BlackOutTuesday in solidarity with the Black Lives Matter Movement. 
Many people believed posting these black squares alone could stop racism itself. This gave people who had never spoken about BLM or George Floyd's death at the time a chance to show their precious "humanitarian" side to the public. The act had good intentions but it ultimately hid important information about donations and petitions to the Black Lives Matter Movement and was used as a scapegoat. 
Along with the #BlackOutTuesday and other forms of performative activism, celebrities and influencers continue to use these methods to keep their platform alive. Although there's a handful of celebrities and influencers that use their platform to shed light on important issues there are some that would take advantage of these issues to elevate their social status or some who are insensitive to the cause.  
Back in June 2020, American singer and influencer Madison Beer attended the BLM protest and treated it as a photoshoot. Madison disregarded the accusation and claimed that she was genuinely protesting but people at the protest saw on the roof of a car holding up BLM signs and kneeling in front of the camera.
In addition to celebrities performing performative actions, actress Gal Gadot posted an Instagram video where she leads a singalong of a John Lennon song,  "Imagine" that featured many celebrities showing off their singing skills. The video was made at the beginning of the COVID-19 lockdown. She intended to spread joy during hard times. Even though she had good intentions it came across as painfully tone-deaf and insensitive. What made the media furious was how the celebrities clearly didn't understand the economic hardship that many faced and continue to face amid the outbreak. It was easy enough for them to sing "imagine no possessions" as they lived in their million-dollar homes.
Not only celebrities and influencers are being called out for their performative activism companies are being accused of it too. On June 1st 2020 'L'Oréal Paris posted a picture on Instagram that read "Speaking out is worth it." They captioned the post,  "L'Oréal Paris stands in solidarity with the Black community, and against the injustice of any kind. We are making a commitment to the @naacp to support progress in the fight for justice. #BlackLivesMatter."
After L'Oréal showed their solidarity with the BLM trans model Munroe Bergdorf has accused them of gaslighting and being complete hypocrites. L'Oréal had fired their first transgender ambassador Bergdorf after speaking out about racism surrounding Charlottesville's 2017 Unite the Right rally. This showed that L'Oréal Paris was one of the many brands that lied to the media about their allyship.
Overall performative activism is disrespectful to so many important causes.  Instead of treating these movements as a trend we should genuinely fight for the cause. This includes learning about the issue at hand, signing petitions, donating to organizations that support the cause, and attending protests.
Leave a Comment
Your donation will support the student journalists of Parkdale High School. Your contribution will allow us to cover our annual website hosting costs and publish some printed editions, as well.
About the Contributor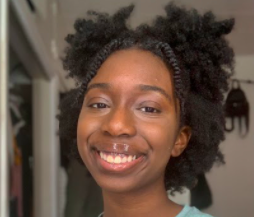 Joy Orimogunje, Chief Copy Editor
This is Joy Orimogunje. She is junior heading on to her senior year. On the the Paw Print she has been Copy Chief editor for about 2-3 years and Ms. Guavara...